Sunday Wrap-Up: Blizzard roll to 10th straight win
January 1, 2018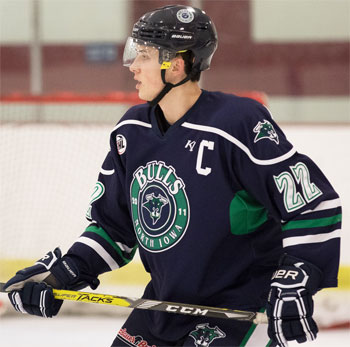 Alexandria Blizzard 7 @ Willmar WarHawks 2-The Alexandria Blizzard grabbed an early lead on their way to a 7-2 win over the Willmar WarHawks. Brett Meister (2), Brenden Payne (2), Austyn Renn, Ryan Worley, and Tanner Frerichs scored for the Blizzard, while Evan Erdmann and Braden Shea found the back of the net for the WarHawks. Alexandria goaltender Kyle Hayden made 23 saves, and Luke Fry and Kaden Ericson racked up 14 and 19 saves, respectively, for Willmar.
North Iowa Bulls 11 @ Rochester Ice Hawks 3-The North Iowa Bulls owe their 11-3 victory over the Rochester Ice Hawks to a late game goal surge. Shane Bernhardson (2), Brendan Studios (2), Mitch Dolter (2), Peter Verstegen, Dan Sandvig, Isaac Baron, Cameron Fagerlee, and Jared Blackowiak scored for the Bulls, while Vinny Billing and Josh Hoffman (2) found the back of the net for the Ice Hawks. North Iowa's Drew Scites made 15 saves on the night, while Luke Murphy stopped 77 shots for Rochester.
Gillette Wild 3 @ Yellowstone Quake 9-The Yellowstone Quake scored five goals in the first on their way to a 9-3 win over the Gillette Wild. Carter Johnson (2), Cole Stewart (2), Riley Buller (2), Ian Doner (2), and Timo Pelto scored for the Quake, while Brooks Mitzel, Nick Stockert, and Coleman Varty found the back of the net for the Wild. Yellowstone's Jonatan Persson made 26 saves, while Cody Grogan stopped 56 shots for Gillette.