Sunday Wrap-Up: Stars keep pace with winning streak
January 8, 2018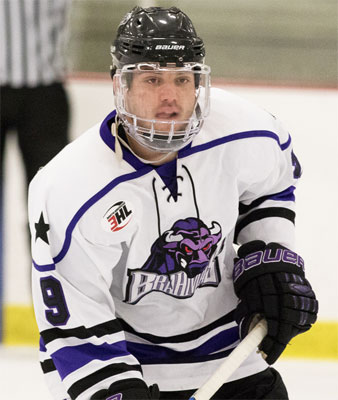 Long Beach Sharks 1 @ New England Stars 7-The New England Stars grabbed an early lead on their way to a 7-1 win over the Long Beach Sharks. James Wilson (2), Cole Archambeault (2), Connor Barter, Zachary Cormier, and Ryan Gauvin scored for the Stars, and Ben Bergman notched the lone Sharks goal. In net, Greg Moon and Andrew Ghimpeteanu made 10 and 17 saves, respectively, and Ben Vutci stopped 58 shots for Long Beach.
Skylands Kings3 @ Cape Cod Islanders 4 (OT)-Leevi Kervinen scored late in overtime to secure the 4-3 win for the Cape Cod Islanders over the Skylands Kings. Kervinen also scored in regulation, alongside Keggan Crawley and Jack Conway. For Skylands, Stephen Finkel, Dylan Dinzik, and Eric Vanderhoff got on the scoreboard. In net, Cape Cod's Esa Maki made 21 saves, and Josh Sears stopped 20 shots for Kings.
Texas Brahmas 8 @ Louisiana Drillers 2-The Louisiana Drillers scored two in a row, but the Texas Brahmas came back and took over, winning 8-2. Hunter Bersani, Sam Sykes (2), Ashton Norris, Mark Strazisar (2), Cameron Bickford, and Cameron Tobey all earned points for the Brahmas. Drillers goals came via Drew Wotta and Cole Bloemer. Texas net minder Carson Murison made 12 saves on the night, and Griffin Varricchio and Ian Clifford stopped 17 and 25 shots, respectively, for Louisiana.
Binghamton Junior Senators 5 @ Niagara Falls PowerHawks 2-After a scoreless first, the Binghamton Junior Senators came out on top, 5-3, over the Niagara Falls PowerHawks. Benjamin Beversdorf, RC Randall, Brad Becker, Dominik Bogdziul, and Tim O'Connor scored for the Junior Senators, while Brandon Schweickert and Gage Muellergot on the scoreboard for the PowerHawks. Binghamton's Colin Burgess made 24 saves, and Josh Mitchell stopped 31 shots for Niagara Falls.
Peoria Mustangs 2 @ St Louis Jr Blues 7-A hat trick from Jake Cox helped the St Louis Jr Blues to a 7-2 win over the Peoria Mustangs. Cameron McAtee, Ivan Galaguzov (2), and Dawson Marshall also scored for the Jr Blues, and Jack Radley and Brandon Hay found the back of the net for the Mustangs.
Wooster Oilers 11 @ Evansville Jr Thunderbolts 2-The Wooster Oilers scored eight goals in the third to defeat the Evansville Jr Thunderbolts, 11-2. Daniel Critzer (2), Matthew Crosby, Zach King, Turner Banyasz (2), James Hayden, Matthew Kesto, Bobby Frieson, Zac Steele, and Hunter Hillebrecht all got on the scoreboard for the Oilers, while Brandon Rozema and Kyle Kowalski each scored one for the Jr Thunderbolt. Wooster's Justyn Gillis made 17 saves, while Spencer Gill stopped 49 shots for Evansville.
Maine Wild 4 @ Northeast Generals 6-A pair of goals from Marc Faia and Austin Braley helped the Northeast Generals to a 5-4 win over the Maine Wild. Todd Gianetis and Fedor Lopaev also scored for the Generals, and Wild goals came via Jeffrey Gratz, Dany Shestakov, Jayce Dorman, and Mason Ledbetter. Northeast goaltenders Nicholas Sesock and Lucas Souza made 9 and 20 saves, respectively, and Nicholas Vardon and Benjamin Jenkins stopped 19 shots each for Maine.
Toledo Cherokee 1 @ Lansing Wolves 4-The Toledo Cherokee scored first, but four unanswered goals from the Lansing Wolves carried them to victory, 4-1. Garrett Daum, Brendan Smith (2), and Jacob Deratany scored for the Wolves, while Blake Mullins notched one for the Cherokee. Lansing's Will Ignatovich made 27 saves, while Alan Brouillette stopped 46 shots for Toledo.