Wild, Ducks win on Wednesday
January 11, 2018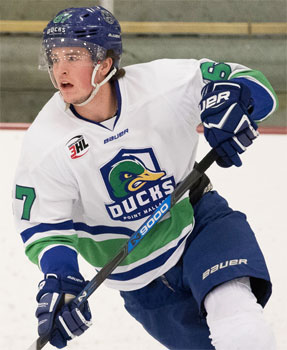 Maine Wild 2 @ L/A Nordiques 1 (OT)
-Dany Shestakov scored with 34 seconds remaining in overtime for the Maine Wild, defeating the L/A Nordiques, 2-1. Jeffrey Gratz scored for the Wild in regulation, and Connor Kennedy notched one for the Nordiques. Maine goaltender Ben Jenkins made 43 saves, while Michael Errico stopped 16 shots for L/A.
Boxscore
Point Mallard Ducks 7 @ Evansville Jr Thunderbolts 3
-The Point Mallard Ducks held onto an early lead to defeat the Evansville Jr Thunderbolts, 7-3. Regnars Udris, Matt Goodman, Stephen Herbel, Yuval Halpert, Jason Kelly, Jesse Stepp, and Fletcher Chun scored for the Ducks, while Brett Creekmur, Kyle Kowalski, and Brandon Rozema scored for the Jr Thunderbolts. Point Mallard's Joey Bernardini made 32 saves, while Bryson Linenberg stopped 77 shots for Evansville.
Boxscore