January 12, 2018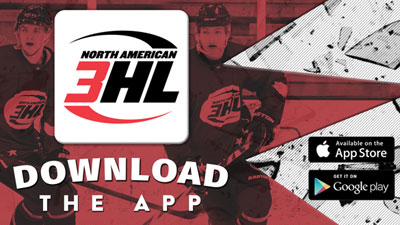 The 2017-18 NA3HL regular season continues this weekend with 39 games on the schedule from Friday through Sunday.
On the horizon in the near future for NA3HL teams is the cut date for spots for the NA3HL Top Prospects Tournament in late February in Plymouth, Michigan.
Less than two months remain for teams to make a move in the standings as they NA3HL regular season enters the stretch run towards the Fraser Cup Playoffs and Championship.
The NA3HL continues its tradition of serving as the best training ground of its kind in the country by providing the best exposure and developmental vehicles available for student-athletes at the Tier III junior level. The NA3HL has already seen 20+ call-ups to the NAHL this season.
This week has seen two NA3HL players sign NAHL tenders.
Follow the games on the NA3HL App:
A couple teams have already clinched playoff berths with several more on the verge of doing so. This weekend has several intriguing match-ups, which include a 1 vs. 2 battle in the Central Division with North Iowa traveling to La Crosse. In the Coastal Division, both the L/A Nordiques and Northeast Generals are on the verge of clinching a playoff spot. In the East, the Pittsburgh Vengeance put their 11-game winning streak on the line, while the Metro Jets take to the road to face the St. Louis Jr. Blues. The big series in the Frontier Division has the 2nd place Helena Bighorns at the 1st place Yellowstone Quake. In the Northeast, the Binghamton Junior Senators are closing in on clinching a playoff spot. In the South, division-leading Texas looks to close in on a playoff spot, while Louisiana tries to gain ground against the Mid Cities Jr. Stars. The West Division is a great race right now with the Top 4 spots separated by just five points.
Friday, January 12th
Texas at College Station - 5:30 PM CST
Lansing at Toledo - 7:00 PM EST
Cape Cod at Long Beach - 7:30 PM EST
Skylands at Binghamton - 8:00 PM EST
North Iowa at La Crosse - 7:00 PM CST
Peoria at Wisconsin - 7:00 PM CST
New Ulm at Rochester - 7:05 PM CST
Breezy Point at Wausau - 7:10 PM CST
Willmar at Granite City - 7:30 PM CST
Missoula at Great Falls - 7:30 PM MST
Louisiana at Mid Cities - 8:30 PM CST
Helena at Yellowstone - 7:30 PM MST
Gillette at Bozeman - 7:35 PM MST
Saturday, January 13th
Evansville at Atlanta - 5:45 PM EST
Texas at College Station - 5:30 PM CST
Lansing at Pittsburgh - 6:30 PM EST
L/A at Northeast - 7:00 PM EST
Skylands at Binghamton - 7:30 PM EST
New England at Maine - 7:30 PM EST
Oswego at Niagara Falls - 7:30 PM EST
Wisconsin at Peoria - 6:45 PM CST
Southern Tier at Wooster - 7:45 PM EST
Cape Cod at Long Beach - 8:05 PM EST
Willmar at Alexandria - 7:10 PM CST
Breezy Point at Wausau - 7:10 PM CST
New Ulm at Granite City - 7:30 PM CST
Louisiana at Mid Cities - 7:30 PM CST
La Crosse at North Iowa - 7:30 PM CST
Metro at St. Louis - 7:30 PM CST
Helena at Yellowstone - 7:30 PM MST
Gillette at Bozeman - 7:35 PM MST
Sunday, January 14th
Oswego at Niagara Falls - 8:05 AM EST
Lansing at Pittsburgh - 11:40 AM EST
Roc City at Binghamton - 12:30 PM EST
Southern Tier at Wooster - 1:00 PM EST
Maine at New England - 1:20 PM EST
Metro at St. Louis - 1:00 PM CST
Evansville at Atlanta - 4:15 PM EST
Texas at College Station - 5:30 PM CST