Friday Finals: Quake rumble past Bighorns in Frontier clash
January 13, 2018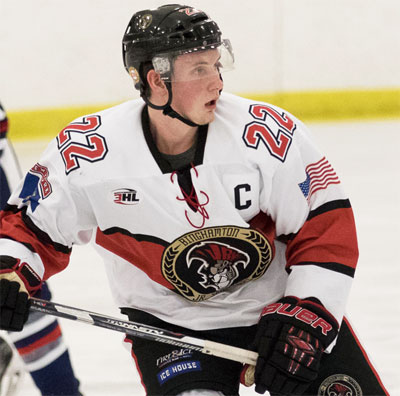 Helena Bighorns 1 @ Yellowstone Quake 4-The Yellowstone Quake scored four in a row in a 4-1 win over the Helena Bighorns. From Yellowstone, Carter Johnson, Timo Pelto, Ian Doner, and Nolan Willoughby each notched a goal, and Ben Kottmeier scored one for Helena. Quake goaltender Reid Waszczenko made 28 stops, and Nick Battaglia stopped 55 shots for the Bighorns.
Breezy Point North Stars 7 @ Wausau RiverWolves 2-The Breezy Point North Stars scored five unanswered goals on their way to a 7-2 win over the Wausau RiverWolves. Kieran Brosnan (3), Alex Flicek, Josh Maucieri, and AJ Hoyt (2) scored for the North Stars, while Owen Routheut and Jacob Rudloff found the back of the net for the RiverWolves. Breezy Point's Micah Hershey made 37 saves, while Wausau's Christian Sanzottera and Jackson Fazendin made 30 and 10 saves, respectively.
Skylands Kings 1 @ Binghamton Junior Senators 7-The Skylands Kings scored first, but seven consecutive goals pushed the Binghamton Junior Senators to a 7-1 victory. Brad Becker notched a hat trick on the night, and Dan Espe, William Darling, Michael Padgeon, and Caleb Beversdorf each scored once for the Junior Senators. For the Kings, Steven Ford found the back of the net. Binghamton's Brady Anderson made 17 saves, and Mathias Yttereng stopped 42 shots for Skylands.
Texas Brahmas 10 @ College Station Spirit 0-Texas Brahma Tyler Myers made 20 saves for a 10-0 shutout win over the College Station Spirit. Cameron Bickford (3), Dakota Davis, Vincent Dekumbis, Hunter Bersani, Sam Sykes (2), and Kyle Cote each scored for the Brahmas. Ryan O'Toole stopped 67 shots for College Station.
Lansing Wolves 5 @ Toledo Cherokee 0-Lansing Wolves net minder Sean Finstrom made 22 saves for the 5-0 shutout win over the Toledo Cherokee. Mike Forman, Michael Osinski, Garrison Weyh, Brandon Ashley, and Brendan Smith scored for the Wolves. Toledo's Ricardo Gonzalez made 40 saves.
Cape Cod Islanders 4 @ Long Beach Sharks 1-The Cape Cod Islanders grabbed an early lead for a 4-1 win over the Long Beach Sharks. Nic Jefferys, Nate Jefferys, Leevi Kervinen, and Cam St Amand each notched one for the Islanders, while Jackson Wellmeyer found the back of the net for the Sharks. Cape Cod's Noah Bird made 31 saves, and Ryan Cortez stopped 32 shots for Long Beach.
North Iowa Bulls 4 @ La Crosse Freeze 1-A pair of goals from Connor Clemons helped the North Iowa Bulls to a 4-1 win over the La Crosse Freeze. Isaac Baron and Shane Bernhardson also scored for the Bulls, while Alec Seeger notched one for the Freeze. North Iowa's Colin Cain stopped 24 shots, while William Graves made 31 saves for La Crosse.
Peoria Mustangs 1 @ Wisconsin Whalers 3-After a scoreless first, the Wisconsin Whalers scored three in a row in a 3-1 win over the Peoria Mustangs. Dylan Allamian, Anthony Fortin, and Zane Marshman scored for the Whalers, while Brandon Hay notched the lone Mustangs goal. Wisconsin's Brendan Earls made 55 saves, and Dakota Meyer stopped 39 shots for Peoria.
New Ulm Steel 10 @ Rochester Ice Hawks 1-Eight goal scorers had a hand in the 10-1 win for the New Ulm Steel over the Rochester Ice Hawks. Austin Langworthy (2), Brian Oare, Nickolas Wieben (2), Alex Nagel, Trevor Woytcke, Tom Reilly, Brandon Mehlhop, and Max Kjome scored for the Steel, while Judd Schulz scored the lone Ice Hawks goal. In net, New Ulm's Drew Schenkenberg and Ben Colwell made 17 and 11 saves, respectively, and Luke Murphy stopped 37 shots for Rochester.
Willmar WarHawks 1 @ Granite City Lumberjacks 6-Braden Altena and Logan Neu each notched two goals for the Granite City Lumberjacks in their 6-1 win over the Willmar WarHawks. Cole Buhl and Owen Sikich also scored for the Lumberjacks, while Brandon Holt notched the lone WarHawks goal. Granite City goaltender Ridge Gerads made 17 saves on the night, while Drake Voell stopped 22 shots for Willmar.
Louisiana Drillers 1 @ Mid Cities Jr Stars 3-The Mid Cities Jr Stars scored three third period goals for a 3-1 win over the Louisiana Drillers. Jason Koehn, Tyler Schulz, and Brandon Speights scored for the Jr Stars, while Brandon Morgan notched one for the Drillers. Both Mid Cities Nick Vanwinkle and Griffin Varricchio of Louisiana made 22 saves on the night.
Missoula Junior Bruins 0 @ Great Falls Americans 4-Great Falls American Drew Scites made 28 saves for a 4-0 shutout win over the Missoula Junior Bruins. Michael Houlihan, Jens Juliussen, and Tanner Rath (2) scored for the Americans. Missoula's Brian Thomas and Duncan Wiest made 9 and 36 saves, respectively, on the night.
Gillette Wild 3 @ Bozeman Icedogs 4-The Bozeman Icedogs scored three goals in three minutes, in the third period, to come back and defeat the Gillette Wild, 4-3. Beckett Patten, Duncan McGarrah (2), and Austin Charnholm scored for the Icedogs, and Brooks MItzel, Jack Oberg, and Hunter Peterson found the back of the net for the Wild. Bozeman's Parker Orchard made 33 saves, and Aaron LaChance stopped 32 shots for Gillette.