Saturday Scores: Jets take Game 1 of battle of the titans
January 14, 2018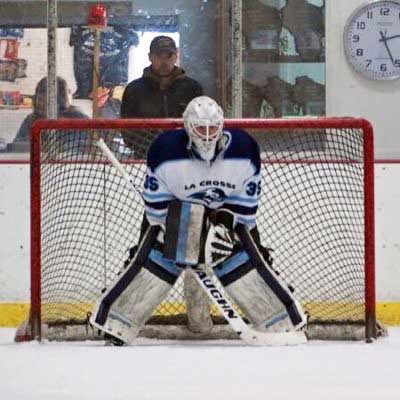 Metro Jets 5 @ St Louis Jr Blues 2-The Metro Jets had a strong second period to help them to a 5-2 win over the St Louis Jr Blues. Jhuwon Davis, Griffin Sawyer, Trevor Momot, Brodie Thornton, and kyle Gierman scored for the Jets, while Matthew Monreal and Ivan Galaguzov each notched one for the Jr Blues. Metro's Andrew Kormos and St Louis' Blake Bjella each made 24 saves.
Louisiana Drillers 2 @ Mid Cities Jr Stars 5-The Mid Cities Jr Stars scored three in a row to defeat the Louisiana Drillers, 5-2. Brandon Speights, Jason Koehn, Bryce Harrison, Nick Sheridan, and Tristan Allen scored for the Jr Stars, and Cole Bloemer and Timothy Zittel notched goals for the Drillers. Mid Citie's Jake Ange made 26 saves, while Christian Kazoleas made 27 stops for Louisiana.
La Crosse Freeze 2 @ North Iowa Bulls 0-La Crosse Freeze's William Graves made 32 saves to shut out the North Iowa Bulls, 2-0. Nathan McComb and Clayton Lackey each scored one for the Freeze. North Iowa's Colin Cain made 17 saves on the night.
Helena Bighorns 1 @ Yellowstone Quake 2 (OT)-Yellowstone Quake's Riley Buller scored in overtime to hand over the 2-1 win over the Helena Bighorns. Iniaz Steyaert scored in regulation for the Quake, alongside Luc Cross for the Bighorns. Yellowstone's Reid Waszczenko made 25 saves, while Nick Battaglia made 53 saves for Helena.
Gillette Wild 7 @ Bozeman Icedogs 3-The Gillette Wild grabbed an early lead on their way to a 7-3 win over the Bozeman Icedogs. Brooks Mitzel (2), Nick Stockert (3), Jack Oberg, and Coleman Carty scored for the Wild, while Bryan Miller and Beckett Patten (2) found the back of the net for the Icedogs. Gillette's Rasmus Pilely made 21 saves, while Parker Richard and Carver Thompson made 3 and 29 saves, respectively, for Bozeman.
Evansville Jr Thunderbolts 0 @ Atlanta Capitals 11-Atlanta Capital Elijah Gibbons made 33 saves for a 11-0 win over the Evansville Jr Thunderbolts. Talon Medure, Brody Nielsen (3), Christopher Linda, Cole Warner (2), Tanner Opie, Cole Thomas Johnson (2), and Cameron Smith scored for the Capitals. Evansville's Sam Tucker made 42 saves.
Texas Brahmas 8 @ College Station Spirit 0-Texas Brahma Carson Murison made 19 saves for an 8-0 shutout win over the College Station Spirit. Cincent Dekumbis, Michael Redmon, Sam Sykes, Cameron Bickford (2), Dresden Ripley, and Luke Bombardie College Station's Drew Pehrson stopped 84 shots on the night.
Lansing Wolves 4 @ Pittsburgh Vengeance 1-The Lansing Wolves scored four in a row for a 4-1 win over the Lansing Wolves. Jacob Deratany (2), Garrison Weyh, and Mike Forman scored for the Wolves, and Dominick Glavach notched one for the Vengeance. Lansing's Will Ignatovich stopped 21 shots, while Pittsburgh's Joel De Simone made 31 saves.
L/A Nordiques 6 @ Northeast Generals 2-The L/A Nordiques grabbed an early lead on their way to a 6-2 win over the Northeast Generals. Armand O'Keefe (3), Zack Mullen, Cole Ouellette, and Andrew McCormick scored for the Nordiques, and Thad Marcola notched both goals for the Generals. In net, L/A's Michael Eric made 38 saves, and Lucas Souza and Kyle Wagner stopped 8 and 20 shots, respectively, for Northeast.
Skylands Kings 1 @ Binghamton Junior Senators 9-The Binghamton Junior Senators had a strong second and third period, resulting in a 9-1 win over the Skylands Kings. RC Randall, Jeremy Wilber (2), Brad Becker, Michael Padgeon, Caleb Beversdorf, and Tim O'Connor scored for the Junior Senators, while Craig Garrigan notched one for the Kings. In net, Colin Burgess stopped 20 shots for Binghamton, and Mathias Yttereng and Taylor ZInk made 26 and 16 saves for Skylands.
New England Stars 3 @ Maine Wild 1-The New England Stars scored three in a row on their way to a 3-1 win over the Maine Wild. Tyson Gudaitis, Nick Johnson, and Cole Archambeault scored for the Stars, and Mason Ledbetter notched one for the Wild. New England's Greg Moon made 14 saves, and Ben Jenkins stopped 31 shots for Maine.
Oswego Stampede 2 @ Niagara Falls PowerHawks 3-The Niagara Falls PowerHawks scored twice in the third to come back defeat the Oswego Stampede, 3-2. Andrew Logar, Branden Tripi, and Matthew Minichello scored for the PowerHawks, and Dylan Gulick and Tommy Kilway found the back of the net for the Stampede. Niagara Falls' Josh Mitchell made 30 saves, while Steven Kozikoski stopped 51 shots for Oswego.
Wisconsin Whalers 2 @ Peoria Mustangs 5-After a scoreless first, the Peoria Mustangs had a busy second to defeat the Wisconsin Whalers, 5-2. Blake Finley (2), Jack Radley, Stephen Zowin, and Brandon Hay scored for the Mustangs, while Jimmy McDermott notched both Whalers goals. Peoria's Zack Freiburger made 28 saves, while Brendan Earls stopped 37 shots for Wisconsin.
Southern Tier Xpress 4 @ Wooster Oilers 1-The Southern Tier Xpress scored twice in the first to grab an early lead, defeating the Wooster Oilers, 4-1. Michael Keller, Tristan Mock, Mickenzie Restle, and Joey Gerace scored for the Xpress, while Grant Dickinson notched one for the Oilers. Southern Tier's Ryan Pascarella made 31 saves, while Justyn Gillis and Michael Hubbard stopped 31 and 4 shots, respectively, for Wooster.
Cape Cod Islanders 3 @ Long Beach Sharks 4-The Long Beach Sharks held onto a first period lead to defeat the Cape Cod Islanders, 4-3. Ben Bergman, Noah Carlock (2), and Dino Mukovoz scored for the Sharks, while Nate Jefferys, Leevi Kervinen and Jake Davis each notched one for the Islanders. Long Beach goaltender Ben Vutci made 42 saves, while Hunter Norris stopped 38 shots for Cape Cod.
Willmar WarHawks 4 @ Alexandria Blizzard 3 (SO)-After coming back late in the third, the Alexandria Blizzard sent the game into a shootout, where they fell to the Willmar WarHawks, 4-3. Riley Dixon, Jacob Berkoqitz, Brandon Holt, and Keegan Bauman scored for the WarHawks, and Brendan Payne, Peter Johnson, and Austyn Renn scored in the shootout for the Blizzard. In regulation, Dixon, Jordan Cooper, and Eli Slagter scored for the WarHawks, and Renn, Logan Nelson, and Johnson found the back of the net for the Blizzard. Willmar's Kaden Ericson made 44 saves, while Kyle Hayden stopped 19 shots for Alexandria.
Breezy Point North Stars 4 @ Wausau RiverWolves 6-The Wausau RiverWolves came back from a three goal deficit to defeat the Breezy Point North Stars, 6-4. Matt Irwin (3), Connor Moore, Jacob Rudloff, and Owen Routheut scored for the RiverWolves, and Josh Maucieri (3) and Jordan Gibson found the back of the net for the North Stars. Wausau's Henry Baribeau made 52 saves, and Jake Levinski stopped 30 shots for Breezy Point.
New Ulm Steel 3 @ Granite City Lumberjacks 6-The Granite City Lumberjacks scored four goals int he second period on their way to a 6-3 win over the new Ulm Steel. Lumberjacks' goals came via Owen Sikich, Bailey Sommers (2), Jordan Olsen, Chase DiBari, and Seth Towers, while Jack Parks, Luc Krueser, and Ryan Smith found the back of the net for the Steel. Granite City's David Mulligan made 27 saves, while Ryan Kenny stopped 22 shots for New Ulm.