Ducks handle Jr. Thunderbolts on Monday, 7-4
January 15, 2018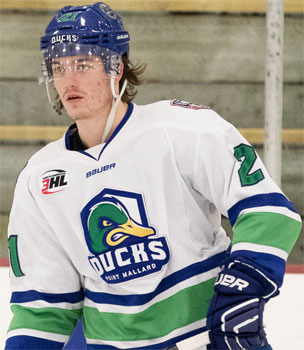 Evansville 4 @ Point Mallard 7 – Seven different players scored a goal as the Point Mallard Ducks picked up their second win of the week over the Evansville Jr. Thunderbolts thanks to a 7-4 win in a late Monday morning game.
The Ducks got off to a fast start, taking a 2-0 lead in the 1st period with goals from Jesse Stepp and Yuval Halpert. Evansville was quick to answer back before the end of the period as goals from Rory Scott and Malik Winfield tied the game at 2-2 at the end of one period.
The 2nd period was all Ducks as they blew the game open with three goals, including tallies from Matt Goodman, Jason Kelly and Stephen Herbel.
The lead quickly grew to 7-2 early in the 3rd period as the Ducks got two more goals from Fletcher Chun and Kevin LaPlante. Evansville was able to add two more goals before the final horn as Mitchell Hoon and Brandon Rozema scored.
Ducks defenseman Stephen Herbel would end up with four points in the game, while Goodman and LaPlante each had three points.
Ducks goalie Joey Bernardini made 17 saves in the win, while Thunderbolts goalie Bryson Linenburg made 34 saves in the loss.