Caps stay hot with convincing win
January 19, 2018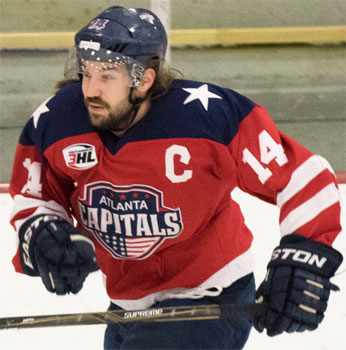 College Station Spirit 1 @ Atlanta Capitals 11-The Atlanta Capitals came out guns blazing, defeating the College Station Spirit 11-1. Cole Warner, Dillon Steh (3), Cole Thomas Johnson, Talon Medure (2), Jason Ladzinski, Ayrton Cornic, and Andrei Rusakov (2) all scored for the Capitals, and Gannen Erickson found the back of the net for the Spirit. In net, Atlanta's Kyle Konin made 13 saves, while Drew Pehrson stopped 66 shots for College Station.
Peoria Mustangs 5 @ La Crosse Freeze 6 (OT)-La Crosse Freeze forward Clayton Lackey scored 19 seconds into overtime to defeat the Peoria Mustangs, 6-5. Lackey, Joshua Lubsy, Jacob Garman, Brandon Ratzloff, and Brady Lindauer scored in regulation for the Freeze, while Jack Healy (2), Braden Stewart, Ian Acuna, and Blake Finley each scored for the Mustangs. La Crosse' Devin Naidow made 24 saves, and Jaden Gardner stopped 38 shots for Peoria.
North Iowa Bulls 5 @ Wisconsin Whalers 0-The North Iowa Bulls grabbed a commanding lead on their way to defeat the Wisconsin Whalers, 5-0. Tyler Bump, Cameron Fagerlee (2), Josh Arnold, and Matt Dahlseide scored for the Bulls. North Iowa goalie Colin Cain made 24 saves in the shutout and Wiscosin goalie Alex Hufford made 46 saves in the loss.