Friday Finals: North Stars win thriller
January 20, 2018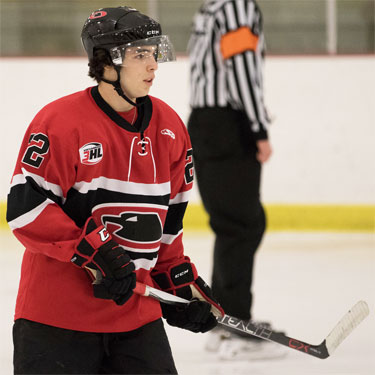 Willmar WarHawks 5 @ Breezy Point North Stars 6-The Breezy Point North Stars scored four goals in the third to defeat the Willmar WarHawks, 6-5. Erik Gadbois, Jakob Prisien, Danny Wieber, Jared Fladebo (2), and Jack Petroske each scored for the North Stars, while Jordan Cooper, Peyton Polstad (2), Tanner Dahle, and Jacob Berkowitz found the back of the net for the WarHawks. Breezy Point's Lucas Ehlrich stopped 33 shots, while Luke Fry made 30 saves for Willmar.
Helena Bighorns 5 @ Bozeman Icedogs 4-After a strong third period, the Helena Bighorns defeated the Bozeman Icedogs, 5-4. Kaden Lindberg, Valary Dietz, Gavin Cline, Ben Kottmeier, and Richard Groskops scored for the Bighorns, while Gabe Huntley, Max Schumacher, Beckett Patten, and Jacob Boje scored for the Icedogs. In net, Helena's Eric Berglund made 22 saves, and Carver Thompson stopped 75 shots for Bozeman.
Missoula Junior Bruins 2 @ Yellowstone Quake 5-Riley Buller scored twice on the way to a Yellowstone 5-2 victory over the Missoula Junior Bruins. Yellowstone goals also came via Jack Moore, Mason Stewart, and Ian Doner, while Rhys Cottle and Misha Akatnov scored for the Junior Bruins. Yellowstone's Jonatan Persson made 24 saves, and Duncan Wiest stopped 59 shots for Missoula.
Southern Tier Xpress 9 @ Roc City Royals 4-The Southern Tier Xpress grabbed an early lead on their way to a 9-4 win over the Roc City Royals. Stuart Pearson (2), Jacob Zweig, Nic Allen, Marks Mazsargs, Michael Lamison, James Lowry, and Tristan Mock scored for the Xpress, while Spencer Norris, and Brandon Corey (3) notched goals for the Royals. Southern Tier's Ryan Pascarella made 16 saves, and Frederick Peters stopped 55 shots for Roc City.
Great Falls Americans 2 @ Gillette Wild 1 (SO)-Weston Goodman scored after a seven round shootout for the Great Falls Americans to defeat the Gillette Wild, 2-1. Matt Janne scored in regulation for the Americans, while Austin Estep notched one for the Wild. Great Falls' Drew Scites made 28 saves while Cody Grogan stopped 44 shots for Gillette.
New Ulm Steel 4 @ Alexandria Blizzard 1-The New Ulm Steel scored three in the first period to defeat the Alexandria Blizzard, 4-1. Ryan Smith, Kirk Coppock, Luc Krueser, and Austin Langworthy each scored one for the Steel, and Logan Nelson notched one for the Blizzard. New Ulm's Ryan Kenny stopped 34 shots, and Alexandria's Brady Meyers made 28 saves.
Wausau RiverWolves 4 @ Rochester Ice Hawks 13-The Rochester Ice Hawks grabbed an early lead for a 13-4 win over the Wausau RiverWolves. Justin Gibbons, Judd Schulz, Lake Powell (2), Justin Gibbons (3), Brandon Pahl (2), Vinny Billing (2), Judd Schulz, and Josh Hoffman scored for the Ice Hawks, while Matt Irwin, Ryan Hempel, and Michael Alfonso (2) scored for the RiverWolves. Rochester's Luke Murphy and Nick Barrett made 21 and 12 saves each, while Jackson Fazendin and Christian Sanzottera stopped 38 and 11 shots for Wausau.
Louisiana Drillers 1 @ Texas Brahmas 6-The Texas Brahmas scored four consecutive goals for a 6-1 win over the Louisiana Drillers. Bennett Weycker, Cameron Bickford, Kellen Ireland, Vincent Dekumbis, Michael Redmon, and Sam Sykes scored for the Brahmas, while Drew Wotta notched the lone Drillers goal. Texas' Carson Murison made 17 saves, while Ian Clifford stopped 33 shots for Louisiana.
North Iowa Bulls 6 @ Wisconsin Whalers 3-The North Iowa Bulls scored three in the third to defeat the Wisconsin Whalers, 6-3. Jake Joyaeux, Josh Arnold, Tyler Bump, Dayton Honkanen, and Mitch Dolter (2) scored for the Bulls, while Zane Marshman, Graham Day, and Andrew Ether found the back of the net for the Whalers. North Iowa goaltender Lewis Simon made 28 saves, while Brendan Earls stopped 26 shots for Wisconsin.
Metro Jets 7 @ Lansing Wolves 1-The Metro Jets scored five goals in the third period to secure a 7-1 win over the Lansing Wolves. Jet's goals came viz Jeremy Schwartz, Trevor Momot, Matt Schaumburger (2), Jhuwon Davis, George Hansen, and Brodie Thornton scored for the Jets, while Brandon Ashley notched one for the Wolves. Metro's Brian Tallieu made 17 saves, while Sean Finstrom stopped 28 shots for Lansing.
Point Mallard Ducks 7 @ Evansville Jr Thunderbolts 1-The Point Mallard Ducks scored two in the first to secure a 7-1 victory over the Evansville Jr Thunderbolts. Jason Kelly, Fletcher Chun, Jesse Stepp, Tyler Trombly, Kevin LaPlante, Regnars Udris, and Michael Dlugach scored for the Ducks, Brandon Rozema notched one for the Jr Thunderbolts. Point Mallard's Joey Bernardini made 23 saves, and Bryson Linenburg stopped 66 shots for Evansville.
Wooster Oilers 4 @ Toledo Cherokee 1-The Wooster Oilers scored three in a row to defeat the Toledo Cherokee, 4-1. Wooster goals came from Turner Banyasz, Hunter Hilbrecht, Shane Malinak, and Daniel Critzer scored for the Oilers, while Darren Carter notched one for the Cherokee. Justyn Gillis stopped 30 shots for Wooster, while Alan Brouillette made 38 saves for Toledo.
La Crosse Freeze 3 @ Peoria Mustangs 0-La Crosse Freeze goaltender Will Graves made 32 saves for a 3-0 shutout win over the Peoria Mustangs. La Crosse's Flavien Fonadadouza, Laudon Poellinger, and Brandon Ratzloff each scored. Zack Freiburger stopped 39 shots for Peoria.
College Station Spirit 0 @ Atlanta Capitals 6-Atlanta Capital goaltender Kyle Konin made 10 saves for a 6-0 shutout win over the College Station Spirit. Cole Thomas Johnson, Talon Medure, Ayrton Cornic, Brody Nielsen, Dillon Steh, and Cameron Smith scored for the Capitals. College Station's Ryan O'Toole stopped 68 shots.