Saturday Scores: Missoula stuns division-leading Yellowstone
January 21, 2018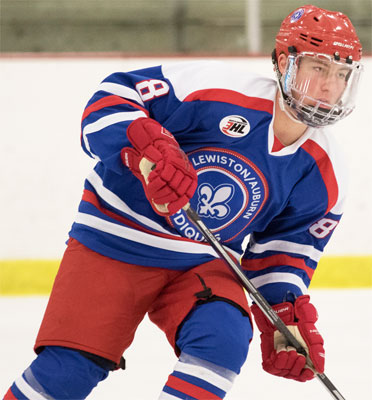 Missoula Junior Bruins 5 @ Yellowstone Quake 4-The Yellowstone Quake scored early, but five consecutive goals from the Missoula Junior Bruins put them on top, 5-2. Junior Bruins goals came via Vadim Zubkov, Austin Dennison, Cameron Cunningham, Rhys Cottle, and Misha Akatnov, while Jake Ford, Riley Buller, Jack Moore, and Cole Stewart each notched one for the Quake. Missoula goaltender Duncan Wiest made 49 saves, while Reid Waszczenko stopped 14 shots for Yellowstone.
New England Stars 6 @ Cape Cod Islanders 2-The New England Stars scored three goals in both the first and third period to secure their 6-2 win over the Cape Cod Islanders. Cole Archambeault (2), Tyson Gudaitis, Ian Gatley, Hunter Norris, and Douglas Herling all scored for the Stars, while Cam St Amand and Leevi Kervinen each notched one for the Islanders. New England's Andrew Ghimpeteanu stopped 32 shots, and Esa Maki made 39 saves for Cape Cod.
Binghamton Junior Senators 6 @ Pittsburgh Vengeance 1-Binghamton Junior Senator Ryan Reifler racked up a hat trick to help his team to a 6-1 win over the Pittsburgh Vengeance. Brad Becker, Dominik Bogdziul, and RC Randall also scored for the Junior Senators, while Dominick Glavach notched the lone Vengeance goal. Binghamton's Brady Anderson made 30 saves, and Joel De Simone and Jacob Zab racked up 18 and 9 saves each for Pittsburgh.
Long Beach Sharks 0 @ L/A Nordiques 11-L/A Nordique Jason St Pierre made 15 saves for an 11-0 shutout win over the Long Beach Sharks. Caleb Labrie (2), Kyle Secor, Adam Colclough (2), Cole Ouellette, Clifford Ogle (2), Colby Audette, Crewz Berry, and JP Chauvin scored for the Nordiques. Ben Vutci and Ryan Cortez were in net for the Sharks, racking up 25 and 24 saves each.
Maine Wild 5 @ Northeast Generals 7-The Northeast Generals grabbed an early lead on their way to a 7-5 win over the Maine Wild. Brian Shea, Stephen Toal, Alex O'Dowd, Austin Braley, Marc Faia, Fedor Lopaev, and Thad Marcola scored for the Generals, while Tyler Webb, Josh DeCarolis, Josef Mehall, and Nick Panfen (2) found the back of the net for the Wild. Northeast's Lucas Souza made 34 saves on the night, while Ben Jenkins and Anthony Santarosa racked up 22 and 5 saves, respectively, for Maine.
Roc City Royals 2 @ Southern Tier Xpress 10-A strong, consistent offense presence helped the Southern Tier Xpress climb to a 10-2 win over the Roc City Royals. Joey Gerace (2), Nick Wilcox, Ty Rickabaugh (2), Jacob Zweig, Marks Mezsargs, Michael Keller, Dominic Cappella, and Tristan Mock all got on the scoreboard for the Xpress, while Patrick Nowak and Brandon Corey each scored one for the Royals. Southern Tier's Brandon Heacock stopped 30 shots, while Josh Martinez and Shane Phillips made 28 and 30 saves, respectively, for Roc City.
Lansing Wolves 2 @ Metro Jets 6-The Metro Jets grabbed a three goal lead to help them secure a 6-2 win over the Lansing Wolves. Connor Inger, Jeremy Schwartz (2), Joey Bruce, Brodie Thornton, and Trevor Momot got on the scoreboard for the Jets, and Noah Pipper and Garrison Weyh found the back of the net for the Wolves. Metro goaltender Andrew Kormos made 38 saves, while Will Ignatovich stopped 38 shots for Lansing.
Niagara Falls PowerHawks 4 @ Oswego Stampede 2-With a two goal lead after the first twenty, the Niagara Falls PowerHawks ended the game in a 4-2 victory over the Oswego Stampede. Brandon Schweickert, Brandon Snyder, Stephen Minichiello, and Gage Mueller scored for the PowerHawks, while Rich Hart and Jameson Simmonds notched one each for the Stampede. Niagara Falls goaltender Kris Augustine made 20 saves, and Steven Kozikoski stopped 30 shots for Oswego.
Toledo Cherokee 5 @ Wooster Oilers 3-Spencer Sandberg had four points (2 goals, 2 assists) to lead Toledo to a 5-3 road win at Wooster. Toledo defenseman Anthony Weinrich also had 2 goals and an assist for the Cherokee and Dalton Cummings also scored. Wooster goals came from Cole Barney, Daniel Critzer, and Bobby Frieson. Toledo goalie Ricardo Gonzalez made 26 saves in the win.
St Louis Jr Blues 15 @ Evansville Jr Thunderbolts 1-A busy second period helped the St Louis Jr Blues rack up a 15-1 win over the Evansville Junior Thunderbolts. Jake Cox (3), Jack Hatton, Joe Papa, Will Baginski (4), Matthew Hohl, Dylan Carroll, Ethan Dabbs, Matthew Monreal, Ben Jones, and John Shively scored for the Jr Blues, and Rory Scott notched the lone Jr Thunderbolts goal. St Louis net minder Blake Bjella made 19 saves, while Sam Tucker and Spencer Gill racked up 26 and 35 saves each for Evansville.
La Crosse Freeze 12 @ Rochester Ice Hawks 0-La Crosse Freeze goaltender Devin Naidow made 13 saves for a 12-0 shutout win over the Rochester Ice Hawks. Clayton Lackey (2), Brandon Ratzloff, Flavien Fondadouze, Connor Losen, Marcus Tilmon, Keaton Caplis, Toon De Schepper, George Nuutinen, and Nathan McComb each scored for the Freeze. Rochester goaltenders Nick Bucklin and Nick Barrett stopped 53 and 14 shots each for Rochester.
Louisiana Drillers 0 @ Texas Brahmas 6-Texas Brahma goaltender Carson Murison made 14 saves for a 6-0 shutout win over the Louisiana Drillers. Vincent Dekumbis, Michael Redmon (2), Sam Sykes, and Hunter Bersani scored for the Brahmas. Louisiana netminder Griffin Varricchio stopped 27 shots.
Alexandria Blizzard 2 @ New Ulm Steel 4-The New Ulm Steel came back to defeat the Alexandria Blizzard, 4-2. Tom Reilly, Steven Mordini, Jack Parks, and Jarrett Cammarata scored for the Steel, and Jake Hermann and Luke Benson each notched one for the Blizzard. New Ulm goaltender Ryan Kenny made 40 saves, while Kyle Hayden stopped 42 shots for Alexandria.
Wausau RiverWolves 0 @ North Iowa Bulls 13-Colin Cain made 16 saves for a 13-0 shutout win for the North Iowa Bulls over the Wausau RiverWolves. Shane Bernhardson, Cameron Fagerlee (3), Tucker Kruse (2), Tyler Bump, Isaac Baron, Jeff Larson, Josh Arnold, Mitch Dolter, Dan Sandvig, and Connor Clemons scored for the Bulls. Henry Baribeau and Jackson Fazendin made 26 and 9 saves, respectively.
Breezy Point North Stars 4 @ Willmar WarHawks 3 (OT)-Breezy Point North Star Noah Krueger scored halfway through extra minutes to defeat the Willmar WarHawks, 4-3, in overtime. Josh Maucieri (2) and Danny Wieber scored for the North Stars in regulation, while Riley Dixon (2) and Braden Shea each scored for the WarHawks. Breezy Point's Micah Hershey made 29 saves, while Kaden Ericson stopped 22 shots for Willmar.
Great Falls Americans 4 @ Gillette Wild 1-A pair from Payton McSharry put the Great Falls Americans ahead on their way to a 4-1 win over the Gillette Wild. Michael Fary and Cody Dearing also scored for the Americans, while Nick Stockert notched one for the Wild. Great Falls net minder Drew Scites made 26 saves, while Cody Grogan stopped 27 shots for Gillette.
Bozeman Icedogs 0 @ Helena Bighorns 4-Helena Bighorn Nick Battaglia made 14 saves for a 4-0 shutout win over the Bozeman Icedogs. Helena goals came via Jarett Scheibel, Kaden Lindberg, Ben Kottmeier, and Gavin Cline. Bozeman goaltender Parker Orchard made 37 saves on the night.