Sunday Wrap-Up: Stars punch playoff ticket with sweep
January 21, 2018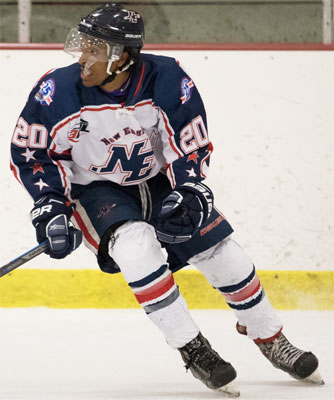 Cape Cod Islanders 2 @ New England Stars 4-The New England Stars scored three in a row to come back and defeat the Cape Cod Islanders, 4-2. New England goals came from Tyson Gudaitis (2), Aidan Conlon, and Derek Flynn, while Nate Jefferys and Leevi Kervinen each notched one for the Islanders. Stars goaltender Greg Moon racked up 21 saves, while Esa Maki stopped 36 shots for Cape Cod.
Northeast Generals 7 @ Maine Wild 3-A pair of goals from both Austin Braley and Marc Faia helped the Northeast Generals to a 7-3 win over the Maine Wild. Thad Marcola, Stephen Toal, and Fedor Lopaev also scored for the Generals, while Josh DeCarolis, Tyler Webb, and Brayden Roberts each notched one for the Wild. Northeast's Kyle Wagner made 20 saves, while Anthony Santarosa and Nick Vardon made 28 and 17 saves, respectively, for Maine.
Binghamton Junior Senators 2 @ Pittsburgh Vengeance 3 (SO)-Dominick Glavach notched one in a shootout for the Pittsburgh Vengeance to defeat the Binghamton Junior Senators, 3-2. Glavach also scored in regulation, alongside Thomas Polster, for the Vengeance. For Binghamton, Tim O'Connor and Brad Becker each found the back of the net. Pittsburgh's Tyler Hawk made 24 saves, while Colin Burgess stopped 26 shots for Binghamton.
Niagara Falls PowerHawks 6 @ Oswego Stampede 3-With scoring isolated to the first two periods, a scoring surge in the second helped the Niagara Falls PowerHawks to a 6-3 win over the Oswego Stampede. Josh Kalinowski, Spencer Hyrnczak, Brandon Schweickert, Michael Olszewski, and Frankie Bodami (2) scored for the PowerHawks, while Eddie Cannon (2) and Dylan Candleana got on the scoreboard for the Stampede. Niagara Falls goaltender Carson Gates made 29 saves, while Zane Branson and Ben White made 23 and 15 saves, respectively, for Owsego.
Long Beach Sharks 0 @ L/A Nordiques 7-L/A Nordique Sage Broda made 26 saves for a 7-0 shutout win over the Long Beach Sharks. Nordique goal scorers include: Clifford Ogle, Adam Colclough, Caleb Labrie (2), Crewz Berry, Nick Ventura, and Colby Audette. Long Beach's Ryan Cortez made 46 saves on the night.
St Louis Jr Blues 11@ Evansville Jr Thunderbolts 1-Nine different goal scorers had a hand in the St Louis Jr Blues' 9-1 win over the Evansville Jr Thunderbolts. Dylan Carroll, Jack Hatton (2), Jake Cox, Matthew Monreal, Will Baginski, Brendan Biffignani, Dante Jones (2), Cameron McAtee, and Dawson Marshall scored for the Jr Blues, while Rory Scott notched one for the Jr Thunderbolts. St Louis' Blake Bjella made 14 saves, while Bryson Linenburg stopped 49 shots for Evansville.