Radley leads Peoria to shutout win on Monday
January 23, 2018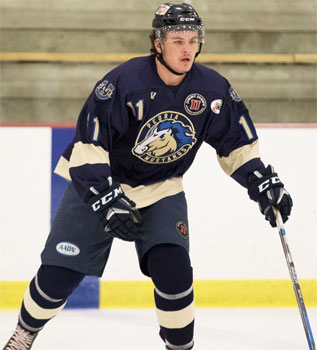 Point Mallard Ducks 0 @ Peoria Mustangs 4-Jack Radley notched a hat trick to help the Peoria Mustangs to a 4-0 win over the Point Mallard Ducks. Cody Layne also scored for the Mustangs, while Dakota Meyer made 40 saves for the shutout. Point Mallard goaltender Joey Bernardini made 37 saves.
Just :12 seconds into the game, Radley opened the scoring, which was his 20th goal of the season. He added another in the 2nd peirod as did Layne.
Radley's hat-trick came midway though the 3rd period. Peoria outshot the Ducks 41-40 in the game. The two teams play again on Tuesday morning at 11am.