Peoria sweeps Point Mallard
January 23, 2018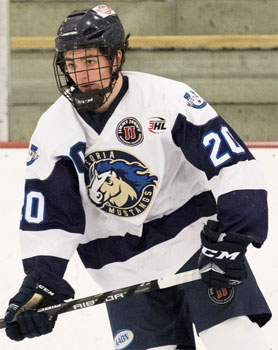 Point Mallard Ducks 3 @ Peoria Mustangs 5 – The Peoria Mustangs completed an early week two-game sweep of the visiting Point Mallard Ducks thanks to a 5-3 win on Tuesday afternoon.
On Tuesday afternoon, it was the Ducks who jumped on the board first as Mason Evans scored his 10th goal of the season. Just over two minutes later, the Mustangs equalized on a goal from Wes Straker.
In the 2nd period, the Mustangs seized control with three goals to take a commanding 4-1 lead, which included two goals from Ian McHenry and another from Jack Healy.
The Ducks tried to make a game of things in the 3rd period, cutting the deficit to just 4-3 with goals from Fletcher Chun and Regnars Udirs, but the Mustangs put the game on ice with a goal late in the 3rd period from Braden Stewart.
Peoria goaltender Jaden Gardner made 43 saves in the win, while Joey Bernardini took the loss making 15 saves. Ducks goalie Chris O'Shaughnessy also saw time, making 11 saves.