January 26, 2018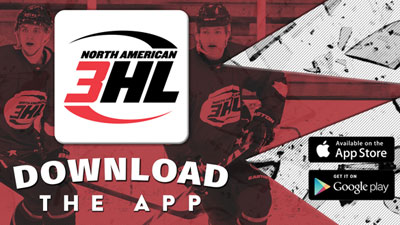 37 games are on the schedule this weekend in the NA3HL as more Fraser Cup Playoff spots are up for grabs.
This weekend in not only the perfect opportunity for NA3HL to make a move in the standings for Top Prospects spots, but several teams are on the verge of clinching more playoff spots, including the East, Frontier, and South Divisions.
The NA3HL continues its tradition of serving as the best training ground of its kind in the country by providing the best exposure and developmental vehicles available for student-athletes at the Tier III junior level. The NA3HL has already seen 30+ call-ups to the NAHL this season.
This week has seen more NA3HL players getting called up to the NAHL and two more NA3HL players make NCAA commitments!
Follow the games on the NA3HL App:
Friday, January 26th
Mid Cities at Atlanta - 5:30 PM EST
Lansing at Southern Tier - 7:00 PM EST
Wooster at Toledo - 7:00 PM EST
L/A at Long Beach - 7:30 PM EST
Oswego at Binghamton - 8:00 PM EST
La Crosse at Wisconsin - 7:00 PM CST
Alexandria at Rochester - 7:05 PM CST
Louisiana at Texas - 7:05 PM CST
Wausau at New Ulm - 7:10 PM CST
St. Louis at Granite City - 7:30 PM CST
Metro at North Iowa - 7:30 PM CST
Niagara Falls at Roc City - 8:30 PM EST
Yellowstone at Gillette - 7:05 PM MST
Bozeman at Great Falls - 7:30 PM MST
Helena at Missoula - 7:30 PM MST
Saturday, January 27th
Wisconsin at La Crosse - 2:00 PM CST
Louisiana at Texas - 2:15 PM CST
Lansing at Southern Tier - 5:00 PM EST
Mid Cities at Point Mallard - 6:00 PM CST
Roc City at Binghamton - 7:30 PM EST
Maine at New England - 7:45 PM EST
Toledo at Wooster - 7:45 PM EST
L/A at Long Beach - 8:05 PM EST
Rochester at Alexandria - 7:10 PM CST
Wausau at New Ulm - 7:10 PM CST
St. Louis at Granite City - 7:30 PM CST
Metro at North Iowa - 7:30 PM CST
Breezy Point at Willmar - 7:30 PM CST
Yellowstone at Gillette - 7:05 PM MST
Bozeman at Great Falls - 7:30 PM MST
Helena at Missoula - 7:30 PM MST
Sunday, January 28th
Northeast at Cape Cod - 11:40 AM EST
Lansing at Pittsburgh - 11:40 AM EST
Roc City at Skylands - 12:00 PM EST
Oswego at Binghamton - 12:30 PM EST
Mid Cities at Point Mallard - 1:30 PM CST
Louisiana at Texas - 2:15 PM CST