Friday Finals: Inger, Kormos lead Jets to shutout of Bulls
January 27, 2018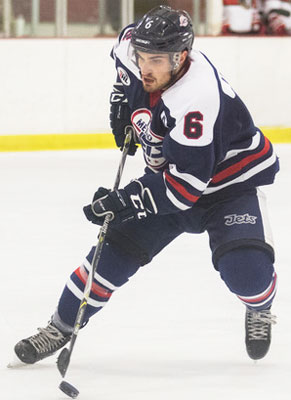 Metro Jets 3 @ North Iowa Bulls 0-Connor Inger racked up a third period hat trick, scoring the games only goals for a 3-0 win for the Metro Jets over the North Iowa Bulls. Metro goaltender Andrew Kormos made 23 saves for the shutout, while Colin Cain stopped 27 shots for North Iowa.
Mid Cities Jr Stars 3 @ Atlanta Capitals 2-The Mid Cities Jr Stars scored two goals in the first on their way to secure a 3-2 win over the Atlanta Capitals. Travis Brain, Jason Koehn, and Remy Kesling scored for the Jr Stars, while Michael Klintworthy and Brody Nielsen each grabbed a goal for the Capitals. Mid Cities goaltender Nick Vanwinkle made 31 saves on the night, while Kyle Konin stopped 24 shots for Atlanta.
Lansing Wolves 4 @ Southern Tier Xpress 0-Lansing Wolves goaltender Sean Finstrom made 26 saves to secure a 4-0 shutout win over the Southern Tier Xpress. Mike Forman scored twice, and Noah Pipper and Brendan Smith each notched one for the Wolves. Ryan Pascarella stopped 41 shots for Southern Tier.
L/A Nordiques 5 @ Long Beach Sharks 4-The L/A Nordiques battled back and forth with the Long Beach Sharks, resulting in a 5-4 win. Adam Colclough, Colby Audette, Donovan Tehan, Joshua Malone, and Crewz Berry scored for the Nordiques, while Noah Carlock, Ryan Sandberg, and Dino Mukovoz (2) found the back of the net for the Sharks. In net, L/A's Jason St Pierre made 16 saves, while Ryan Cortez stopped 32 shots for Long Beach.
Wooster Oilers 5 @ Toledo Cherokee 2-The Wooster Oilers grabbed an early lead on their way to a 5-2 win over the Toledo Cherokee. Wooster goals came via Turner Banyasz (2), Zach Swierecki, Cole Barney, and Justin Malinak, while Anthony Weinrich and Tristin Snyder each scored one for Toledo. Oiler goaltender Justyn Gillis made 24 saves, and Ricky Gonzalez stopped 40 saves for the Cherokee.
La Crosse Freeze 5 @ Wisconsin Whalers 3-Clayton Lackey scored twice late in the third to secure a 5-3 win for the La Crosse Freeze over the Wisconsin Whalers. Zach Hanno (2) and George Nuutinen also scored for the Freeze, and Zane Marshman, Brandon Onstott, and John Vanderwalk each notched one for the Whalers. La Crosse goaltender Will Graves made 35 saves, and Alex Hufford stopped 40 shots for Wisconsin.
Oswego Stampede 0 @ Binghamton Junior Senators 9-Binghamton Junior Senator Brady Anderson made 23 saves for a 9-0 shutout win over the Oswego Stampede. CJ Smith, Eric Melso, Ryan Reifler, Michael Padgeon (2), Brad Becker, Dominik Bogdziul, and Dinkmukhamed Dzhangarshev (2) scored for the Junior Senators. Ben White and Zane Branson made 36 and 16 saves, respectively, for the Stampede.
Alexandria Blizzard 7 @ Rochester Ice Hawks 3-The Alexandria Blizzard scored five in a row to secure a 7-3 win over the Rochester Ice Hawks. Tanner Frerichs, Alec Skar, Logan Nelson (2), Riley Scanlon, and Brett Meister (2) scored for the Blizzard, while Ryan Stokes, Brandon Pahl, and Josh Hoffman each notched one for the Ice Hawks. Alexandria's Brady Meyers made 18 saves, while Nick Bucklin stopped 50 shots for Rochester.
Louisiana Drillers 1 @ Texas Brahmas 5-The Texas Brahmas scored four in a row to secure a 5-1 win over the Louisiana Drillers. Bennett Weycker (2), Robert Seger, Hunter Bersani, and Cameron Bickford scored for the Brahmas, while Gunner Morgan notched one for the Drillers. Texas' Carson Murison made 24 saves, while Louisiana netminder Griffin Varricchio stopped 26 shots.
Wausau RiverWolves 1 @ New Ulm Steel 4-Ryan Smith scored two in a row to set the pace for a 4-2 win for the New Ulm Steel over the Wausau RiverWolves. Oliver Hoeschen and Jimmy Miller also scored for the Steel, while Matt Irwin notched the lone RiverWolves goal. In net, Drew Schenkenberg stopped 10 shots for New Ulm, and Henry Baribeau stopped 43 shots for Wausau.
St Louis Jr Blues 1 @ Granite City Lumberjacks 3-The Granite City Lumberjacks racked up an early two goal lead to help secure a 3-1 win over the St Louis Jr Blues. Owen Sikich, Jordan Olson, while Logan Neu each notched one for the Lumberjacks, while Dante Jones notched the lone Jr Blues goal. David Mulligan stopped 31 shots for Granite City, while Blake Bjella made 22 saves for St Louis.
Niagara Falls PowerHawks 6 @ Roc City Royals 3-The Niagara Falls PowerHawks scored four goals in the third period to cruise past the Roc City Royals to a 6-3 victory. Branden Tripi, Andrew Logar (2), Evan Domiano (2), and Brandon Snyder scored for the PowerHawks, and Patrick Nowak, Brandon Corey, and Jacob Leblanc found the back of the net for the Royals. Niagara Falls' Josh Mitchell made 30 saves, while Frederick Peters stopped 32 shots for Roc City.
Bozeman Icedogs 2 @ Great Falls Americans 4-A pair from Adam Vandenbos helped the Great Falls Americans to a 4-2 win over the Bozeman Icedogs. Kyler Mack and Weston Goodman also scored for the Americans, while Austin Charnholm and Gage Blatter found the back of the net for the Icedogs. In net, Drew Scites made 15 saves for Great Falls, while Carver Thompson stopped 43 shots for Bozeman.
Yellowstone Quake 7 @ Gillette Wild 3-The Yellowstone Quake grabbed an early lead on their way to a 7-3 win over the Gillette Wild. Ian Doner (2), Riley Buller (2), Carter Johnson, and Nolan Willoughby scored for the Quake, while Trapper Morey, Jack Oberg, and Coleman Varty each notched one for the Wild. Yellowstone's Reid Waszczenko made 35 saves, while Rasmus Pilely stopped 45 shots for Gillette.
Helena Bighorns 2 @ Missoula Junior Bruins 5-Tied at two after the first twenty minutes, the Missoula Junior Bruins came out swinging in the second to defeat the Helena Bighorns, 5-2. For Missoula, Misha Akatnov (2), Vadim Zubkov (2), and Cameron Cunningham found the back of the net, and Jarrett Scheibel and Hayden Seitz notched goals for the Bighorns. Missoula's Brian Thomas made 51 saves on the night, while Nick Battaglia stopped 22 shots for Helena.