Saturday Scores: Sens close in on division title
January 28, 2018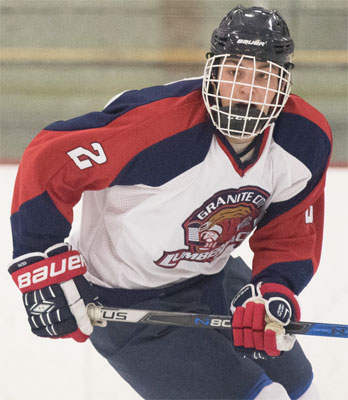 Roc City Royals 0 @ Binghamton Junior Senators 15-The Binghamton Junior Senators scored seven goals in the first on their way to a 15-0 win over the Roc City Royals. Junior Senators goals came via Thomas Mandel Jr, Jeremy Wilber (2), Michael Padgeon (2), Brad Becker (2), Gregory Simmons (3), Ryan Reifler, Geoffrey LaMorre, Eric Melso, Tim O'Connor, and Dominik Bogdziul. In net, Colin Burgess stopped 13 shots for the Binghamton shutout, while Frederick Peters made 57 saves for the Royals.
Wisconsin Whalers 1 @ La Crosse Freeze 9-Four goals from La Crosse Freeze's Clayton Lackey helped secure a 9-1 win over the Wisconsin Whalers. Thomas Magnavite (2), Toon De Schepper, Laudon Poellinger, and Jacob Garman also scored for the Freeze, while Sam Hanson notched the lone Whalers goal. La Crosse's Will Graves made 22 saves, while Brendan Earls and Alex Hufford racked up 17 and 22 saves, respectively, for Wisconsin.
St Louis Jr Blues 2 @ Granite City Lumberjacks 3-Logan Neu scored with 1:05 remaining in the game to put the Granite City Lumberjacks up 3-2 over the St Louis Jr Blues. Cole Buhl and Jordan Olson also scored for the Lumberjacks, while Will Baginski and Mark Capkovic each notched one for the Jr Blues. Granite City goaltender Ridge Gerads stopped 40 shots, while Blake Bjella made 23 saves for St Louis.
Louisiana Drillers 2 @ Texas Brahmas 6-The Texas Brahmas maintained a strong offensive presence to defeat the Louisiana Drillers, 6-2. Vincent Dekumbis, Luke Bombardir, Dakota Davis, Mark Strazisar, Andrew Holland, and Hunter Bersani each scored one for the Brahmas, while Brandon Vukasin notched both Driller goals. Texas' Carson Murison made 11 saves, while Christian Kazoleas and Ian Clifford stopped 29 and 12 saves, respectively, for Louisiana.
Lansing Wolves 5 @ Southern Tier Xpress 0-Lansing Wolves Will Ignatovich and Sean Finstrom made 23 and 14 saves each for a 5-0 shutout win over the Southern Tier Xpress. Mike Forman scored twice for the Wolves, while Brendan Smith, Brandon Ashley, and Noah Pipper notched one each. Southern Tier goaltender Ryan Pascarella stopped 47 shots.
Mid Cities Jr Stars 4 @ Point Mallard Ducks 2-A pair of goals from both Brandon Speights and Nick Sheridan helped the Mid Cities Jr Stars to a 4-2 win over the Point Mallard Ducks. Regnars Udris scored both Point Mallard goals. In net, Matthew Lenz stopped 51 shots for Mid Cities, while Chris O'Shaughnessy made 33 saves for the Ducks.
Maine Wild 1 @ New England Stars 6-The New England Stars held on to an early lead to defeat the Maine Wild, 6-1. Derek Flynn, Ryan Gauvin, James Wilson (2), Ian Gatley, and Michael Lempiainen scored for the Stars, while Tyler Webb found the back of the net for the Wild. New England's Greg Moon made 24 saves for the win, while Anthony Santarosa stopped 41 shots for Maine.
Toledo Cherokee 1 @ Wooster Oilers 3-After a scoreless first, the Wooster Oilers scored two in a row to defeat the Toledo Cherokee, 3-1. Wooster goals came off the sticks of Justin Malinak, Zach Zwierecki, and Daniel Critzer, while Tristin Snyder notched the lone Cherokee goal. Wooster's Michael Hubbard stopped 31 shots, while Alan Brouillette made 39 saves for Toledo.
L/A Nordiques 8 @ Long Beach Sharks 2-The L/A Nordiques secured an early lead to go on to defeat the Long Beach Sharks, 8-2. Adam Colclough (2), Andrew McCormick, Nick Ventura, Evan Sullivan, Connor Kennedy, Crewz Berry, and Armand O'Keefe scored for the Nordiques, while Noah Carlock and Charlie Bedard each notched one for Long Beach. no goaltender information
Rochester Ice Hawks 0 @ Alexandria Blizzard 15-The Alexandria Blizzard maintained a strong offensive presence to rack up a 15-0 shutout win over the Rochester Ice Hawks. Peter Johnson, Luke Benson (3), Michael Behl, Josiah Roen (2), Logan Nelson, Dylan Giorgio, Alec Skar, Jack Mellstrom, Brett Meister, Connor Beltz, Tanner Frerichs, and Elias Thompson all got on the scoreboard for the Blizzard. Alexandria netminder Kyle Hayden stopped 12 shots for the shutout, while Luke Murphy and Nick Barrett stopped 43 and 30 shots each for Rochester.
Wausau RiverWolves 0 @ New Ulm Steel 4-New Ulm Steel goaltender Ryan Kenny stopped 15 shots for a 4-0 shutout win over the Wausau RiverWolves. Steven Mordini, Tom Reilly, Jarrett Cammarata, and Brian Oare each scored for the Steel. Wausau's Henry Baribeau made 43 saves on the night.
Metro Jets 5 @ North Iowa Bulls 4-The Metro Jets scored late in the third period to secure a 5-4 win over the North Iowa Bulls. Metro goals came via Joey Bruce, Matt Schaumburger, Brodie Thornton, Jhuwon Davis, and Michael Gulawsky, while Connor Clemons, Dayton Honkanen, Cameron Fagerlee, and Mitch Dolter found the back of the net for the Bulls. Jets goaltender Andrew Kormos made 26 saves, while Colin Cain stopped 28 shots for North Iowa.
Breezy Point North Stars 0 @ Willmar WarHawks 6-The Willmar WarHawks made 21 saves for a 6-0 shutout victory over the Breezy Point North Stars. Sam Voss, Peyton Bolstad, Jacob Berkowitz, Braden Shea (2), and Riley Dixon each found the back of the net for the WarHawks. Breezy Point's Micah Hershey stopped 48 shots on the night.
Yellowstone Quake 3 @ Gillette Wild 4 (SO)-The Yellowstone Quake grabbed a late second period lead, but a strong third period forced the game to overtime and a shootout, where Nick Stockert scored to give the win to the Gillette Wild, 4-3. Derek Scoggins, Gage Thompson, and Jack Oberg scored in regulation for the Wild, while Yellowstone goals came via Carter Johnson, Shaw Walworth, and Cole Stewart. Gillette's Cody Grogan stopped 36 shots, while Reid Waszczenko made 26 saves for the Quake.
Bozeman Icedogs 1 @ Great Falls Americans 4-A pair of goals from Kyler Mack put the Great Falls Americans up early, helping them lock in a 4-1 win over the Bozeman Icedogs. Michael Houlihan and Weston Goodman also scored for the Americans, while Austin Charnholm notched one for the Icedogs. Great Falls goaltender Bryan Sharp made 15 saves, while Tait Carlson stopped 46 shots for Bozeman.
Helena Bighorns 7 @ Missoula Junior Bruins 4-The Helena Bighorns scored three goals late in the third to defeat the Missoula Junior Bruins, 7-4. Nick Noel, Gavin Cline, Hayden Seitz, Kaden Lindberg, Ty Niskanen, and Luc Cross each notched one for the Bighorns, while Vadim Zubkov, Bryan Miller, Austin Dennison, and Misha Akatnov got on the scoreboard for the Junior Bruins. Helena's Cody Brewer made 35 saves, while Brian Thomas stopped 41 shots for Missoula.