Lansing, Texas, Binghamton complete three-win weekends
January 28, 2018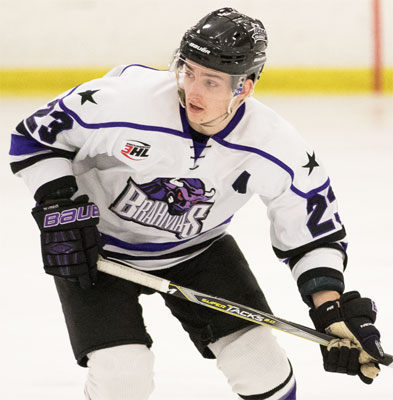 Lansing Wolves 4 @ Pittsburgh Vengeance 1-The Pittsburgh Vengeance struck first, but four consecutive goals for the Lansing Wolves led them to come out on top, 4-1. Brendan Smith, Jacob Deratany, Garrison Weyh, and Mac Diver each notched one for the Wolves, while Zachary Servidio found the back of the net for the Vengeance. Lansing goaltender Sean Finstrom made 31 saves, while Joel De Simone notched 30 saves for Pittsburgh.
Louisiana Drillers 1 @ Texas Brahmas 4-The Texas Brahmas came back from a one goal deficit to defeat the Louisiana Drillers, 4-1. Joseph Trazzera, Hunter Bersani, Vincent Dekumbis, and Cole Tiedemann each notched one for the Brahmas, while Brandon Vukasin scored the lone Drillers goal. Texas' Carson Murison made 20 saves, while Ian Clifford stopped 50 shots for Louisiana.
Northeast Generals 3 @ Cape Cod Islanders 1-The Northeast Generals held onto an early lead to defeat the Cape Cod Islanders, 3-1. Generals goals came off the sticks of Austin Braley, Tyler Rudek, and Dylan Figueroa, while Jack Conway notched one for Cape Cod. Northeast goaltender Nick Sesock made 25 saves, while Esa Maki stopped 24 shots for the Islanders.
Roc City Royals 3 @ Skylands Kings 5-The Skylands Kings held onto an early lead to defeat the Roc City Royals, 5-3. Eric Vanderhoff, Craig Garrigan, Dylan Dinzik, Stephen Finkel, and Joshua Baker scored for the Kings, while Sean Ryan (2) and Jacob Wood found the back of the net for the Royals. Skylands' Mathias Yttereng stopped 24 shots, while Frederick Peters made 25 saves for Roc City.
Oswego Stampede 0 @ Binghamton Junior Senators 4-Binghamton Junior Senator Jeffrey Zero made 18 saves for a 4-0 shutout win over the Oswego Stampede. Binghamton goals came via Ryan Reifler, Brad Becker, Tim O'Connor, and CJ Smith. Steven Kozikoski made 32 saves for Oswego.
Mid Cities Jr Stars 2 @ Point Mallard Ducks 9-The Point Mallard Ducks came out swinging in the third, scoring seven goals in less than ten minutes to defeat the Mid Cities Jr Stars, 9-2. For the Ducks, Mason Evans (2), Declan O'Neal, Fletcher Chun, Tyler Trombly, Jarrett Green, Regnars Udris, Kerry Horton, and Kevin LaPLante got on the scoreboard, while Bryce Harrison and Travis Brain each scored one for the Jr Stars. Point Mallard netminder Joey Bernardini made 21 saves, while Matthew Lenz stopped 46 shots for Mid Cities.