North Iowa defenseman Honkanen made NCAA commitment
February 1, 2018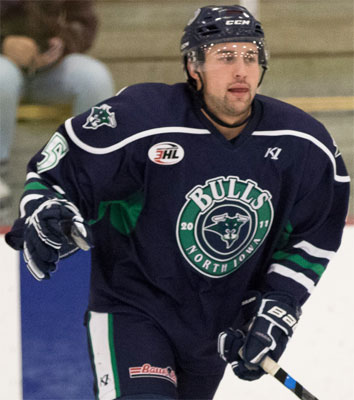 Second-year NA3HL and North Iowa Bulls defenseman Dayton Honkanen has scored seven goals this season, including two-game winners. His ultimate goal, though, was to find the right place to continue his hockey career, and Honkanen has found that place with an NCAA Division III commitment to the University of Wisconsin-River Falls. He's the second North Iowa Bulls player to commit to UWRF in just over a week, following Josh Arnold's commitment to the Falcons' program.
After a solid freshman effort a year ago that included 25 points in 43 games with a pair of power play goals, his game has reached new heights this season. Honkanen ends the month of January with 29 points in 35 games, including those two game-winners.
Honkanen and Arnold will both play under Steve Freeman, who has built one of the most decorated resumes in Division III hockey over his 22 seasons with the Falcons. Freeman has won 374 games, including eight 20-win seasons and a trip to the Division III Frozen Four in 2001. This season, though, the Falcons carry just six wins into the upcoming weekend.
Arnold and Honkanen are the first Bulls to commit to the UW-River Falls program, but Honkanen's commitment marks a milestone for the team. The New Brighton, Minnesota native becomes the 60th player in North Iowa's seven-year history to take his game to the college ranks, either at the NCAA or ACHA level. Six of those players have found their way to Division I programs, including three who are currently active on D-I rosters.
The North Iowa Bulls congratulate Dayton Honkanen on his college commitment, and wish him the best for his career to come at Wisconsin-River Falls.