February 2, 2018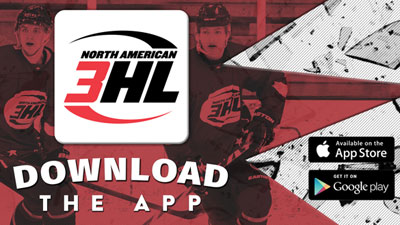 More Fraser Cup Playoff spots are looking to be locked up this weekend in the NA3HL as 35 games are on the schedule from Friday through Sunday.
This weekend should see more playoff berths locked up in the East, Frontier, Northeast, South, and potentially West Divisions.
While regular season divisional champion has been crowned yet, the St. Louis Jr. Blues and Binghamton Junior Senators appear to be the first two on the slate to capture their respective titles.
This weekend is the last chance for player movement across the USA Hockey junior hockey landscape as the trading deadline and roster freeze hit next week. Also hitting next week is the announcement of the rosters for the six teams who will be participating in the 2018 NA3HL Top Prospects Tournament.
Follow the games on the NA3HL App:
Friday, February 2nd
Evansville at Point Mallard - 11:00 AM CST
Roc City at Niagara Falls - 7:00 PM EST
Metro at Wooster - 7:45 PM EST
Skylands at Binghamton - 8:00 PM EST
Rochester at Alexandria - 7:10 PM CST
L/A at New England - 8:10 PM EST
Wisconsin at Wausau - 7:10 PM CST
New Ulm at Granite City - 7:30 PM CST
Helena at Gillette - 7:05 PM MST
Great Falls at Yellowstone - 7:30 PM MST
Missoula at Bozeman - 7:35 PM MST
Saturday, February 3rd
Long Beach at Cape Cod - 12:30 PM EST
Mid Cities at Louisiana - 4:00 PM CST
Atlanta at St. Louis - 4:00 PM CST
Skylands at Niagara Falls - 6:00 PM EST
L/A at Northeast - 7:00 PM EST
Lansing at Metro - 7:30 PM EST
Roc City at Oswego - 7:30 PM EST
Wausau at Peoria - 6:45 PM CST
Pittsburgh at Wooster - 7:45 PM EST
Point Mallard at Evansville - 7:00 PM CST
Breezy Point at La Crosse - 7:00 PM CST
New England at Maine - 8:00 PM EST
Granite City at New Ulm - 7:10 PM CST
Rochester at Willmar - 7:30 PM CST
Helena at Gillette - 7:05 PM MST
Bozeman at Missoula - 7:30 PM MST
Great Falls at Yellowstone - 7:30 PM MST
Sunday, February 4th
Long Beach at Cape Cod - 11:40 AM EST
Breezy Point at La Crosse - 11:00 AM CST
Wausau at Peoria - 11:00 AM CST
Skylands at Niagara Falls - 1:00 PM EST
Oswego at Roc City - 2:00 PM EST
Atlanta at St. Louis - 1:00 PM CST
Mid Cities at Louisiana - 4:00 PM CST