Friday Finals: Steel edge Lumberjacks to increase West lead
February 3, 2018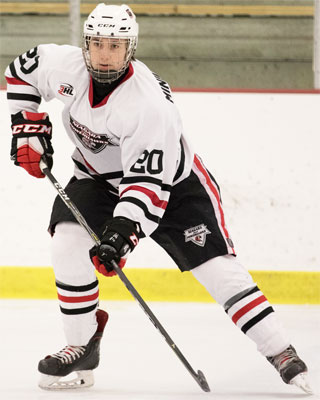 New Ulm Steel 3 @ Granite City Lumberjacks 2-The New Ulm Steel scored two late in the third to bypass the Granite City Lumberjacks and win the game, 3-2. Alex Nagel, Sam Storlie, and Jarrett Cammarata each scored for the Steel, while Brandon Bissett and Brandon Baker got on the scoreboard for the Lumberjacks. New Ulm's Ryan Kenny made 28 saves, while David Mulligan stopped 22 saves in net for Granite City.
Roc City Royals 2 @ Niagara Falls PowerHawks 6-Tied after one, the Niagara Falls PowerHawks scored three in a row to secure a 6-2 win over the Roc City Royals. Andrew Logar, Matthew Minichiello (2), Michael Olszewski, Stephen Minichiello, and Mitchell Thornton scored for the PowerHawks, while Brandon Corey notched both goals for the Royals. No goalie information
Skylands Kings 0 @ Binghamton Junior Senators 12-Binghamton Junior Senator Brady Anderson made 17 saves for a 12-0 shutout win over the Skylands Kings. Binghamton goals came off the sticks of Dominik Bogdziul, Eric Melso, Jeremy WIlber, Tim O'Connor, Ryan Reifler (4), RC Randall (2), Caleb Beversdorf, and Gregory Simmons. Josh Sears stopped 41 shots for Skylands.
Metro Jets 7 @ Wooster Oilers 1-The Metro Jets grabbed a four goal lead after two to secure a 7-1 win over the Wooster Oilers. Jeremy Schwartz, Jhuwon Davis, Trevor Momet, Anthony Cinato, Joey Bruce, and Matt Schaumburger (2) scored for the Jets, and Jeffrey Dawson notched one for the Oilers. Metro goaltender Brian Tallieu made 23 saves, while Michael Hubbard and Justyn Gillis stopped 26 and 6 shots for Wooster.
Rochester Ice Hawks 0 @ Alexandria Blizzard 11-Alexandria Blizzard goaltender Kyle Hayden stopped 15 shots for an 11-0 shutout win over the Rochester Ice Hawks. Blizzard goals came via Brett Meister (4), Dylan Giorgio (2), Josiah Roen, Elias Thompson, Brenden Payne, and Logan Nelson (2). Nick Bucklin and Nick Barrett made 24 and 23 saves, respectively, for the Ice Hawks.
L/A Nordiques 3 @ New England Stars 5-A hat trick from Derek Flynn helped the New England Stars to a 5-3 win over the L/A Nordiques. Ryan Gauvin and Ian Gatley also scored for the Stars, while Adam Colclough, Connor Kennedy, and JP Chauvin each notched one for the Nordiques. New England's Andrew Ghimpeteanu made 30 saves, while Michae Errico stopped 32 shots for L/A.
Wisconsin Whalers 5 @ Wausau RiverWolves 2-The Wisconsin Whalers grabbed a first period lead on their way to a 5-2 win over the Wausau RiverWolves. Zane Marshman, Jimmy McDermott, Nick Rogers (2), and John Vanderwalk scored for the Whalers, while Owen Routheut and Ryan Hempel found the back of the net for the RiverWolves. Wisconsin's Brendan Earls made 30 saves, while Henry Baribeau stopped 60 shots for Wausau.
Helena Bighorns 2 @ Gillette Wild 6-Gillette Wild forward Cody Walters scored four goals in a 6-2 win over the Helena Bighorns. Nick Stockert, and Jack Oberg also scored for the Wild, while Gavin Cline notched both Helena goals. Gillette goaltender Cody Grogan made 53 stops, while Nick Battaglia and Cody Brewer made 25 and 7 saves, respectively, for the Bighorns.
Great Falls Americans 1 @ Yellowstone Quake 3-A pair of third period goals pushed the Yellowstone Quake to a 3-1 win over the Great Falls Americans. Jack Moore, Cole Stewart, and Riley Buller scored for the Quake, while Kyler Mack notched one for the Americans. Yellowstone's Reid Wasczcenko made 32 saves, while Drew Scites and Bryan Sharp stopped 6 and 30 shots, respectively, for Great Falls.
Missoula Junior Bruins 8 @ Bozeman Icedogs 5-Missoula Junior Bruin Vadim Zubkov scored five times to secure an 8-5 win over the Bozeman Icedogs. Misha Akatnov (2) and Clayton Littlefield also scored for the Junior Bruins, while Duncan McGarrah (2), Wyatt Burrell, Beckett Patten, and Jacob Boje found the back of the net for the Icedogs. Missoula netminder DUncan Wiest made 39 saves, while Tait Carlson and Carver Thompson stopped 31 and 5 shots, respectively, for Bozeman.
Evansville Jr Thunderbolts 1 @ Point Mallard Ducks 7 - No game report available