Saturday Scores: Missoula completes weekend sweep
February 4, 2018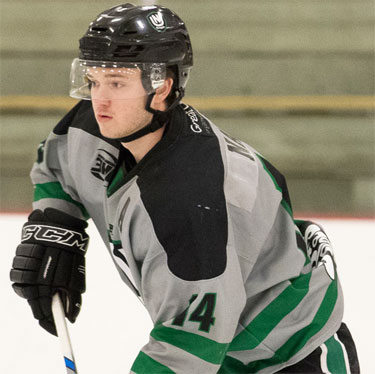 Bozeman Icedogs 3 @ Missoula Junior Bruins 4 (OT)-Misha Akatnov scored 0:36 into overtime to defeat the Bozeman Icedogs and give the Missoula Junior Bruins a 4-3 victory. Akatnov, Vadim Zubkov, and Tyler Prince scored in regulation for the Junior Bruins, while Jacob Boje, Wyatt Burrell, and Duncan McGarrah notched goals for the Icedogs. Missoula's Billy Yoder made 41 saves, while Carver Thompson stopped 24 shots for Bozeman.
Great Falls Americans 2 @ Yellowstone Quake 1 (OT)-Payton McSharry scored twice - including once in overtime - for the Great Falls Americans to defeat the Yellowstone Quake, 2-1. Timo Pelto notched one for the Quake. In net, Great Falls goaltender Drew Scites made 56 saves, while Jonatan Persson stopped 27 shots for Yellowstone.
Granite City Lumberjacks 4 @ New Ulm Steel 6-The New Ulm Steel held onto an early lead to defeat the Granite City Lumberjacks, 6-4. New Ulm goals came via Sam Storlie, Nickolas Wieben, Alex Nagel (2), Jarrett Cammarata, and Kirk Coppock scored for the Steel, while Brandon Baker (2), Chase DiBari, and Braden Altena found the back of the net for the Lumberjacks. New Ulm's Ryan Kenny made 40 saves, while David Mulligan stopped 32 shots for Granite City.
Mid Cities Jr Stars 0 @ Louisiana Drillers 6-Louisiana Driller Ian Clifford made 24 saves for a 6-0 shutout win over the Mid Cities Jr Stars. Driller goals came off the sticks of Cole Bloemer, Brandon Morgan, Hayden Watzka, Brandon Vukasin (2), and Ian Denning. Nick Vanwinkle and Matthew Lenz made 16 and 7 saves, respectively, for the Jr Stars.
Atlanta Capitals 3 @ St Louis Jr Blues 5-The St Louis Jr Blues scored four goals in the third to defeat the Atlanta Capitals, 5-3. Hunter Muzzillo, Dawson Marshall (2), Tristan Slot, and Will Baginski scored for the Jr Blues, while Cole Thomas Johnson, Brody Nielsen, and Michael Klintworth found the back of the net for the Capitals. St Louis' Blake Bjella stopped 16 shots, while Kyle Konin made 28 saves for Atlanta.
Skylands Kings 4 @ Niagara Falls PowerHawks 3 (SO)-Eric Vanderhoff found the back of the net for the Skylands Kings to defeat the Niagara Falls PowerHawks, 4-3, in a shootout. Vanderhoff also scored in regulation for the Kings, alongside Craig Garrigan and Stephan Sizov. For the PowerHawks, Stephen Minichiello (2) and Michael Olszewski each got on the scoreboard.
L/A Nordiques 6 @ Northeast Generals 2-The L/A Nordiques scored two goals in each period to defeat the Northeast Generals, 6-2. JP Chauvin, Shayne Plummer, Cole Ouellette (2) and Caleb Labrie (2) scored for the Nordiques, while Tyler Rudek and Thad Marcola each notched one for the Generals. L/A goaltender Jason St Pierre made 36 saves, while Lucas Souza stopped 34 shots for Northeast.
Lansing Wolves 1 @ Metro Jets 2-With scoring isolated to the third period, the Metro Jets defeated the Lansing Wolves, 2-1. Robby Flannery and Connor Inger scored for the Jets, while Jacob Redman notched the lone Wolves goal. Metro goaltender Andrew Kormos made 26 saves, while Sean Finstrom stopped 36 shots for Lansing.
Roc City Royals 5 @ Oswego Stampede 7-The Oswego Stampede grabbed an early lead for a 7-5 win over the Roc City Royals. Stampede goals came from Dylan Candleana, Dylan Gulick (3), Jameson Simmonds (2), and Ryan Gunther; while Patrick Nowak, Brandon Corey (2), Jacob Wood, and Calvin Tonzi found the back of the net for the Royals. Oswego's Ben White made 20 saves on the night, while Frederick Peters stopped 33 shots for Roc City.
Wausau RiverWolves 1 @ Peoria Mustangs 4-The Peoria Mustangs scored three in a row to defeat the Wausau RiverWolves, 4-1. Jack Radley (2), Stephen Zowin, and Austin Keil scored for the Mustangs, while Matt Irwin notched one for the RiverWolves. Peoria's Zack Freiburger made 22 saves, while Henry Baribeau stopped 37 shots for Wausau.
Pittsburgh Vengeance 4 @ Wooster Oilers 2-The Pittsburgh Vengeance scored three in the third to defeat the Wooster Oilers, 4-2. Brendan Johns (2), Chris Sturny, and Dominick Glavach scored for the Vengeance, while Cole Barney and Zach King each notched one for the Oilers. Pittsburgh goaltender Joel De Simone stopped 20 shots, while Justyn Gillis and Michael Hubbard made 27 and 3 saves, respectively, for Wooster.
Breezy Point North Stars 1 @ La Crosse Freeze 7-Brandon Ratzloff racked up a hat trick in the La Crosse Freeze's 7-1 victory over the Breezy Point North Stars. Matthew Francois (2), Flavien Fondadouze,and George Nuutinen also scored for the Freeze, while Alex Flicek notched the lone North Star's goal. La Crosse goaltender Devin Naidow made 26 saves, while Lucas Ehrlich stopped 31 shots for Breezy Point.
New England Stars 3 @ Maine Wild 4-After sixty minutes of back and forth, the Maine Wild came out on top, 4-3, over the New England Stars. Mason Ledbetter notched a hat trick, and Josef Mehall scored one for the Wild, while Chris Barone and Tyson Gudaitis (2) got on the scoreboard for the Stars. Maine's Chris Rodrigues made 40 saves, while Greg Moon stopped 13 shots for New England.
Helena Bighorns 3 @ Gillette Wild 1-With a goal in each period, the Helena Bighorns defeated the Gillette Wild, 3-1. Dane Rieger, Hayden Seitz, and Jarett Scheibel each notched one for the Bighorns, while Derek Scoggins got on the scoreboard for the Wild. In net, Cody Brewer made 46 saves for Helena, while Cody Grogan stopped 27 shots for Gillette.
Rochester Ice Hawks 3 @ Willmar WarHawks 2 (OT)-Rochester Ice Hawk Lake Powell scored 0:33 into overtime to secure a 3-2 win over the Willmar WarHawks. TJ Albano and Justin Gibbons scored for the Ice Hawks in regulation, while Eli Slagter and Blake Shuck each notched one for the WarHawks. Rochester's Luke Murphy made 45 saves, while Luke Fry stopped 22 shots for Willmar.
Point Mallard Ducks 7 @ Evansville Jr Thunderbolts 2-The Point Mallard Ducks outshot the Evansville Jr Tunderbolts 50 to 27 on their way to a 7-2 win. Declan O'Neal, Matt Goodman (2), Yuval Halpert, Harett Green, and Jesse Stepp, and Nathan Weinland scored for the Ducks, while Austin Cody and Mitchell Hoon each notched one for the Jr Thunderbolts. Point Mallard's Chris O'Shaughnessy made 25 saves, while Sam Tucker stopped 43 shots for Evansville.