Sunday Wrap-Up: Cox's historic night leads Jr. Blues to Midwest title
February 5, 2018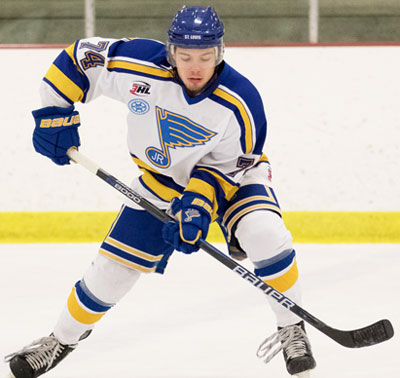 Atlanta Capitals 2 @ St Louis Jr Blues 5-Three second period goals drove the St Louis Jr Blues to a 5-2 win over the Atlanta Capitals. Dante Jones, Will Baginski, Hunter Muzillo, Jake Cox, and Jack Hazelton scored for the Jr Blues, while Michael Klintworth and Andrei Rusakov found the back of the net for the Capitals. In net, St Louis' Hunter Smith made 20 saves, while Kyle Konin stopped 28 shots for Atlanta.
Long Beach Sharks 2 @ Cape Cod Islanders 5-The Cape Cod Islanders scored four in a row on their way to a 5-2 win over the Long Beach Sharks. Leevi Kervinen (2), Cody Doyon, Jack Conway, and Tanner Little scored for the Islanders, while Ben Bergman and Jackson Wellmeyer found the back of the net for the Sharks. Cape Cod's Esa Maki made 14 saves, while Ryan Cortez stopped 33 shots for Long Beach.
Breezy Point North Stars 1 @ La Crosse Freeze 10-Alec Seeger scored four goals for the La Crosse Freeze to defeat the Breezy Point North Stars, 10-1. Clayton Lackey, Brady Lindauer, Brock Zukowski, Jacob Garman, Brandon Ratzloff, and Thomas Magnavite also scored for the Freeze, while Jack Petroske notched one for the North Stars. La Crosse netminder Will Graves made 28 saves, while Micah Hershey and Lucas Ehrlich stopped 8 and 13 shots respectively for Breezy Point.
Wausau RiverWolves 1 @ Peoria Mustangs 5-The Peoria Mustangs held onto an early lead to defeat the Wausau RiverWolves, 5-1. Mustangs' goals came off the sticks of Brandon Hay, Blake Finley (2), Bret Bauer, and Ian McHenry, while Garrett Alton notched one for the RiverWolves. Peoria's Dakota Meyer made 19 saves, while Henry Baribeau stopped 45 shots for Wausau.
Skylands Kings 2 @ Niagara Falls PowerHawks 7-The Niagara Falls PowerHawks scored five in a row to defeat the Skylands Kings, 7-2. Matthew Minichiello, Evan Domiano (2), Brandon Snyder, Branden Tripi, and Frankie Bodami (2) scored for the PowerHawks, while Sergei Sullivan and Steven Ford notched one each for the Kings. Niagara Falls' Kris Augustine made 24 saves, while Mathias Yttereng and Josh Sears stopped 6 and 26 shots, respectively, for Skylands.
Oswego Stampede 4 @ Roc City Royals 2-A pair from Jameson Simmonds put the Oswego Stampede up late in the third, resulting in a 4-2 win over the Roc City Royals. Giuseppe Gallo and Ryan Gunther also scored for the Stampede, while Brandon Corey and Tyler Blackburn found the back of the net for the Royals. Oswego goaltender Steven Kozikoski made 28 saves, while Frederick Peters stopped 19 shots for Roc City.
Mid Cities Jr Stars 4 @ Louisiana Drillers 3 (SO)-Brandon Speights and Tyler Schulz scored in a shootout to secure a 4-3 win for the Mid Cities Jr Stars over the Louisiana Drillers. Mid Cities' regulation goals came from Speights, Nick Sheridan, and Tristan Matthews, while Brandon Vukasin (2) and Joshua Jorajuria found the back of the net for the Drillers. Stars goaltender Nick Vanwinkle made 26 saves, while Ian Clifford stopped 33 shots for Louisiana.