NA3HL announces 2018 Draft as launch to 2018-19 season
February 9, 2018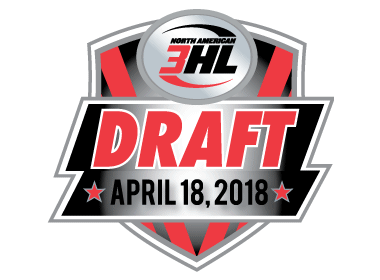 As the North American 3 Hockey League (NA3HL) takes its first steps in preparation for the 2018-19 season, which will be the league's 9th season of operation, the league is pleased to announce several key upcoming events, beginning with the 2018 NA3HL Draft.
The 2018 NA3HL Draft will take place on Wednesday, April 18th, at 5:00pm, and will be broadcast live and for free on the league's official broadcast partner, HockeyTV.
The 2018 NA3HL Draft comes just days after the first ever NAHL Combine for junior-aged players (1998-2002), which takes place in Fraser, Michigan, from April 13-15. Limited spots remain for the NAHL Combine for junior-aged players in Michigan, and
players can register here
.
NAHL Combines are designed to provide exposure for prospects that strive to advance their hockey development at the junior and collegiate level. Dozens of NAHL and NA3HL coaches and scouts will attend the event in Michigan.
"The NA3HL Draft taking place on April 18th is a great way to kick off the off-season. Teams from both the NAHL and the NA3HL are busy signing players to tenders for the 2018-19 season and the draft comes at a perfect time, right after our junior combine in Michigan. This allows our teams to evaluate future talent and gives them an even bigger window to build their rosters for the 2018-19 season," said NA3HL Commissioner Denny Scanlon.
The 2018 NA3HL Draft marks the unofficial beginning of the 2018-19 season. The NA3HL is one of three USA Hockey-certified Tier III Junior Hockey Leagues, and with 42 teams, the NA3HL is the largest and most diverse USA Hockey-certified Tier III junior league in the United States.
The 2018-19 NA3HL regular season will begin in early September, with the league-wide NA3HL Showcase taking place in December of 2018, and the 2019 NA3HL Top Prospects Tournament taking place in late February alongside the NAHL Top Prospects Tournament. It all concludes with the Fraser Cup Championship in late March.
The primary mission of the NA3HL is to develop and advance players and because of its direct affiliation with the NAHL, no other Tier III junior league advances more players to NAHL.
This season, no other league of its kind has had more movement and advanced more players onto play in the NAHL than the NA3HL. The NA3HL is the only league that has an exclusive NAHL tendering system available only to NA3HL players. To date, more than 30 NA3HL players have been called up to the NAHL this season and several more have made NCAA commitments.
The NA3HL is also the only Tier 3 league whose players are eligible to participate in NAHL's roster expansion program, which allows NAHL teams to add two additional players to their roster for the playoff push in February.