February 9, 2018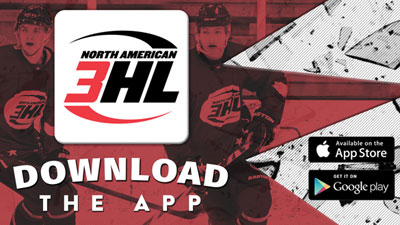 The NA3HL gets back into regular season play as just one month remains in the 2017-18 regular season.
More playoff spots and regular season division titles are on the line this weekend as 37 games are on the schedule from Friday-Sunday.
The 2018 Fraser Cup Playoffs begin the week of March 12th. The eight winners of the divisional playoffs will advance to the 2018 Fraser Cup Championship, which will take place from March 27-31 at Canlan Ice Sports in Romeoville, Illinois.
Earlier today, the NA3HL announced their first plans for the 2018-19 season, which includes the 2018 NA3HL Draft, which will take place on Wednesday, April 18th.
Follow the games on the NA3HL App:
Friday, February 9th
Mid Cities at College Station - 5:30 PM CST
Roc City at Niagara Falls - 7:00 PM EST
Wooster at Southern Tier - 7:00 PM EST
Metro at Toledo - 7:00 PM EST
Peoria at Lansing - 7:30 PM EST
Wisconsin at La Crosse - 7:00 PM CST
Willmar at Rochester - 7:05 PM CST
Atlanta at Texas - 7:05 PM CST
New Ulm at Alexandria - 7:10 PM CST
North Iowa at Granite City - 7:30 PM CST
Gillette at Missoula - 7:30 PM MST
Great Falls at Bozeman - 7:35 PM MST
Saturday, February 10th
Peoria at Lansing - 1:00 PM EST
Point Mallard at St. Louis - 4:00 PM CST
Oswego at Niagara Falls - 6:00 PM EST
Mid Cities at College Station - 5:30 PM CST
Cape Cod at L/A - 7:00 PM EST
New England at Northeast - 7:00 PM EST
Wooster at Southern Tier - 7:00 PM EST
Long Beach at Binghamton - 7:30 PM EST
Toledo at Metro - 7:30 PM EST
La Crosse at Wisconsin - 7:00 PM CST
Atlanta at Texas - 7:05 PM CST
Rochester at New Ulm - 7:10 PM CST
North Iowa at Granite City - 7:30 PM CST
Alexandria at Willmar - 7:30 PM CST
Gillette at Missoula - 7:30 PM MST
Great Falls at Bozeman - 7:35 PM MST
Sunday, February 11th
Long Beach at Binghamton - 12:30 PM EST
Oswego at Niagara Falls - 1:00 PM EST
Cape Cod at New England - 1:20 PM EST
Wooster at Southern Tier - 2:00 PM EST
Point Mallard at St. Louis - 1:00 PM CST
Breezy Point at Willmar - 2:00 PM CST
Atlanta at Texas - 2:15 PM CST
Granite City at Alexandria - 3:10 PM CST
Mid Cities at College Station - 5:30 PM CST