Friday Finals: Blizzard tighten race in West Division
February 10, 2018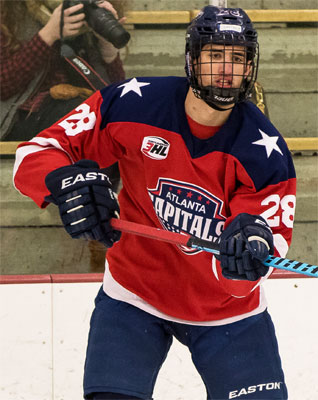 New Ulm Steel 1 @ Alexandria Blizzard 4-After a slow start, the Alexandria Blizzard scored four in a row to defeat the New Ulm Steel, 4-1. Brendan Payne, Alec Skar, Logan Nelson, and Josiah Roen each scored for the Blizzard, while Sam Storlie notched one for the Steel. In net, Alexandria's Brady Meyers made 30 saves, and Ryan Kenny stopped 37 shots for New Ulm.
Mid Cities Jr Stars 5 @ College Station Spirit 2-After a scoreless first, the Mid Cities Jr Stars scored four goals in the second to defeat the College Station Spirit, 5-2. Mid Cities' goals came via Travis Brain, Brandon Speights, Matthew Taylor, and Matt Greco (2), while Fuma Kasai and Colin Butler each notched one for the Spirit. Mid Cities' Matthew Lenz made 34 saves, while Drew Pehrson stopped 52 shots for College Station.
Atlanta Capitals 4 @ Texas Brahmas 1-The Texas Brahmas scored first, but four consecutive goals for the Atlanta Capitals pushed them to victory, 4-1. Michael Klintworth (2), Cole Thomas Johnson, and Vito Carlo scored for the Capitals, while James Brown III notched the lone Texas goal. Atlanta's Kyle Konin made 29 saves, while Tyler Myers stopped 19 shots for the Brahmas.
Roc City Royals 4 @ Niagara Falls PowerHawks 10-The Niagara Falls PowerHawks grabbed an early lead on their way to a 10-4 win over the Roc City Royals. PowerHawks goals came from: Matthew Minichiello (2), Andrew Logar (3), Frankie Bodami, Stephen Minichiello (3), and Brandon Schweickert, while Calvin Tonzi, Nathanial Nowak, Antonio Lombardo, and Jacob Wood found the back of the net for the Royals. Niagara Falls' Kris Augustine made 14 saves, while Frederick Peters and Kyle Prosperi stopped 45 and 5 shots each for Roc City.
Metro Jets 8 @ Toledo Cherokee 0-Brian Tallieu stopped 18 shots to lead the Metro Jets to an 8-0 shutout win over the Toledo Cherokee. For Metro, Jhuwon Davis, George Hansen (2), Connor Inger (2), Reggie Millette, and Griffin Sawyer scored goals. Toledo's Alan Brouillette and Ricardo Gonzalez stopped 9 and 25 shots each.
Wooster Oilers 2 @ Southern Tier Xpress 5-After a slow start, the Southern Tier Xpress scored three in a row to secure a 5-2 win over the Wooster Oilers. Xpress goals came off the sticks of Christian Juliana, Stuart Pearson, Nic Allen, Tristan Mock, and Hunter Kepple, while Matthew Kesto and Daniel Critzer each notched one for the Oilers. Southern Tier's Ryan Pascarella made 13 saves, while Justyn Gillis stopped 34 shots for Wooster.
Peoria Mustangs 2 @ Lansing Wolves 4-The Lansing Wolves scored three in a row on their way to a 4-2 win over the Peoria Mustangs. Bear Ross, Brendan Echelbarger, Brandon Ashley, and Mike Forman scored for the Wolves, while Stephen Zowin and Cody Layne each notched one for the Mustangs. Lansing's Sean Finstrom stopped 24 shots, while Jaden Garnder made 26 saves for Peoria.
Willmar WarHawks 7 @ Rochester Ice Hawks 0-Willmar WarHawk Luke Fry stopped 21 shots for a 7-0 shutout win over the Rochester Ice Hawks. WarHawk goals came off the sticks of Max Oelkers (2), Wyatt Toll (2), Braden Shea (2), and Peyton Bolstad. Rochester goaltender Luke Murphy stopped 42 shots on the night.
Wisconsin Whalers 3 @ La Crosse Freeze 5-A hat trick from Thomas Magnavite helped the La Crosse Freeze to a 5-3 win over the Wisconsin Whalers. Matthew Francois and Alec Seeger also scored for the Freeze, while Nick Rogers, Carter Grobstick, and Sam Hanson each notched one for the Whalers. La Crosse netminder William Graves stopped 28 shots, while Brendan Earls made 36 saves for Wisconsin.
North Iowa Bulls 4 @ Granite City Lumberjacks 1-A pair of late third period goals helped the North Iowa Bulls to a 4-1 win over the Granite City Lumberjacks. Peter Verstegen, Mitch Dolter, Cameron Fagerlee, and Brendan Studioso scored for the Bulls, while Brandon Bissett scored the lone Lumberjacks goal. North Iowa's Colin Cain made 15 saves, while Ridge Gerads stopped 21 shots for Granite City.
Great Falls Americans 3 @ Bozeman Icedogs 2-A pair of goals from Michael Houlihan pushed the Great Falls Americans to a 3-2 win over the Bozeman Icedogs. Michael Fary also scored for the Americans, while Gage Blatter and Jacob Boje each found the back of the net for Bozeman. Drew Scites was in net for the Americans, racking up 14 saves, while Icedog Carver Thompson stopped 49 shots.