Saturday Scores: Jets roll to 17th straight win
February 11, 2018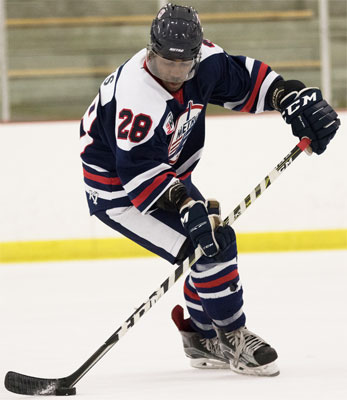 Toledo Cherokee 1 @ Metro Jets 6-The Metro Jets scored three in the first to secure a 6-1 win over the Toledo Cherokee. Metro goals came via Michael Gulawsky, Connor Inger, Robby Flannery, Marc Schwartz, Matt Schaumburger, and Jhuwon Davis, while Darren Carter notched one for the Cherokee. Jets goaltender Andrew Kormos stopped 30 shots, while Ricardo Gonzalez made 58 saves for Toledo.
Peoria Mustangs 5 @ Lansing Wolves 2-The Peoria Mustangs scored two third period goals to secure a 5-2 win over the Lansing Wolves. Mustang goals came via Peyton Swearingen, Wes Straker (2), Jack Radley, and Brandon Hay, while Brendan Smith notched both goals for the Wolves. Peoria's Dakota Meyer made 35 saves, while Will Ignatovich stopped 22 shots for Lansing.
Point Mallard Ducks 2 @ St Louis Jr Blues 5-The St Louis Jr Blues scored five in a row to come back and defeat the Point Mallard Ducks, 5-2. Bud Winfer scored twice for the Jr Blues, while Cameron McAtee, Matthew Monreal, and Ben Jones each notched one for the Jr Blues. For the Ducks, Fletcher Chun and Tyler Trombly scored early in the game. In net, Blake Bjella stopped 23 shots for St Louis, while Joey Bernardini made 32 saves for Point Mallard.
Oswego Stampede 3 @ Niagara Falls PowerHawks 1-A pair of goals from Tommy Kilway led the Oswego Stampede to a 3-1 win over the Niagara Falls PowerHawks. Eddie Cannon also scored for the Stampede, while Andrew Logar notched one for the PowerHawks. Oswego goaltender Steven Kozikoski made 48 saves, while Kris Augustine stopped 21 shots for Niagara Falls.
Mid Cities Jr Stars 4 @ College Station Spirit 0-Mid Cities Jr Star Matthew Lenz made 39 saves for a 4-0 shutout win over the College Station Spirit. Trey Rooney, Brandon Speights, Matt Greco, and Nick Sheridan each scored once for the Jr Stars. College Station's Drew Pehrson stopped 4 shots.
Cape Cod Islanders 6 @ L/A Nordiques 5 (OT)-The Cape Cod Islanders scored with 1:07 remaining in regulation to tie the game, forcing an overtime period, where Kegan Crawley scored to secure the win, 6-5, for the Islanders over the L/A Nordiques. Nick Marston, Tanner Little (2), Aaro Sinisalo, and Leevi Kervinen scored in regulation for the Islanders, while Nick Ventura, Andrew McCormick, Zack Mullen, Armand O'Keefe, and JP Chauvin found the back of the net for the Nordiques. Cape Cod goaltender Esa Maki stopped 33 shots, while Jason St Pierre made 23 saves for L/A.
New England Stars 5 @ Northeast Generals 2-Three in a row for the New England Stars helped them push past the Northeast Generals and win the game, 5-2. Derek Flynn, Ian Gatley, Cole Archambeault (2), and Hunter Norris scored for the Stars, while Marc Faia and Austin Braley each notched one for the Generals. New England's Tim Pesek and Northeast's Nicholas Sesock each made 27 saves on the night.
Long Beach Sharks 0 @ Binghamton Junior Senators 19-Binghamton Junior Senator Brady Anderson made six saves for a 19-0 shutout win over the Long Beach Sharks. Binghamton scorers include: CJ Smith, Thomas Mandel Jr (3), Tim O'Connor (3), Benjamin Beversdorf, Eric Melso (4), Caleb Beversdorf, Ryan Reifler (2), Brad Becker, William Darling, Dominik Bogdziul, and Michael Padgeon. Long Beach netminders Ryan Cortez and Ben Vutci stopped 32 and 22 shots, respectively.
Wooster Oilers 0 @ Southern Tier Xpress 2-Scoreless through two, the Southern Tier Xpress scored two goals within 10 seconds to defeat the Wooster Oilers, 2-0. Stuart Pearson and Hunter Kepple scored for the Xpress, while goaltender Ryan Pascarella stopped 30 shots for the shutout. Wooster goaltender Michael Hubbard made 26 saves on the night.
La Crosse Freeze 5 @ Wisconsin Whalers 2-The La Crosse Freeze scored three in four minutes to secure a 5-2 win over the Wisconsin Whalers. Thomas Magnavite (2), Clayton Lackey, Laudon Poellinger, and Matthew Francois scored for the Freeze, while Drew Steines and Andrew Ether each notched one for the Whalers. La Crosse's Will Graves made 31 saves, and Brendan Earls stopped 40 shots for Wisconsin.
Atlanta Capitals 3 @ Texas Brahmas 4 (OT)-Texas Brahma Michael Redmon scored with thirty seconds left to tie the game and force an overtime period, and Hunter Bersani scored to hand the 4-3 victory to the Atlanta Capitals. Andrei Rusakov (2) and Brody Nielsen scored in regulation for the Capitals, while Cole Tiedemann and Cameron Bickford also scored for the Brahmas. Atlanta's Kyle Konin took the loss, while Carson Murison got the win for Texas.
Rochester Ice Hawks 0 @ New Ulm Steel 10-New Ulm Steel goaltender Ryan Kenny made 12 saves for a 10-0 shutout win over the Rochester Ice Hawks. For the Steel, Kirk Coppock (3), Ryan Smith, Mason Trowbridge, Nickolas Wieben, Tom Reilly (2), Jimmy Miller, and Brandon Kehlhop found the back of the net. Rochester's Nick Barrett and Nick Bucklin made 25 and 11 saves, respectively.
North Iowa Bulls 4 @ Granite City Lumberjacks 5-The North Iowa Bulls scored three times in less than two minutes, but it wasn't enough to overcome a four goal deficit, and the Granite City Lumberjacks walked away with a 5-4 victory. Lumberjack goals came from Owen Sikich (2), Nick Castro, Brandon Bissett, and Zack DeBoom, while Jarod Blackowiak, Brendan Studioso, Josh Arnold, and Cameron Fagerlee got on the scoreboard for the Bulls. Granite City's David Mulligan made 20 saves, while Tyler Hawk stopped 16 shots for North Iowa.
Alexandria Blizzard 6 @ Willmar WarHawks 4-The Alexandria Blizzard scored four in the first on their way to a 6-4 win over the Willmar WarHawks. Michael Behl, Brenden Payne, Logan Nelson (2), Brett Meister, and Ryan Worley scored for the Blizzard, while Riley Dixon, Jordan Cooper, Brandon Holt, and Eli Slagter found the back of the net for the WarHawks. Alexandria's Kyle Hayden made 23 saves, while Willmar stopped 12 shots.
Gillette Wild 3 @ Missoula Junior Bruins 2 (OT)-A hat trick from Gage Thompson put the Gillette Wild on top after 62 minutes of play, resulting in a 3-2 OT win over the Missoula Junior Bruins. Gillette goaltender Cody Grogan stopped 34 shots. Vadim Zubkov and Bryan Miller scored for the Junior Bruins, while Duncan Wiest made 26 saves.
Great Falls Americans 2 @ Bozeman Icedogs 0-Bryan Sharp made ten saves to help the Great Falls Americans to a 2-0 shutout victory over the Bozeman Icedogs. Adam Vandenbos and Michael Fary each tallied a goal for the Americans. Bozeman's Carver Thompson made 55 saves in the match.