Binghamton claims Northeast Division regular season crown
February 11, 2018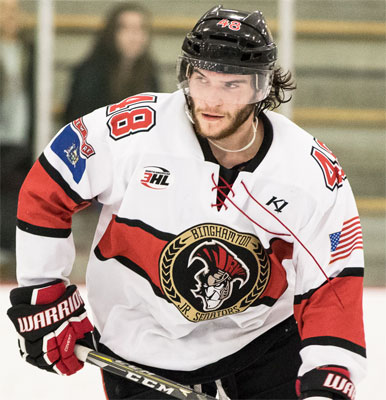 Long Beach Sharks 1 @ Binghamton Junior Senators 14- The Binghamton Junior Senators had nine different goal scorers in their 14-1 win over the Long Beach Sharks, which clinched the regular season crown for the Sens in the Northeast Division.. Junior Senators Brad Becker (3), Thomas Mandel Jr (2), Dominik Bogdziul, Eric Melso (2), Jeremy Wilber, Benjamin Beversdorf, Ryan Reifler, Dan Espe (2), and Tim O'Connor got on the scoreboard, while Luc Meier notched one for the Sharks. Binghamton goaltender Thomas Sullivan made 15 saves, while Ben Vutci and Ryan Cortez stopped 40 and 35 shots, respectively, for Long Beach.
Cape Cod Islanders 1 @ New England Stars 3-A pair of third period goals from Cole Archambeault pushed the New England Stars to a 3-1 win over the Cape Cod Islanders. Ryan Gauvin also scored one for the Stars, while Leevi Kervinen notched the lone Islanders goal. In net, New England's Greg Moon made 35 saves, while Esa Maki stopped 22 shots for Cape Cod.
Oswego Stampede 6 @ Niagara Falls PowerHawks 5-Tommy Kilway scored twice - including the game winner at 16:45 of the third period - to secure a 6-5 win for the Oswego Stampede over the Niagara Falls PowerHawks. Eddie Cannon, Dylan Gulick (2), and Jameson Simmonds also scored for the Stampede, while Andrew Logar scored three times for the PowerHawks, alongside Michael Olszewski and Matthew Minichiello. Oswego's Ben White made 32 saves, and Carson Gates and Josh Mitchell stopped 14 and 4 shots each for Niagara Falls.
Wooster Oilers 4 @ Southern Tier Xpress 2-The Wooster Oilers scored two in the first to set the pace for a 4-2 win over the Southern Tier Xpress. Wooster's Cole Barney, Hunter Hillebrecht, Bobby Frieson, and Zach Zwierecki each found the back of the net, while Christopher Crowley and Tristan Mock scored for the Xpress. Oiler goaltenders Justyn Gillis and Michael Hubbard stopped 11 and 12 shots each, while Ryan Pascarella made 35 saves for Southern Tier.
Point Mallard Ducks 4 @ St Louis Jr Blues 9-The St Louis Jr Blues grabbed an early lead on their way to a 9-4 win over the Point Mallard Ducks. Bud Winter (2), Dawson Marshall (2), Ivan Galaguzov (2), Dante Jones, Will Baginski, and John Shively scored for the Jr Blues, while Fletcher Chun (3) and Matt Goodman got on the scoreboard on the Ducks. St Louis' Hunter Smith made 17 saves, while Joey Bernardini and Chris O'Shaughnessy stopped 16 and 19 shots, respectively, for Point Mallard.
Breezy Point North Stars 5 @ Willmar WarHawks 6-The Willmar WarHawks scored three first period goals on their way to a 6-5 win over the Breezy Point North Stars. Jordan Cooper, Max Oelkers (3), Jacob Berkowitz, and Braden Shea scored for the WarHawks, while AJ Hoyt (2), Alex Flicek (2), and Andrew Heckaman got on the board for the North Stars. In net, Luke Fry made 16 saves for Willmar, while Josh Martinez stopped 10 shots for Breezy Point.
Atlanta Capitals 0 @ Texas Brahmas 2-Texas Brahma goaltender Tyler Myers stopped 30 shots for a 2-0 shutout win against the Atlanta Capitals. Kyle Cote and Michael Redmon each notched a goal for the Brahmas. Atlanta's Kyle Konin made 21 saves on the night.
Gillette Wild 6 @ Missoula Junior Bruins 0-Gillette Wild goaltender Cody Grogan made 36 saves for a 6-0 shutout win over the Missoula Junior Bruins. Wild goals came off the sticks of Andrew Hanson, Coleman Varty, Jack Oberg, Hunter Feagins, Brooks Mitzel, and Cody Walters. Missoula's Duncan Wiest and Billy Yoder made 23 and 6 saves, respectively.
Granite City Lumberjacks 4 @ Alexandria Blizzard 3-Logan Nelson racked up a hat trick for the Alexandria Blizzard, but it wasn't enough when Braden Altena notched one in OT for the Granite City Lumberjacks for victory, 4-3. Owen Sikich (2) and Chase DiBari scored in regulation for the Lumberjacks. Granite City's Ridge Gerads made 26 saves, while Brady Meyers stopped 36 shots for the Blizzard.
Mid Cities Jr Stars 6 @ College Station Spirit 0-A hat trick from Nick Sheridan propelled the Mid Cities Jr Stars to a 6-0 win over the College Station Spirit. Nick Snyder, Jason Koehn, and Conor Simpson also scored for the Jr Stars. Mid Cities' goaltender Matt Lenz made 38 saves for the shutout win, while Ryan O'Toole stopped 57 shots for College Station.