NA3HL alumni named to NAHL Top Prospects Tournament rosters
February 13, 2018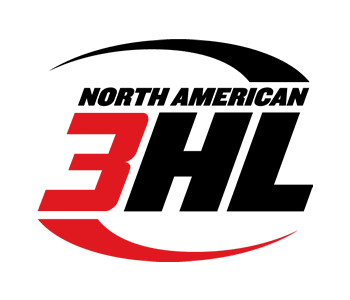 In another example of the ladder of development, the North American 3 Hockey League (NA3HL) is pleased to announce that seven former players were named to the 2018 North American Hockey League (NAHL) Top Prospects Tournament rosters, which were announced by the league on Monday.
The NAHL Top Prospects Tournament, which will take place from February 27-28 at USA Hockey Arena in Plymouth, Michigan, is one of the most highly-scouted events in junior hockey. Last season, over 230 scouts attended the event, which featured almost every NHL team and NCAA Division I school.
The NA3HL Top Prospects Tournament is also played during the same time in cooperation with the event, as 120 NA3HL players will get the opportunity to showcase their skills, not only in front of hundreds of NHL and NCAA scouts, but also all 23 NAHL head coaches, who will be attending the event.
"We congratulate all the NA3HL alumni on their selection to the NAHL Top Prospects Tournament," said NA3HL Commissioner Denny Scanlon. "I think what is most encouraging is that most of them are just a year or two removed from playing in the NA3HL, and they are now flourishing in the NAHL to the point where they are considered top to be an NCAA Division I prospects.
NA3HL alumni on NAHL Top Prospects rosters (alphabetical)
Josh Benson, G, Fairbanks Ice Dogs (North Iowa Bulls, 2016-17)
Curtis Carlson, F, WBS Knights (West Michigan Wolves, Southern Tier Xpress, 2014-16)
Andy McGlynn, F, Coulee Region Chill (St. Louis Jr. Blues, 2013-15)
Josef Mysak, D, Austin Bruins (St. Louis Jr. Blues, 2017-18)
Brandon Perrone, G, New Jersey Titans (Texas Brahmas, 2015-16)
Luke Perunovich, D, Northeast Generals (Twin City Steel, 2015-16)
Toby Sengvongxay, D, Johnstown Tomahawks (La Crosse Freeze, 2015-16)
The primary mission of the NA3HL is to develop and advance players and because of its direct affiliation with the NAHL, no other Tier III junior league advances more players to NAHL. This season, no other league of its kind has had more movement and advanced more players onto play in the NAHL than the NA3HL. The NA3HL is the only league that has an exclusive NAHL tendering system available only to NA3HL players. To date, more than 30 NA3HL players have been called up to the NAHL this season and several more have made NCAA commitments.
The NA3HL is also the only Tier 3 league whose players are eligible to participate in NAHL's roster expansion program, which allows NAHL teams to add two additional players to their roster for the playoff push in February.