Friday Finals: Xpress snap Jets winning streak
February 17, 2018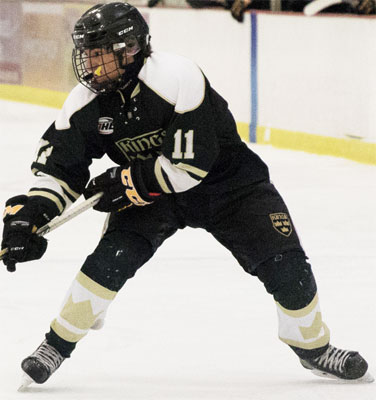 Metro Jets 3 @ Southern Tier Xpress 4-The Southern Tier Xpress scored three third period goals to dig themselves out and defeat the Metro Jets, 4-3. The win snapped the 17-game winning streak of the Jets. Joey Gerace, Michael Lamison, Christian Juliana, and Hunter Kepple scored for the Xpress, while Reggie Millette, Connor Inger, and Robby Flannery found the back of the net for the Jets. Southern Tier's Brandon Heacock made 39 saves on the night, while Brian Tallieu stopped 28 shots for Metro.
Louisiana Drillers 5 @ College Station Spirit 1-The Louisiana Drillers grabbed three in the first period to set the pace for a 5-1 win over the College Station Spirit. Brent Wroblewski (2), Brandon Morgan, Mitch Dolese, and Hayden Watzka scored for the Drillers, while Hudson Svondrk found the back of the net for the Spirit. Louisiana's Griffin Varricchio stopped 43 shots, while Ryan O'Toole made 55 saves for College Station.
Roc City Royals 8 @ Skylands Kings 13-Skylands Kings forward Eric Vanderhoff scored seven goals to help triumph a 13-8 win over the Roc City Royals. Other Skylands' goals came via: Stephan Sizov (2), Craig Garrigan, Lionel Landry, Stephen Finkel, and Steven Ford, while Calvin Tonzi (2), Luke Dobles (2), Spencer Norris (2), Hunter Reid, and Patrick Nowak scored for the Royals. SKylands' Josh Sears made 30 saves, while Frederick Peters and Kyle Prosperi stopped 28 and 23 saves, respectively, for Roc City.
New England Stars 4 @ Long Beach Sharks 0-New England Star Andrew Ghimpeteanu made 14 saves for a 4-0 shutout win over the Long Beach Sharks. New England's goals came via Hunter Norris, Michael Lempiainen, Ian Gatley, and TYson Gudaitis. Long Beach goaltender Ryan Cortez stopped 60 shots.
Wooster Oilers 1 @ Lansing Wolves 2 (SO)-Bear Ross scored in the first round of the shootout to grab the 2-1 victory for the Lansing Wolves over the Wooster Oilers. Brendan Smith scored in regulation for the Wolves, while Cole Barney notched one for the Oilers. Lansing's Sean Finstrom made 33 saves, while Michael Hubbard stopped 37 shots for Wooster.
Peoria Mustangs 10 @ Evansville Jr Thunderbolts 3-The Peoria Mustangs maintained a steady offensive presence to lock in a 10-3 victory over the Evansville Jr Thunderbolts. Peoria's Braden Stewart (2), Barry Groesch, Ian McHenry (2), Austin Keil, Brandon Hay, Wes Straker, Cody Layne, and Blake Finley got ont he scoresheet, while Jake Hannebrink, Rory Scott, and Brett Creekmur each found the back of the net for the Jr Thunderbolts. Peoria goaltender Zack Freiburger made 25 saves, while Sam Tucker stopped 35 shots for Evansville.
Oswego Stampede 1 @ Binghamton Junior Senators 5-Binghamton Junior Senator Dominik Bogdziul scored a hat trick to help them to a 5-1 win over the Oswego Stampede. Ryan Reifler and Cody Dearing also scored for the Senators, while Eddie Cannon notched one for the Stampede. Binghamton's Brady Anderson made 11 saves, while Steven Kozikoski made 42 saves for Oswego.
La Crosse Freeze 9 @ Rochester Ice Hawks 1-A busy third period for the La Crosse Freeze resulted in their 9-1 win over the Rochester Ice Hawks. La Crosse goals came via Connor Losen, Zach Hanno, Matthew Francois (3), Laudon Poellinger, Brady Lindauer, Clayton Lackey, and Thomas Magnavite, while Ben Haas notched the lone Ice Hawks goal. La Crosse's Devin Naidow stopped 23 shots, while Nick Bucklin made 41 saves for Rochester.
Granite City Lumberjacks 8 @ Wisconsin Whalers 3-The Granite City Lumberjacks scored five third period goals to secure an 8-3 win over the Wisconsin Whalers. Lumberjacks goals came from Grant Troumbly, Braden Altena (2), Zack DeBoom (2), Matt Moran, Seth Towers, and Logan Neu, while Carter Grobstick, Zane Marshman, and Cameron Tobey each found the net for the Whalers. Granite City's David Mulligan made 26 saves, while ALex Hufford and Brendan Earls stopped 6 and 23 shots each for Wisconsin.
Wausau RiverWolves 4 @ Breezy Point North Stars 3-Wausau RiverWolves forward Matt Irwin scored late int he third to secure a 4-3 win over the Breezy Point North Stars. The goal was Irwin's second of the night, alongside Janne Rukamp and Garrett Alton. For Breezy Point, Dawson Kram, Josh Maucieri, and Alex Flicek found the back of the net. Wausau's Henry Baribeau stopped 35 shots, while Micah Hershey made 16 saves for the North Stars.
St Louis Jr Blues 2 @ North Iowa Bulls 6-Three in a row for the North Iowa Bulls helped them to a 6-2 win over the St Louis Jr Blues. Dayton Honkanen, Dan Sandvig (2), Tyler Bump (2), and Mitch Dolter scored for the Bulls, while Jack Hatton and Dante Jones each scored one for the Jr Blues. North Iowa's Colin Cain made 36 saves, while Blake Bjella stopped 23 shots in net for St Louis.
Bozeman Icedogs 2 @ Gillette Wild 6-A pair of goals from both Brooks Mitzel and Gage Thompson pushed the Gillette Wild to a 6-2 win over the Bozeman Icedogs. Nick Stockert and Cody Walters also scored for the Wild, while Gage Blatter and Beckett Patten each notched one for the Icedogs. Gillette's Cody Grogan made 34 saves, and Tait Carlson stopped 35 shots for Bozeman.
New Ulm Steel 7 @ Willmar WarHawks 2-A strong second half of the game led the New Ulm Steels to a 7-2 win over the Willmar WarHawks. FOr New Ulm, Zach Heiser, Alex Nagel, Jack Parks, Austin Langworthy, Tom Reilly, Luc Krueser, and Brandon Mehlhop found the back of the net, while Jacob Berkowitz and Brandon Jolt found the back of the net for the WarHawks. Steel goltender Drew Schenkenberg made 28 saves, while Kaden Ericson stopped 24 shots for Willmar.
Yellowstone Quake 8 @ Helena Bighorns 3-The Yellowstone Quake played a strong second period to help secure an 8-3 win over the Helena Bighorns. Riley Buller (2), Ian Doner (2), Cole Stewart, Jake Ford, Ethan Sievek, and Jack Moore scored for the Quake, while Richard Groskops, Hayden Sietz, and Kaden Lindberg got on the scoresheet for the Bighorns. Yellowstone netminder Reid Waszczenko stopped 46 shots, while Nick Battaglia and Eric Berglund made 35 and 33 saves, respectively, for Helena.
Missoula Junior Bruins 2 @ Great Falls Americans 7-The Great Falls Americans held onto a steady offensive presence on their way to a 7-2 win over the Missoula Junior Bruins. For the Americans, Trent Cowden (2), Payton McSharry, Adam Vandenbos, Dustin Truex, Kyler Mack, and Michael Houlihan scored for the Americans, while Misha Akatnov and Vadim Zubkov found the back of the net for the Junior Bruins. Great Falls' Drew Scites made 19 saves, while Billy Yoder stopped 45 shots for Missoula.
Point Mallard Ducks 1 @ Mid Cities Jr Stars 5-The Mid Cities Jr Stars dominated the second period, resulting in a 5-1 win over the Point Mallard Ducks. Trey Rooney (2), Matthew Taylor (2), and Tyler Schulz scored for the Jr Stars, while Jarrett Green notched one for the Ducks. Jr Stars' Nick Vanwinkle and Chris O'Shaugnessy of Point Mallard made 26 saves each on the night.