Saturday Scores: Ducks latest team to punch playoff ticket
February 18, 2018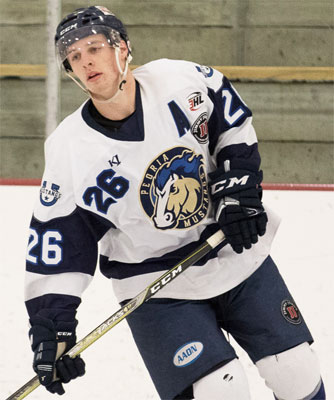 Point Mallard Ducks 8 @ Mid Cities Jr Stars 1-The Point Mallard Ducks grabbed an early lead on their way to an 8-1 win over the Mid Cities Jr Stars. Eli Kendall, Jesse Stepp, Renars Udris, Matt Goodman (2), Fletcher Chun, Tyler Trombly, and Jacob Kelly scored for the Ducks, while Blake Campbell notched one for the Jr Stars. Point Mallard's Joey Bernardini made 25 saves, while Nick Vanwinkle and Matthew Lenz made 24 and 11 saves, respectively, for Mid Cities.
Wooster Oilers 4 @ Lansing Wolves 3 (SO)-Matthew Kesto notched one in a shootout for the Wooster Oilers to defeat the Lansing Wolves, 4-3. Kesto also notched two in overtime, alongside Justin King. For the Wolves, Mason Fitch, Jacob Deratany, and Garrison Weyh found the back of the net. Wooster's Michael Hubbard made 26 saves, while Will Ignatovich and Sean Finstrom stopped 5 and 19 shots each for Lansing.
Peoria Mustangs 10 @ Evansville Jr Thunderbolts 3-The Peoria Mustangs had a strong second half to defeat the Evansville Jr Thunderbolts, 10-3. Jack Radley, Nick Ulrich, Cody Layne, Braden Stewart (2), Brandon Hay, Peter Miller, Austin Keil, and Jack Healy scored for the Mustangs, while Kyle Kowalski, Austin Cody, and Rory Scott scored for the Thunderbolts. Peoria netminder Zack Freiburger made 26 saves, while Spencer Gill and Sam Tucker stopped 33 and 9 shots each for Evansville.
Metro Jets 4 @ Pittsburgh Vengeance 3 (OT)-Matt Schaumburger scored twice - including an OT winner - for the Metro Jets to defeat the Pittsburgh Vengeance, 4-3. Connor Inger also scored twice for the Jets, while Nick Erker, James Unger, and Dominick Glavach scored for the Vengeance. Metro's Andrew Kormos made 21 saves, while Jacob Zab stopped 39 shots for Pittsburgh.
Louisiana Drillers 3 @ College Station Spirit 1-The Louisiana Drillers scored three in a row to defeat the College Station Spirit, 3-1. Brandon Morgan, Drew Wotta, and Gunner Morgan scored for the Drillers, while Brenden Fehlig notched one for the Spirit. Louisiana's Ian Clifford made 33 saves, while Drew Pehrson stopped 34 shots for College Spirit.
Roc City Royals 5 @ Skylands Kings 8-After a high scoring third period, the Skylands Kings defeated the Roc City Royals, 8-5. Craig Garrigan (2), Joshua Baker, Dylan Dinzik (2), Steven Ford (2), and Eric Vanderhoff scored for the Kings, while Luke Dobles (2), Antonio Lombardo (2), and Patrick Nowak scored for the Royals. Skylands' Mathias Yttereng made 42 saves, while Frederick Peters stopped 27 shots for Roc City.
Binghamton Junior Senators 9 @ Oswego Stampede 0-Binghamton Junior Senator Colin Burgess stopped 12 shots for a 9-0 shutout win over the Oswego Stampede. Geoffrey LaMorre, Cody Dearing, Tim O'Connor (2), Thomas Mandel Jr, Gregory Simmons, Dominik Bogdziul, CJ Smith, and Ryan Reifler scored for the Junior Senators. Oswego's Ben White and Steven Kozikoski stopped 19 and 29 shots.
Granite City Lumberjacks 9 @ Wisconsin Whalers 1-After a strong third period, the Granite City Lumberjacks came out on top, 9-1, over the Wisconsin Whalers. For Granite City, Chase DiBari (3), Matt Moran (3), Grant Troumbly, Bailey Sommers, and Zack DeBoom found the back of the net, while Cameron Tobey notched one for the Whalers. Lumberjack goaltender Ridge Gerads stopped 28 shots, while Wisconsin's Brendan Earls made 54 saves.
Maine Wild 5 @ Northeast Generals 3-The Maine Wild scored with six seconds left to secure a 5-3 win over the Northeast Generals. Robert Dysart (2), Jayce Dorman, Brady Bannon, and Jeffrey Gratz scored for the Wild, while Austin Braley, Alex O'Dowd, and Tyler Rudek found the back of the net for the Generals. Maine's Nicholas Vardon stopped 48 shots, while Kyle Wagner made 27 saves for Northeast.
New England Stars 4 @ Long Beach Sharks 1-The New England Stars scored four in a row to defeat the Long Beach Sharks, 4-1. Hunter Norris, Derek Flynn, Ryan Gauvin, and Ian Gatley scored for the Stars, while Noah Carlock notched one for the Sharks. New England's Tim Pesek stopped 10 shots, while Ryan Cortez made 52 saves for Long Beach.
Great Falls Americans 5 @ Missoula Junior Bruins 0-Great Falls American Drew Scites stopped 8 shots for a 5-0 shutout win over the Missoula Junior Bruins. For Great Falls, Ben Rinckey (3), Brandon Vukasin, and Weston Goodman got on the scoreboard. Missoula's Brian Thomas stopped 30 shots on the night.
La Crosse Freeze 6 @ Rochester Ice Hawks 0-La Crosse Freeze goaltender Kody Lukehart made 17 saves for a 6-0 shutout win over the Rochester Ice Hawks. Thomas Magnavite (2), Toon De Schepper, Flavien Fondadouze, Alec Seeger, and Connor Losen scored for the Freeze. Rochester's Nick Bucklin stopped 50 shots.
Wausau RiverWolves 3 @ Breezy Point North Stars 7-The Breezy Point North Stars grabbed an early lead on their way to a 7-3 win over the Wausau RiverWolves. Alex Flicek, Jakob Parisien (2), Jack Petroske (2), Josh Maucieri, and AJ Hoyt scored for the North Stars, while Matt Irwin scored all three RiverWolves goals. Breezy Point's Lucas Ehlrich made 18 saves, while Henry Baribeau stopped 45 shots for Wausau.
Alexandria Blizzard 5 @ New Ulm Steel 4-The Alexandria Blizzard scored four in a row to come back and defeat the New Ulm Steel, 5-4. Alec Skar, Josiah Roen (2), Brett Meister, and Brenden Payne scored for the Blizzard, while Hunter Johnson, Austin Langworthy (2), and Tom Reilly found the back of the net for the Steel. Alexandria's Brady Meyers made 37 saves, while Ryan Kenny stopped 27 shots for New Ulm.
St Louis Jr Blues 3 @ North Iowa Bulls 4-The North Iowa Bulls scored three in the third to come back and defeat the St Louis Jr Blues, 4-3. John Studioso, Matt Dahlseide, Dan Sandvig, and Mitch Dolter scored for the Bulls, and Dante Jones (2) and Will Baginski found the back of the net for the Jr Blues. North Iowa's Connor Poczos and Colin Cain made 9 and 23 saves each, while Hunter Smith stopped 18 shots for St Louis.
Yellowstone Quake 6 @ Helena Bighorns 5 (OT)-Carter Johnson scored in overtime for the Yellowstone Quake, defeating the Helena Bighorns, 6-5. Cole Stewart (3) and Nolan Willoughby (2) scored in regulation for the Quake, while Mikhail Gavrilenko, Luc Cross, Hayden Seitz, Justin SUllican, and Jarett Scheibel notched goals for the Bighorns. In net, Yellowstone's Jonatan Persson and Reid Waszczenko stopped 16 and 22 shots each, while Cody Brewer and Eric Berglund made 22 and 21 saves, respectively, for Helena.
Bozeman Icedogs 4 @ Gillette Wild 3 (OT) - Beckett Patten had two goals and an assist and Carver Thompson made 34 saves as the Bozeman Icedogs beat the Gillette Wild in overtime on Saturday, 4-3.