Blizzard move into tie for 2nd place with perfect weekend
February 19, 2018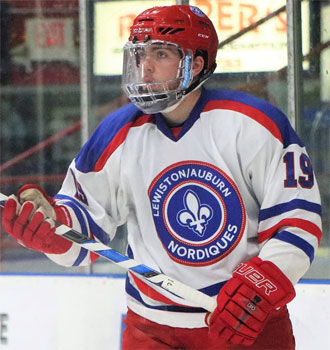 Alexandria Blizzard 5 @ Willmar WarHawks 4-The Alexandria Blizzard scored three in a row to come back and defeat the Willmar WarHawks, 5-4. Blizzard goals came off the sticks of Brett Meister, Marshall Tschida, Josiah Roen (2), and Brenden Payne, while Peyton Bolstad (2), Braden Shea, and Keegan Bauman found the back of the net for the WarHawks. Alexandria's Brady Meyers made 29 stops, while Luke Fry made 26 saves for Willmar.
Maine Wild 1 @ L/A Nordiques 5-A pair of goals from Caleb Labrie helped the L/A Nordiques to a 5-1 win over the Maine Wild. Colby Audette, Donovan Tehan, and Cole Ouellette also scored for the Nordiques, while Jeffrey Murphy notched one for the Wild. L/A goaltender Michael Errico made 17 saves, while Ben Jenkins stopped 27 shots for Maine.
Southern Tier Xpress 4 @ Pittsburgh Vengeance 3-The Pittsburgh Vengeance tried for a third period comeback, but it wasn't enough - and they fell to the Southern Tier Xpress, 4-3. Tristan Mock (3) and Stuart Pearson scored for the Xpress, while Dominick Glavach, Lucas Kirk, and Brendan Johns found the back of the net for the Vengeance. Southern Tier's Ryan Pascarella made 23 saves, while Joel De Simone stopped 25 shots for Pittsburgh.
Niagara Falls PowerHawks 6 @ Skylands Kings 3-After a slow start, the Niagara Falls PowerHawks defeated the Skylands Kings, 6-3. For the PowerHawks, Matthew Minichiello, Andrew Logar (2), Brandon Schweickert, Gage Mueller, and Mitchell Thornton got on the scoreboard, while Eric Vanderhoff (2) and Joshua Baker scored for the Kings. In net, Kris Augustine stopped 27 shots for Niagara Falls, while Matthias Yttereng made 27 saves for Skylands.
Binghamton Junior Senators 5 @ Oswego Stampede 0-Binghamton Junior Senator Brady Anderson made 25 saves for a 5-0 shutout win over the Oswego Stampede. Binghamton's Brad Becker, Dominik Bogdziul, Dinmukhamed Dzhangarshev, Eric Melso, and Thomas Mandel Jr found the back of the net. Oswego's Steven Kozikoski stopped 60 shots.