Metro goalie Kormos makes NCAA commitment
February 22, 2018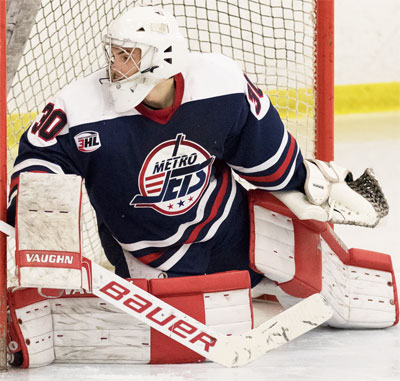 Andrew Kormos has put up amazing numbers the past two seasons in the NA3HL with the Metro Jets and will get the opportunity to do the same next season at the NCAA Division III level.
Earlier this week, the 21-year-old Milford, Mich., native announced his commitment to attend and play hockey for New England College, a small, private school in Henniker, N.H., that plays in the New England Hockey Conference (NEHC).
"New England College has an outstanding hockey program, and it's a small campus that reminded me of my high school," said Kormos, the 2016-17 NA3HL Goaltender of the Year and All-NA3HL 1st Team member. "As a freshman next year, I plan on showing up with the same attitude every day and doing everything I can to earn the starting job."
Last year for the Jets, Kormos went 23-0-0 with a 0.93 GAA, a .959 save percentage and an incredible 11 shutouts. This year, he's 16-3-1 with a 2.22 GAA and a .914 save percentage with three shutouts.
Next year, Kormos will also be going to NEC with current Jets teammate Connor Inger.
"It's going to be great going to school with Connor," Kormos said. "He's a great friend and a great player and it will be a lot of fun."
Jets coach-GM Justin Quenneville noted that finding strength between the pipes has always been a top priority of the Jets organization.
"This program has been blessed with strong goaltending for as long as I have known and been a part of," said Quenneville. "I remember when Devin Williams (2011-12) and Alex Nedeljkovic (2012-13) were Jets and I am glad to see continued success stories like Andrew's now. Naturally, the bulk of the credit goes to our goalie coach Randy Wilson. His resume speaks for itself and to have him here helping develop our young goaltenders is a big proponent to our continued success.
"Andrew was heavily recruited and is deserving of all the NCAA interest. I'm glad he found a program that gave him a package he could not refuse and play for Coach (Tom) Carroll. They are a top-notch NCAA hockey program and academic school. We wish him and Connor the best of luck."
The Jets have had success in moving goalies to the NCAA ranks with Jake Stephan (2014-15) now at Concordia, Kam Limburg (2013-16) at Westfield State and Jake Gwillim (2015-17) at Aurora the three most recent advancements.
And while the hockey will be a step up for Kormos, so, too, will be the classroom aspect.
"Academically, I except it to be an adjustment," said Kormos. "I'm planning on doing something along the lines of business, but after not being in school for these past couple seasons, it will definitely be an adjustment."
Getting to play for the Jets has done wonders for Kormos as a goaltender, and he said he'll always speak highly of the organization.
He also gave credit to those that have pushed, encouraged and helped him along the journey.
"Playing for Metro has given me the tools to earn this opportunity," said Kormos. "I can't thank everyone in the organization enough for what they have done for me the past two years. I'd especially like to thank 'Q,' (assistant coach) Jamie Lovell and Randy for pushing me to be my best these past two seasons.
"Outside of hockey, I'd like to thank my parents. They have spent countless hours taking me to practices and games throughout the years, and they have also supported me this whole way. They always believed in what I was doing, and I can't thank them enough for that."
As for the rest of the 2017-18 season, Kormos wants to keep the momentum rolling in Fraser.
"I expect us to continue to succeed into playoffs and change the ending this year," said Kormos.