NA3HL players continue to climb ladder to NAHL
February 23, 2018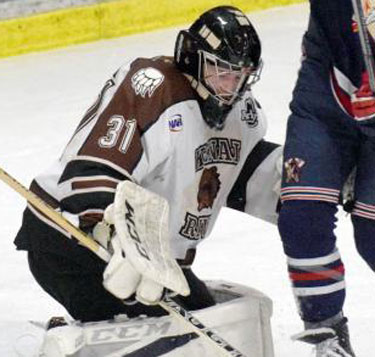 By Stephen Heisler
Back in 2010, when the Central States Hockey League decided to operate within the umbrella of the North American Hockey League, the idea was to establish a pipeline from the Tier 3 league to the NAHL.
That North American 3 Hockey League (NA3HL) rung on the ladder of development has been a very effective step for many players, as more and more are gaining experience within the league and have prospered there this season.
Kenai River Brown Bears goaltender Kevin Lake ('98, Anchorage, AK) made 27 appearances last season with the NA3HL's Louisiana Drillers (25 GP, .890 SV%) and St Louis Jr Blues (2 GP .938 SV%). Lake took advantage of the high game count to fine tune his game in preparation for play at the next level.
"Kevin didn't spend much time in St. Louis but when he was with our club he worked hard and competed. He did everything that was asked of him," St Louis Head Coach Chris Flaugher said on Tuesday. "He was a great teammate and well liked in the locker room. When he left our club we wished him great success and it's been nice seeing Kevin is being rewarded for the work that he's put in."
"Kevin worked very hard while he was in Louisiana, remaining focused on improving his game so he would be ready if the opportunity to play in the NAHL came along, Drillers' Head Coach Tyler Barr said of the big goalie. "He kept the team in the game many nights, which was nice to know that any time he started a game; we knew there was a chance to win that night."
Lake started the season with the NAHL's Wilkes-Barre/Scranton Knights (1 GP, .925 SV%) but for one reason or another, Knights' Head Coach Tom Kowal went into another direction and let Lake go. Something he might now be regretting after Lake robbed the Knights a few weekends back.
Brown Bears Head Coach Josh Petrich has benefited from Lake's NA3HL experience. "I believe every player's journey is different. The NA3HL is a league of great coaches and developers that helps players move onto the next level of their journey, be it the NAHL, junior hockey in Canada, or college."
"In Lake's case, the NA3HL gave him a chance to be a starting goalie for another season and learn how to handle the pressures of junior hockey. It allowed him to learn how to handle the travel, back to back games, the pace, in general, and the rigors of junior hockey," the Kenai River coach continued. "I have watched Kevin for a couple years now, and have witnessed growth both on and off the ice with him, and part of that has to be credited to the NA3HL and their development model."
The Alaskan netminder has been with the Brown Bears since mid-January and has certainly made a positive impression. Aside from some seriously impressive statistics (7 GP, 4-2-0-0, 2.98 GAA, .922 SV%), Lake is one of those kids that everybody can rally around. It's more than obvious that the Brown Bears and Kenai Peninsula community are doing just that.
"I believe the NA3HL is a great place for development," Atlanta Capitals Head Coach Jason Smith said of the league. "I have a few cases in point."
The NA3HL is also often a short term solution for players. Prince George Spruce Kings (British Columbia Hockey League defenseman Oliver Lester ('97, Calgary, ALB) played in just six games (3 G, 4 A) for the Atlanta Capitals earlier this season before quickly moving up to the BCHL.
"Lester came to me just after the season started," Smith said of the Canadian Junior Hockey League veteran. "He wanted to get his confidence back so he could move up. And within a month he went from Atlanta to the BCHL, where he has played the rest of the season."
Young Atlanta defenseman Gunner Moore ('01, Las Vegas NV) and his family made the difficult decision to move from prep hockey in Connecticut to the NA3HL team. As the only 2001 born player selected to participate in the NA3HL's Top Prospects event in Michigan later this month, it's been obvious to all that the decision was the right one.
"A good friend of mine told me one day if you have the opportunity to do something then to do it, because you never know if that opportunity will come back around," Moore's mother Brandi said on Tuesday. After a year of playing at the prep level at Woodstock Academy, we were informed about the opportunity with Atlanta. I was shocked and very nervous, he was only just turning 16 and to be playing against 17-20 year old men, that alone was very scary. I kept thinking that he's still growing, will he get hurt, and what if he goes and it end up not being a good experience?
"We were told that Gunner needed to be challenged to get better, and playing D3/D2 high school hockey wasn't going to get him to the highest level that he wants to play at," the mom continued. "There were questions about the decision from the start, including a ton of negative recruiting from teams in other leagues and even levels of play."
"Gunner was given the opportunity to skate at the NAHL RoadRunners Main Camp in Chicago. I must say the main camps for the NAHL are a bit overwhelming for anyone that's never been, or even knowing, what to expect," the mom continued. "Everyone was nice; we even met the owner Don Stone of the NAHL/NA3HL team. He was very welcoming and that was the start of knowing this is a good move for my son."
"Gunner made it to the 1st All Star game they had before making their final cut for the NAHL team, I sat in front of some of the coaches and scouts they were in awe of how fast and smart a player he was for his age. I just had to watch and smile."
"As of now, for my son, going to Atlanta was the best move we've made since we've started this journey," Brandi concluded. "He gets plenty of playing time and has scored and assisted on many goals. His coaches are great, they run a tight ship, and every single boy respects each other. They are literally a band of brothers. "
"Moore had skill and great skating when he got to Atlanta before the season started; he just lacked the confidence needed to compete every day." Smith said of the young prospect. "Now his development is through the roof. He will play at the next level next season."
"Capitals Forward Vito Carlo ('98, Las Vegas NV) came back to Atlanta, just before the season started, from the Manitoba Junior Hockey League," Smith added. "He has developed into one of the best defensemen in the league. He's getting offers for NAHL teams for next season as well as NCAA Division 3 schools."
Granite City Lumberjacks forward Matthew Moran ('98, Sartell MN) is putting the finishing touches on his second full season with the team (36 GP, 11 G, 15 A) and is already getting attention from a few NCAA Division III schools. Having the opportunity to represent his team and division at the Top Prospects event gives playing in the league even more meaning. "I've certainly matured as a player and have grown to understand the importance of playing within the structure of the team," the Minnesota player said on Tuesday. "I'm ready for that next step in my career and want to make a great impression at Top Prospects new week."
Lumberjacks bench boss Brad Willner has had a front row seat watching Moran develop. "Playing in the NA3HL, Matt has had to learn to be a more consistent player, a better defensive player, and has been given to opportunity to hone his offensive skills," the coach said of his player." Our season is twice as long as high school seasons here in Minnesota and are faster paced games versus better players. I feel Matt can step into any NAHL team and play because of his time in the NA3HL."
Humboldt Broncos (Saskatchewan Junior Hockey League) Head Coach Darcy Haugan is a believer. "The league has really helped Matt develop and equip him with the skill and confidence to play at the next level. Since I've seen this first hand, it makes coaches like myself more than willing to give players like Matt an opportunity to play at the next level, regardless of age."
Forward Ryley Cook ('00, Denver CO) started the season with the NA3HL's Rochester Ice Hawks before moving west to Missoula. Now back in Minnesota and practicing with the Austin Bruins, Cook feels great about his chances of playing full-time in the NAHL next season.
Sometimes moving up does not mean to a higher level of play. Getting traded to a team that wants to contend for a championship is a good example.
St Louis Jr Blues Forward Tristan Slot ('99, Kaikauna WI) started the season with the Wassau RiverWolves before getting traded to the Blues. "Tristan was acquired to give our team depth at the forward position. He has a good skill set and is a smart player," Flaugher added in regards to the young forward. "Tristan has been a good teammate and wants to help this team any way he can."
When the first NA3HL season started, there was a ton of speculation what that move would do to the game and level of play. While there have been bumps in the road, the concept has worked nicely into the developmental asset that the NAHL envisioned.
As any of the players will tell you, it's a job well done.