February 23, 2018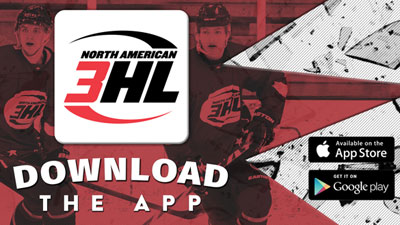 Just a couple of weeks and handful of games remain in the 2017-18 NA3HL regular season as the final push for valuable wins and points for playoff positioning takes place again this weekend.
There are still playoff spots to be clinched and several divisions still have yet to crown a regular season champion.
Following the games this weekend, 120 players will then head to Plymouth, Michigan for the 2018 NA3HL Top Prospects Tournament, which takes place on February 27-28 at USA Hockey Arena.
Follow the games on the NA3HL App:
Friday, February 23
Southern Tier at Niagara Falls - 7:00 PM EST
Pittsburgh at Toledo - 7:00 PM EST
Long Beach at Skylands - 7:20 PM EST
Wausau at Evansville - 7:00 PM CST
Rochester at St. Louis - 7:00 PM CST
Willmar at Alexandria - 7:10 PM CST
Northeast at New England - 8:10 PM EST
Granite City at Breezy Point - 7:30 PM CST
Binghamton at Roc City - 8:30 PM EST
Missoula at Gillette - 7:05 PM MST
Bozeman at Helena - 7:05 PM MST
Yellowstone at Great Falls - 7:30 PM MST
Texas at Mid Cities - 8:30 PM CST
Saturday, February 24
Rochester at St. Louis - 2:00 PM CST
Mid Cities at Texas - 2:15 PM CST
Wausau at Evansville - 5:00 PM CST
New England at Northeast - 7:00 PM EST
Niagara Falls at Southern Tier - 7:00 PM EST
Pittsburgh at Toledo - 7:00 PM EST
Cape Cod at Maine - 7:30 PM EST
Peoria at Metro - 7:30 PM EST
Breezy Point at Granite City - 7:30 PM CST
New Ulm at North Iowa - 7:30 PM CST
Binghamton at Roc City - 8:30 PM EST
Missoula at Gillette - 7:05 PM MST
Bozeman at Helena - 7:05 PM MST
Yellowstone at Great Falls - 7:30 PM MST
Sunday, February 25
L/A at Maine - 11:00 AM EST
Binghamton at Roc City - 12:00 PM EST
Peoria at Metro - 12:45 PM EST
Northeast at Cape Cod - 2:30 PM EST
Atlanta at Evansville - 6:30 PM CST