Friday Finals: Wild punch ticket to Fraser Cup Playoffs
February 24, 2018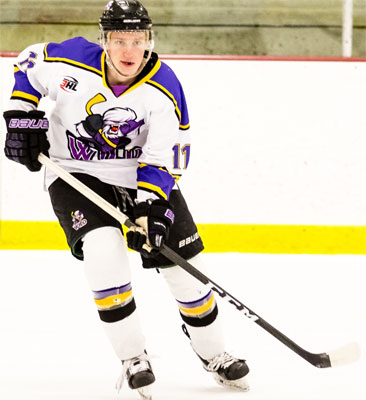 Missoula Junior Bruins 2 @ Gillette Wild 12-The Gillette Wild scored six in the first to grab an early lead to defeat the Missoula Junior Bruins, 12-2. Cody Walters (4), Jack Oberg, Brandon Prewett, Josh Smith, Gage Thompson (2), Derek Scoggins (2), and Hunter Peterson scored for the Wild, while Vadim Zubkov and Josh Kirk each scored one for the Junior Bruins. Gillette's Cody Grogan stopped 26 shots, while Duncan Wiest and Brian Thomas made 8 and 18 saves, respectively, for Missoula.
Southern Tier Xpress 7 @ Niagara Falls PowerHawks 2-The Southern Tier Xpress scored five in a row to set the pace for a 7-2 win over the Niagara Falls PowerHawks. Stuart Pearson, Joey Gerace (2), Waltteri Makinen, Nick Wilcox, Brian Grant, and Tommy Muecke scored for the Xpress, and Andrew Logar notched both Niagara Falls goals. Southern Tier's Ryan Pascarella stopped 38 shots, while Alvin Dow made 43 saves for the PowerHawks.
Pittsburgh Vengeance 4 @ Toledo Cherokee 2-The Pittsburgh Vengeance scored four in a row to come back and defeat the Toledo Cherokee, 4-2. Nick Erker, Simon Soderberg, Dominick Glavach, and James Unger scored for the Vengeance, while EJ Gilbert scored twice for Toledo. Pittsburgh's Jacob Zab and Joel De Simone made 8 and 21 saves, respectively, while Ricardo Gonzalez stopped 50 shots for the Cherokee.
Long Beach Sharks 2 @ Skylands Kings 10-The Skylands Kings grabbed an early lead on their way to a 10-2 win over the Long Beach Sharks. Steven Ford (2), Lionel Landry, Craig Garrigan (2), Eric Vanderhoff (3), Aslan Shetov, and Yakovlevl Andrey scored for the Kings, while Dino Mukovoz and Ryan Gridley scored for the Sharks. Skylands' Josh Sears made 44 saves, while Ryan Cortez and Ben Vutci stopped 10 and 19 shots, respectively, for Long Beach.
Wausau RiverWolves 8 @ Evansville Jr Thunderbolts 4-A hat trick from Ryan Hempel helped the Wausau RiverWolves to an 8-4 win over the Evansville Jr Thunderbolts. Michael Alfonso, Garrett Alton, Sean Johnston, Matt Irwin, and Ben Brown also scored for the RiverWolves, and Bret Bocianoski, Kody Kifer, Kyle Kowalski, and Jake Hannebrink found the back of the net for the Jr Thunderbolts. Wausau's Henry Baribeau stopped 39 shots, while Sam Tucker made 37 saves for Evansville.
Rochester Ice Hawks 0 @ St Louis Jr Blues 4-St Louis Jr Blue Blake Bjella stopped 16 shots for a 4-0 shutout win over the Rochester Ice Hawks. Jr Blues Jack Hatton, Bud Winter, Mark Capokovic, and Matthew Monreal each scored, while Rochester's Nick Bucklin made 66 saves.
Willmar WarHawks 4 @ Alexandria Blizzard 3-The Willmar WarHawks scored three in the third to come back and defeat the Alexandria Blizzard, 4-3. Willmar goals came from Peyton Bolstad (2), Jordan Cooper, and Riley Dixon, while Brendan Payne (2) and Logan Nelson each scored for Alexandria. WarHawk goaltender Luke Fry made 26 saves, while Brady Meyers stopped 18 shots for the Blizzard.
Northeast Generals 4 @ New England Stars 8-The New England Stars grabbed an early lead on their way to an 8-4 win over the Northeast Generals. Stars goals came via Ian Gatley (2), James Wilson, Michael Lempiainen, Tyson Gudaitis, Cole Archambeault, and James Wilson (2), and Thad Marcola, Jacob Kelly, Fedor Lopaev, and Marc Faia found the back of the net for the Generals. New England's Andrew Ghimpeteanu stopped 18 shots, while Nick Sesock and Kyle Wagner made 12 and 8 saves, respectively, for Northeast.
Granite City Lumberjacks 4 @ Breezy Point North Stars 0-31 saves from David Mulligan helped the Granite City Lumberjacks to a 4-0 win over the Breezy Point North Stars. Granite City goals came off the sticks of Brady Dahl, Matt Moran, Logan Neu, and Reese Kaehler, while Breezy Point's Lucas Ehlrich stopped 27 shots.
Binghamton Junior Senators 11 @ Roc City Royals 2-The Binghamton Junior Senators scored five goals in the third to secure an 11-2 win over the Roc City Royals. Jeremy Wilber (2), Geoffrey LaMorre, Dominik Bogdziul (2), Eric Melso (2), Cody Dearing, Caleb Beversdorf, CJ Smith, and Brad Becker scored for the Junior Senators, while Luke Dobbles and Spencer Norris each notched one for the Royals. Binghamton's Colin Burgess made 15 saves, while Frederick Peters stopped 45 shots for Roc City.
Bozeman Icedogs 3 @ Helena Bighorns 4-After a scoreless first, the Helena Bighorns scored three in a row to defeat the Bozeman Icedogs, 4-3. Kaden Lindberg, Jarett Schiebel, Gavin Cline, and Mikhail Gavrilenko scored for the Bighorns, while Adam Franklin (2) and Austin Charnholm found the back of the net for the Icedogs. Helena's Eric Berglund made 21 saves, while Carver Thompson stopped 66 shots for Bozeman.
Texas Brahmas 4 @ Mid Cities Jr Stars 1-A pair of goals from Bennett Weycker helped the Texas Brahmas to a 4-3 win over the Mid Cities Jr Stars. Kyle Cote and James Brown III also scored for the Brahmas, while Jason Koehn notched one for the Stars. Texas' Carson Murison made 20 saves, while Nick Vanwinkle stopped 26 shots for Mid Cities.
Yellowstone Quake 1 @ Great Falls Americans 2 (SO)-After seven rounds, Matt Janke scored a shootout goal to secure a 2-1 win over the Yellowstone Quake. Kyler Mack scored for the Americans in regulation, while Cole Stewart notched one for the Quake. Great Falls' Drew Scites stopped 64 shots in net, while Reid Waszczenko made 51 saves for Yellowstone.