Sunday Wrap-Up: Binghamton closes in on NA3HL regular season title
February 26, 2018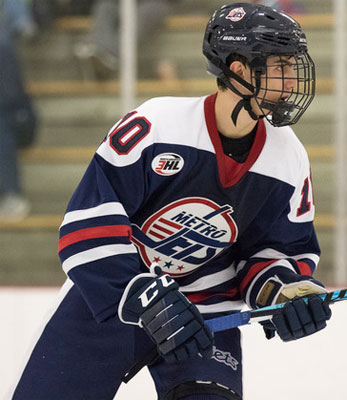 Binghamton Junior Senators 11 @ Roc City Royals 1-Binghamton Junior Senator Brad Becker notched a hat trick in their 11-1 win over the Roc City Royals. Ryan Reifler (2), Rory Gresham, Gregory Simmons, Caleb Beversdorf, Geoffrey LaMorre (2), and Michael Padgeon also scored for the Junior Senators, while Brandon Corey notched the only Royals goal. Binghamton's Jeffrey Zero made 9 saves, while Frederick Peters stopped 45 shots for Roc City.
L/A Nordiques 6 @ Maine Wild 1-The L/A Nordiques grabbed a five goal lead in the first on their way to a 6-1 win over the Maine Wild. Nick Ventura, Shayne Plummer, Colby Audette, Crewz Berry, Joshua Sanchez, and Cole Ouellette scored for the Nordiques, while Mason Ledbetter notched one for the Wild. L/A's Sage Broda made 37 saves, while Chris Rodrigues stopped 38 shots for Maine.
Peoria Mustangs 1 @ Metro Jets 6-A four goal night for Matt Schaumburger drove the Metro Jets to a 6-1 win over the Peoria Mustangs. Griffin Sawyer and Jeremy Schwartz also scored for the Jets, while Jack Radley notched one for the Mustangs. Metro's Andrew Kormos stopped 21 shots, while Dakota Meyer made 35 saves for Peoria.
Northeast Generals 5 @ Cape Cod Islanders 4 (SO)-Cam St Amand scored late in the third to tie the game, forcing overtime and a shootout, where Fedor Lopaev and Matt Hammel scored for the Northeast Generals, securing a 5-4 win over the Cape Cod Islanders. Hammel also scored in regulation for the Generals, alongside Austin Braley, Marc Faia, and Dylan Figueroa. For the Islanders, St Amand scored twice, and Hunter Dougherty and Leevi Kervinen notched one each. Northeast goaltender Kyle Wagner made 21 saves, while Esa Maki stopped 40 shots for Cape Cod.
Atlanta Capitals 6 @ Evansville Jr Thunderbolts 2-The Atlanta Capitals scored three in the third to secure a 6-2 win over the Evansville Jr Thunderbolts. Michael Klintworth (3), Talon Medure, Austin Smith, and Cole Warner scored for the Capitals, while Jr Thunderbolts' goals came from Austin Cody and Rory Scott. In net, Kyle Konin stopped 13 shots for Atlanta, while Evansville's Sam Tucker made 54 saves on the night.