Metro forward Inger makes NCAA commitment
February 26, 2018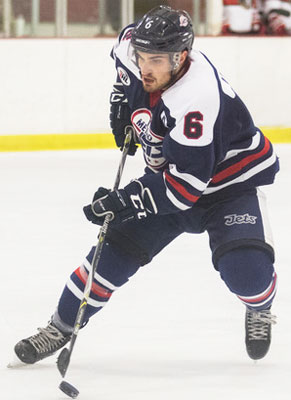 Back in Jan. 2017, Connor Inger came to the Metro Jets not quite knowing what to expect.
He had played the first half of the season in the NAHL and also spent the 2015-16 season with the Tier II circuit.
Just over a year later, Inger is among the NA3HL's top scorers and now has an NCAA Division III commitment as well as earlier this week, the 20-year-old Macomb, Mich., native (he turns 21 on March 4) announced he will attend and play hockey for New England College, a small, private school in Henniker, N.H., that plays in the New England Hockey Conference (NEHC).
Jets goalie Andrew Kormos will also start at New England College this fall.
"I think just the tradition of the program and coach Tom Carroll's experience is what drew me to NEC," Inger said. "This is a program that wins and moves players onto pro hockey and that's something I want to be a part of. I want to come in and make an impact as a freshman in any way I can. I think I'm most effective when I'm putting the puck in the net, but as a freshman, you need to find any way to make an impact if that's not the role you're given.
"It will be awesome to have 'Kormy' there. We've become good friends over the little time I was with the Jets last year and this year. Excited to live with him and hopefully, he won't mind tutoring me."
Off the ice at NEC, Inger has his eye on a business major with some sports management classes as well.
"I know I want to be involved in hockey my whole life," said Inger. "I took a few college classes at Macomb Community College, but becoming a full-time student again will be an adjustment."
During his 19-game stint with the Jets a year ago, Inger tallied 14 goals and 35 points. This year through 44 contests, he's averaging better than two points per game with 41 goals and 91 points.
Inger has recorded at least one point in all but five games this year and has registered 13 games with three or more points.
"I obviously have to thank my parents as nothing is possible without them, but outside of family, I don't think anyone has had a bigger impact on me as a hockey player than 'Q' (Jets coach-GM Justin Quenneville). I learn every single day from him, whether it's something about hockey or just life in general, I think we all appreciate having a resource like him every day."
"When Connor came to us last year, he immediately had an impact, so much that his contributions last year might have been overshadowed from our performance as a team and other individual player highlights during the season," added Quenneville. "This year, he picked right up where he left off and went on a tear. Our schedule is difficult, and what amazes me about Connor is his consistency and tenacity to want to be the guy every game. His biggest games this year were in some of the hardest games. Games against North Iowa, St Louis, New Ulm, Pittsburgh and week after week, he is the guy that gets us the big goal of the big play. He has singlehandedly put games on his shoulders this year and won them for us multiple times. This is a team sport and every year, we get to coach talented young players, but Connor takes the cake when it comes to wanting to win night in night out.
"For crying out loud, our first homestand of the year, he had a five-point weekend and a fight standing up for himself. He wants to get better, he expects players around him to succeed and he loves the game every day. Not just the good ones, but even the hard ones, he shows up all the time. I will say that I don't believe any other player in junior hockey this year has had more NCAA schools interested – we lost count sometime in November. He is deserving of it, he was patient with his decision, he picked a top one in NEC and it's been fun helping him grow as a player. We wish him nothing but the best of luck."
With two weekends left in the regular season with the Fraser Cup Playoffs to follow, Inger has one goal in mind moving forward.
"For the rest of the year, our goal is pretty simple – to win," said Inger. "I hate to lose. It's a tradition that kind of comes with everyone that comes through here as they learn to hate to lose. So we have our eye on the Fraser Cup. I just want to keep helping our team win."