NA3HL Top Prospects thrills on final day
March 1, 2018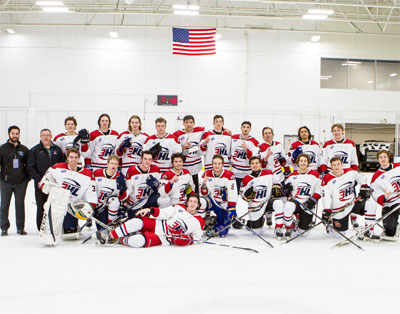 With hundreds of scouts looking on, the six NA3HL Top Prospects teams did not disappoint on the final day the event, with two of the games being decided in overtime and one team showing off their dominance.
Over 200 college and junior scouts were on hand again on Wednesday morning to take in some NA3HL Top Prospects action, as all teams finished up their third and final game of the event at the USA Hockey Arena in Plymouth, Michigan.
The NA3HL Top Prospects Tournament was played in conjunction with the NAHL Top Prospects Tournament and the event has quickly become one of the most highly-scouted events of its kind.
18U Selects White 6 vs. Grey 1 - Grey opened the scoring, but 18U Selects White scored three goals in the second and third period to secure a 6-1 victory. With the win, the 18U Selects White finished with a perfect 3-0 record for the event and captured the NA3HL Top Prospects Tournament title. For White, Nick Ventura (L/A Nordiques), Eric Vanderhoff (Skylands Kings), Laudon Poellinger (2, La Crosse Freeze), Matthew Francois (La Crosse Freeze), and Jarod Blackowiak (North Iowa Bulls) earned points, while Logan Nelson (Alexandria Blizzard) got on the board for Grey. 18U Selects goaltenders Ryan Kenny (New Ulm Steel) and Reid Waszczenko (Yellowstone Quake) stopped 10 shots each, while Drew Scites (Great Falls Americans) and Luke Fry (Willmar WarHawks) made 16 and 24 saves each in net for Grey.
18U Selects Red 1 vs. Green 2 (OT) - Green's Stephen Minichiello (Niagara Falls PowerHawks) scored late in overtime, in what was the goal of the Tournament, to secure a 2-1 victory over the 18U Selects Red. Matt Goodman (Point Mallard Ducks) notched one in regulation for Green, while Josh Maucieri (Breezy Point North Stars) netted one for Red. Brady Anderson (Binghamton Junior Senators) stopped 19 shots in net for Red, while Carson Murison (Texas Brahmas) and Steven Kozikoski (Oswego Stampede) tallied 6 and 9 saves, respectively, for Green.
Orange 4 vs. Blue 3 (OT) - After sixty minutes of back and forth, Orange forward Connor Inger (Metro Jets) notched an overtime winner to defeat Blue, 4-3. Dominick Glavach (Pittsburgh Vengeance), Jacob Redman (Lansing Wolves), and Tristin Snyder (Toledo Cherokee) scored in regulation for Orange, while Matt Irwin (Wausau RiverWolves), Clayton Lackey, and Jake Joyeaux (North Iowa Bulls) each notched one for Blue. Orange's Blake Bjella (St Louis Jr Blues) and Tyler Hawk (Pittsburgh Vengeance) made 9 saves each in net, while Greg Moon (New England Stars) and Colin Cain (North Iowa Bulls) stopped 8 and 14 shots each for Blue.