Friday Finals: Bulls claim sixth straight division title
March 3, 2018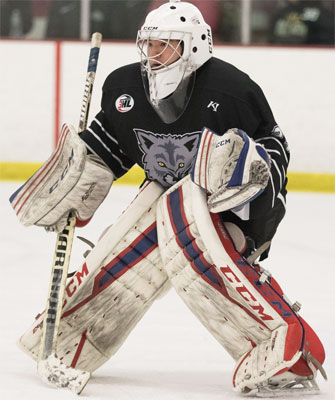 La Crosse Freeze 2 @ North Iowa Bulls 7-The North Iowa Bulls commanded an early lead on their way to a 7-2 win over the La Crosse Freeze. With the win, the Bulls claimed the Central Division regular season crown. Mitch Dolter, Brendan Studioso, Tyler Bump, Dan Sandvig (2), and Matt Dahlseide (2) scored for the Bulls, while Brady Lindauer and George Nuutinen each notched one for the Freeze. North Iowa's COlin Sain stopped 27 shots, while Will Graves made 25 saves for La Crosse.
Missoula Junior Bruins 5 @ Bozeman Icedogs 6-The Bozeman Icedogs held tightly onto their one goal lead to defeat the Missoula Junior Bruins, 6-5. Austin Charnholm (4) and Jacob Boje (2) got on the scoresheet for the Icedogs, while Tyler Prince (2), Keith Zobel, Vadim Zubkov, and Austin Dennison notched Missoula goals. Bozeman's Carver Thompson made 43 saves on the night, while Billy Yoder stopped 46 shots for the Junior Bruins.
Lansing Wolves 6 @ Toledo Cherokee 0-Lansing netminder Sean Finstrom made 36 saves for a 6-0 shutout win over the Toledo Cherokee. Wolves' goals came off the sticks of Jacob Deratany, Justin Sill, Brandon Ashley, Brendan Smith, Mike Forman, and Jacob Redman. Ricardo Gonzalez and Alan Brouillette made 25 and 7 saves, respectively, for the Cherokee.
College Station Spirit 0 @ Mid Cities Jr Stars 9-Mid Cities' Matthew Lenz made 22 saves for a 9-0 shutout win over the College Station Spirit. Jr Star Trey Rooney scored four goals, while Matthew Taylor, Brandon Speights, Travis Brain, Eric Fisher, and Nick Sheridan scored one each. Drew Pehrson stopped 48 shots in net for the Spirit.
Great Falls Americans 5 @ Helena Bighorns 3-The Great Falls Americans had a late game surge to surpass the Helena Bighorns and win the game, 5-3. Adam Vandenbos, Michael Houlohan, Kyler Mack, Garrett Peters, and Michael Fary scored for the Americans, while Jarett Scheibel (2) and Richard Groskops found the back of the net for the Bighorns. Drew Scites stopped 41 shots for Great Falls, while Nick Battaglia made 21 saves for Helena.
Yellowstone Quake 4 @ Gillette Wild 2-The Yellowstone Quake scored two third period goals to secure a 4-2 win over the Gillette Wild. Ian Doner, Jack Moore, Carter Johnson and Riley Buller scored for the Quake, while Nick Stockert and Jack Oberg each notched one for the Wild. Yellowstone's Reid Waszczenko made 32 saves, while COdy Grogan stopped 35 shots for Gillette.
Granite City Lumberjacks 5 @ Breezy Point North Stars 1-The Granite City Lumberjacks grabbed an early lead on their way to a 5-1 win over the Breezy Point North Stars. Brandon Bissett, Sean Salz, Grant Troumbly, Cole Buhl, and Matt Moran scored for the Lumberjacks, while Erik Gadbois notched one for the North Stars. Granite City's David Mulligan stopped 19 shots, while Lucas Ehrlich made 39 saves for Breezy Point.
New Ulm Steel 10 @ Wausau RiverWolves 2-After a scoreless first, the New Ulm Steel steamrolled past the Wausau RiverWolves for a 10-2 win. Alex Nagel, Bayler Kraus, Hunter Johnson, Jarrett Cammarata (3), Luke Krueser, RYan Smith, Zach Heiser, and Mason Trowbridge scored for the Steel, while Matt Irwin and Sean Johnston each notched one for the RiverWolves. New Ulm's Ryan Kenny made 30 saves, while Henry Baribeau and Jackson Fazendin made 40 and 17 saves each for Wausau.
Alexandria Blizzard 12 @ Rochester Ice Hawks 5-The Alexandria Blizzard played a strong second period to set the pace for a 12-5 win over the Rochester Ice Hawks. Brenden Payne (4), Justin Gibbons, Jack Mellstrom, Logan Nelson (2), Dylan Giorgio, Ryan Worley, Riley Scanlon, and Brett Meister scored for the Blizzard, while Ryan Stokes, Nick Ness, Lake Powell, Evan Burke, and Justin Gibbons scored for the Ice Hawks. Alexandria's Kyle Hayden made 20 saves, while Nick Bucklin and Nick Barrett stopped 28 and 32 shots respectively.
Peoria Mustangs 5 @ Evansville Jr Thunderbolts 2-Jack Radley and Jack Healy scored three and 2 goals respectively to defeat the Evansville Jr Thunderbolts, 5-2. Malik Winfield and Rory Scott each score one for the Jr Thunderbolts. Peoria's Zack Freiburger made 33 saves, while Bryson Linenburg stopped 52 shots for Evansville.
Cape Cod Islanders 7 @ Long Beach Sharks 0-Cape Cod Islander Hunter Norris made 27 saves for a 7-0 shutout win over the Long Beach Sharks. Cape Cod goals came via Jack Conway (2), Cam St Amand, Leevi Kerviven (2), Tanner Little, and Aaro Sinisalo. Long Beach's Ryan Cortez stopped 59 shots in the match.
Wooster Oilers 1 @ Pittsburgh Vengeance 6-The Pittsburgh Vengeance maintained a strong offense to defeat the Wooster Oilers, 6-1. Spencer Smith, Brendan Johns (2), Ty Rickabaugh, and Devin Whitaker
scored for the Vengeance, while Hunter Hillebrecht notched one for the Oilers. Pittsburgh's Caden Shell made 23 saves, while Michael Hubbard and Joseph Ackley made 18 and 15 saves, respectively, for Wooster.
St Louis Jr Blues 6 @ Atlanta Capitals 3-After a scoreless first, Jake Cox netted a hat trick to secure a 6-3 win over the Atlanta Capitals for the St Louis Jr Blues. Bud Winter (2) and Dante Jones also scored for the Jr Blues, while Andrei Rusakov, Dillon Steh, and Brody Nielsen each notched one for the Capitals. St Louis goaltender Hunter Smith made 22 saves for the win, while Kyle Konin stopped 17 shots for Atlanta.
Oswego Stampede 5 @ Roc City Royals 4 (OT)-Oswego Stampede skater Rich Hart scored late in OT to secure the 5-4 win over the Roc City Royals. Hart, Dylan Gulick (2), and Ryan Gunther scored in regulation for the Stampede, while Spencer Norris, Antonio Lombardo, Patrick Nowak, and Calvin Tonzi got on the scoreboard for the Royals. Oswego's Steven Kozikoski made 27 stops, while Frederick Peters stopped 42 shots for Roc City.