Saturday Scores: Quake are kings of the Frontier again
March 4, 2018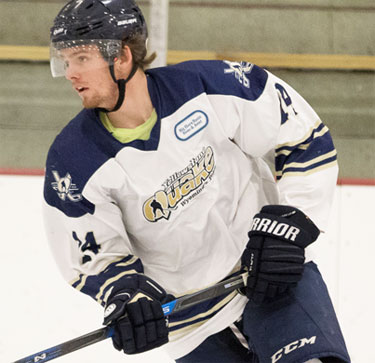 Bozeman Icedogs 1 @ Yellowstone Quake 13-The Yellowstone Quake's consistent effort played off in a 13-1 win over the Bozeman Icedogs. With the win, the Quake secured the Frontier Division regular season title. Yellowstone goals came off the sticks of Riley Buller (3), Jake Ford, Cole Stewart (3), Timo Pelto, Nolan Willoughby, Jack Moore (2), Carter Johnson, and Jack Harris, while Gage Blatter notched one for the Icedogs. Yellowston netminder Reid Wasczcenko stopped 13 shots, while Troy Stevens made 21 saves for Bozeman.
Peoria Mustangs 4 @ Evansville Jr Thunderbolts 2-The Peoria Mustangs notched three second period goals to defeat the Evansville Jr Thunderbolts, 4-2. Bret Bauer, Rhett McDonald, Ian McHenry, and Jack Radley each notched one for the Mustangs, while Brandon Rozema and Kyle Kowalski notched one each for the Jr Thunderbolts. Peoria's Jaden Gardner made 35 saves, while Bryson Linenburg stopped 46 shots for Evansville.
Maine Wild 1 @ New England Stars 2 (OT)-New England Star Tyson Gudaitis notched one in overtime for a 2-1 win over the Maine Wild. Ian Gatley also scored for the Stars, while Jeffrey Gratz notched one for the Wild. New England's Greg Moon made 26 saves for the win, while Ben Jenkins stopped 45 shots for Maine.
Texas Brahmas 5 @ Louisiana Drillers 2-Four in a row for the Texas Brahmas brought them to a 5-2 win over the Louisiana Drillers. Hunter Bersani, Jacob Gray, Michael Redmon, Kellen Ireland, and Sam Sykes scored for the Brahmas, while Mitch Dolese and Hayden Watzka netted one each for the Drillers. Texas' Tyler Myers made 20 saves for the win, while Griffin Varricchio stopped 33 shots for Louisiana.
St Louis Jr Blues 4 @ Atlanta Capitals 5-The Atlanta Capitals had a strong finish for a 5-4 win over the St Louis Jr Blues. Capitals' Vito Carlo, Brody Nielsen, Andrei Rusakov, Dillon Steh, and Talon Medure each scored once, while Tom Yurisich, Ivan Galaguzov, Cameron McAtee, and Jake Cox each notched one for the Jr Blues. Atlanta's Kyle Konin stopped 21 shots, while Blake Bjella stopped 27 shots for St Louis.
Niagara Falls PowerHawks 5 @ Skylands Kings 4-The Niagara Falls PowerHawks grabbed an early lead on their way to a 5-4 win over the Skylands Kings. Brandon Schweickery, Michael Olszewski, Kurt Villani, Gage Mueller, and Spencer Hrynczak scored for the PowerHawks, and Eric Vanderhoff, Lionel Landry, Craig Garrigan, and Stephen Finkel found the back of the net for the Kings. Niagara Falls' Josh Mitchell made 25 saves, while Mathias Yttereng stopped 35 shots for Skylands.
Roc City Royals 0 @ Binghamton Junior Senators 17-Binghamton Junior Senator Colin Burgess made 5 saves for a 17-0 shutout win over the Roc City Royals. Binghamton goals came from Brad Becker (3), Tim O'Connor, CJ Smith (2), Dinmukhamed Dzhangarashev, Ryan Reifler (2), Dominik Bogdziul (2), Caleb Beversodrf (3), Jeremy Wilber (2), and Luke Miller. Roc City goaltenders Frederick Peters and Kyle Prosperi stopped 89 and 7 shots.
Alexandria Blizzard 9 @ Breezy Point North Stars 4-The Alexandria Blizzard played a steady offense on the way to a 9-4 win over the Breezy Point North Stars. Luke Benson, Alec Skar (2), Tanner Frerichs, Brenden Payne (2), and Logan Nelson (3) scored for the Blizzard, while Reid Morin, Jack Petroske, Erik Gadbois, and Josh Maucieri found the back of the net for the North Stars. Alexandria's Brady Meyers stopped 38 shots, while Breezy Point's Josh Martinez and Micah Hershey made 26 and 13 saves each.
Cape Cod Islanders 5 @ Long Beach Sharks 1-A pair of goals from Leevi Kervinen helped the Cape Cod Islanders to a 5-1 win over the Long Beach Sharks. Nick Marston, Aaro Sinisalo, and Cody Doyon also scored for the Islanders, while Noah Carlock notched one for the Sharks. Cape Cod's Joseph Wilson made 18 saves, while Ben Vutci stopped 47 shots for Long Beach.
New Ulm Steel 4 @ Wausau RiverWolves 2-The New Ulm Steel grabbed an early lead on their way to a 4-2 win over the Wausau RiverWolves. Alex Nagel, Hunter Johnson, Oliver Hoeschen, and Jarreyy Cammarata scored for the Steel, while Austin Burgener and Matt Irwin notched one each for the RiverWolves. New Ulm's Drew Schenkenberg made 28 saves, while Henry Baribeau stopped 45 shots for Wausau.
Pittsburgh Vengeance 4 @ Wooster Oilers 3-After a scoreless first and slow second, the Pittsburgh Vengeance came back and defeated the Wooster Oilers, 4-3. Nick Erker, Lucas Kirk, Dominick Glavach, and Devin Whittaker scored for the Vengeance, while Bobby Frieson, Jeffrey Dawson, and Hunter Hillebrecht notched one each for the Oilers. Pittsburgh's Joel De Simone made 19 saves, while Michael Hubbard stopped 30 shots for Wooster.
Southern Tier Xpress 0 @ Metro Jets 7-Metro Jet Brian Tallieu stopped 26 shots for a 7-0 win over the Southern Tier Xpress. Brodie Thornton, George Hansen, Jhuwon Davis, Kristian Alafriz, Matt Schaumburger (2), and Trevor Momot scored for the Jets. Brandon Heacock and Ryan Pascarella made 29 and 20 saves, respectively, for Southern Tier.
Toledo Cherokee 0 @ Lansing Wolves 8-Lansing Wolves goaltender Sean Finstrom made 16 saves for an 8-0 win over the Toledo Cherokee. Brendan Smith (3), Bear Ross, Jacob Deratany, Dylan Davenport, Blake Siewertsen, and Mason Fitch scored for the Wolves. Alan Brouillette stopped 36 shots for Toledo.
Great Falls Americans 4 @ Helena Bighorns 7-The Helena Bighorns scored four in a row to secure a 7-4 win over the Great Falls Americans. Mikhail Gavrilenko, Ben Kottmeier (2), Luc Cross, Kaden Lindberg, Gavin Cline, and Richard Groskops scored for the Bighorns, while Michael Houlihan, Noel Parker (2), and Michael Fary found the back of the net for the Americans. Helena's Eric Berglund made 23 saves, while Bryan Sharp stopped 33 shots for Great Falls.
La Crosse Freeze 2 @ North Iowa Bulls 4-The North Iowa Bulls scored three in the first period to set the pace for a 4-2 win over the La Crosse Freeze. Brendan Studioso, Mitch Dolter, Dayton Honkanen, and Josh Arnold scored for the Bulls, while Brady Lindauer and Thomas Magnavite notched one each for the Freeze. North Iowa's Tyler Hawk made 29 saves, while Will Graves stopped 23 shots for La Crosse.
College Station Spirit 2 @ Mid Cities Jr Stars 9-The Mid Cities Jr Stars had a strong third period on their way to a 9-2 win over the College Station Spirit. Nick Sheridan (3), Tyler Schulz (2), Travis Brain (2), and Brandon Speights (2) scored for the Jr Stars, while Preston Palamara and Kevin Ely found the back of the net for the Spirit. Mid Cities' goaltender Nick Vanwinkle stopped 12 shots, while Ryan O'Toole made 41 saves for College Station.
Rochester Ice Hawks 1 @ Willmar WarHawks 5-The Willmar WarHawks scored five in a row to defeat the Rochester Ice Hawks, 5-1. Peyton Bolstad, Wyatt Toll (2), Brandon Holt, and Jacob Berkowitz scored for the WarHawks, while Lake Powell notched one for the Ice Hawks. Willmar's Kaden Ericson made 8 saves, while Luke Murphy stopped 44 shots for Rochester.