Sunday Wrap-Up: Jr. Stars stay hot with sweep
March 4, 2018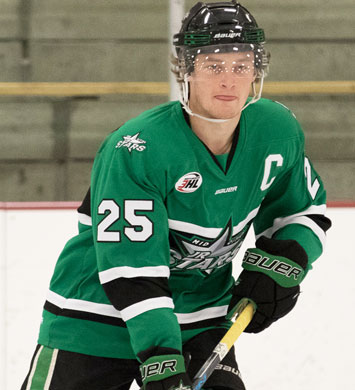 College Station Spirit 0 @ Mid Cities Jr Stars 7-Mid Cities Jr Star Matthew Lenz made 13 saves for a 7-0 shutout win over the College Station Spirit. Mid Cities' goals came off the sticks of Conor Simpson, Brandon Speights, Nick Snyder (2), Nick Sheridan, Trey Rooney, and Matthew Taylor. Drew Pehrson stopped 45 shots for College Station.
Northeast Generals 1 @ Maine Wild 4-A pair of goals from Brady Bannon secured a 4-1 win for the Maine Wild against the Northeast Generals. Tyler Webb and Josef Mehall also scored for the Wild, while Stephen Toal notched one for the Generals. Maine's Anthony Santarosa made 32 saves, while Kyle Wagner stopped 26 shots for Northeast.
Niagara Falls PowerHawks 1 @ Skylands Kings 4-The Skylands Kings scored two goals in the first and third to secure a 4-1 win over the Niagara Falls PowerHawks. Craig Garrigan, Craig Scarpa, Yakovlev Andrey, and Eric Vanderhoff scored for the Kings, and Evan Domiano netted one for the PowerHawks. Skylands' Mathias Yttereng made 48 saves, while Josh Mitchell stopped 37 shots for Niagara Falls.
Southern Tier Xpress 1 @ Metro Jets 2-With scoring isolated to the first period, a pair of goals from Metro Jets Brodie Thornton and George Hansen decided the game, 2-1, against the Southern Tier Xpress. Michael Lamison notched the lone Xpress goal. Metro goaltenders Andrew Kormos and Brian Tallieu notched 12 and 14 saves each, while Ryan Pascarella tallied 32 saves for Southern Tier.
Wausau RiverWolves 4 @ Wisconsin Whalers 12-The Wisconsin Whalers grabbed an early lead on the way to a 12-4 win over the Wausau RiverWolves. Whalers goals came via Nick Rogers (2), Zane Marshman, Trevor Timm (2), Drew Steines (2), Carter Grobstick, Andrew Ether (2), Brandon Onstott, and Sam Hanson, while Michael Alfonso, Garrett Alton, Janne Rukamp, and Ron Renter netted one each for the RiverWolves. Wisconsin net minders Alex Hufford and Logan Cooksy made 21 and 12 saves each, while Henry Baribeau and Christian Sanzottera stopped 34 and 24 shots each for Wausau.
Oswego Stampede 3 @ Roc City Royals 4-After sixty minutes of back and forth, the Roc City Royals defeated the Oswego Stampede, 4-3. Hunter Reid, Jacob Wood, Jacob Leblanc, and Spencer Norris scored for the Royals, while Ryan Gunther, Nick Sanborn, and Eddie Cannon found the back of the net for the Stampede. Roc City's Frederick Peters stopped 40 shots, while Ben White made 25 saves for Oswego.
Texas Brahmas 6 @ Louisiana Drillers 2-The Texas Brahmas scored four in a row to defeat the Louisiana Drillers, 6-2. Kyle Cote, Vincent Dekumbis, Michael Redmon, Sam Sykes (2), and Luke Bombardir scored for the Brahmas, while Hayden Watzka notched both goals for the Drillers. Texas' Carson Murison stopped 27 shots, while Christian Kazoleas made 49 saves for Louisiana.