NA3HL announces monthly player awards for February
March 5, 2018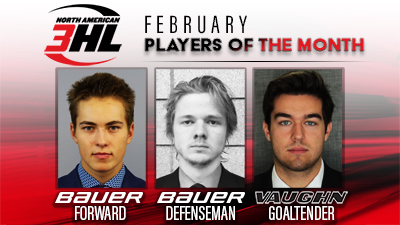 The North American 3 Hockey League (NA3HL) has announced its monthly player awards for the month of February. The Bauer Hockey NA3HL Forward of the Month is Dominik Bogdziul of the Binghamton Junior Senators. The Bauer Hockey NA3HL Defenseman of the Month is Tim O'Connor of the Binghamton Junior Senators. The Vaughn NA3HL Goaltender of the Month is Drew Scites of the Great Falls Americans. Only players who are nominated by their respective teams are considered for the NA3HL monthly awards.
Bauer Hockey NA3HL Forward of the Month: Dominik Bogdziul, Binghamton Junior Senators
There hasn't been a more dominant player in the NA3HL since the calendar turned to 2018 then Dominik Bogdziul. In 20 games this season, Bogdziul is averaging over three points per game and in February alone, the forward from Latvia put up 29 points in just nine games. He has registered at least one point in every game played this season and is big reason why the Binghamton Junior Senators are in the driver's seat to clinch the NA3HL regular season title. In February, the 19-year old forward had five games where he logged at least four points. He had a phenomenal rating of +31 over this nine game span. "Since Dominik has come back to us he has been one of our most consistent players game in and game out," said Binghamton Head Coach Chris Langaniere. "It is great to see him being rewarded for his efforts."
Runner-Up: Eric Vanderhoff, Skylands Kings
Honorable Mention (alphabetical): Fletcher Chun, Point Mallard Ducks – Mitch Dolter, North Iowa Bulls – Dominick Glavach, Pittsburgh Vengeance – Tyson Guaitis, New England Stars – Connor Inger, Metro Jets – Dante Jones, St. Louis Jr. Blues – Tommy Kilway, Oswego Stampede – Michael Klintworth, Atlanta Capitals – Brady Lindauer, La Crosse Freeze, Payton McSharry, Great Falls Americans – Michael Redmon, Texas Brahmas – Owen Sikich, Granite City Lumberjacks.
Bauer Hockey NA3HL Defenseman of the Month: Tim O'Connor, Binghamton Junior Senators
The Binghamton Junior Senators are currently riding a 32 game point streak and have locked up first place in the Northeast Division. Defenseman Tim O'Connor is not only a force on his team's blue line but he had his best offensive in February as well. O'Connor's signature performance came on February 10th against the Long Beach Sharks. The native of Warsaw, New York, logged his first hat trick of the season and tacked on three assists en route to a six point performance, easily his best game of the year. Overall, the 20-year old scored seven times and had eight assists in nine February games, finishing with an eye-popping +32 rating. "Tim brings a great attitude to the rink each and every day. Our organization is extremely happy for Tim getting recognized for all the hard work that he puts in," added Head Coach Chris Langaniere.
Runner-Up: Regnars Udris, Point Mallard Ducks
Honorable Mention (alphabetical): Brandon Baker, Granite City Lumberjacks – Cameron Bickford, Texas Brahmas – Vito Carlo, Atlanta Capitals – Dylan Dinsik, Skylands Kings – Weston Goodman, Point Mallard Ducks – George Hanson, Metro Jets, – Connor Losen, La Crosse Freeze – John Shively, St. Louis Jr. Blues – John Studioso, North Iowa Bulls
Vaughn NA3HL Goaltender of the Month: Drew Scites, Great Falls Americans
The Great Falls Americans are getting hot at the right time as they have won eight of their last 10 games. Spearheading their charge into the postseason is goaltender Drew Scites. During the month of February, Scites has been simply sensational. Most award winners usually have that one signature performance that sets them apart from everyone else. In the case of Drew Scites, he has three such outings. He started the month with a 56 save win against the Yellowstone Quake, he allowed just one goal in a 2-1 overtime win. Then on February 23rd, once again versus the Quake, Scites stopped a season high 64 shots in another 2-1 overtime victory. He followed that game up, with a 45 save shutout to clinch a series sweep of the Frontier Division leaders. "Drew has made an immediate impact since he arrived here. He's a competitor that has a wealth of experience and a guy that is well liked by his teammates," said Great Falls Head Coach Jeff Heimel. "Were excited to see what he can do for us in the playoffs."
Runner-Up: Brady Anderson, Binghamton Junior Senators
Honorable Mention (alphabetical): Colin Cain, North Iowa Bulls – Ridge Gerads, Granite City Lumberjacks – Will Graves, La Crosse Freeze – Andrew Kormos, Metro Jets – Steven Kozikoski, Oswego Stampede – Carson Murison, Texas Brahmas – Hunter Smith, St. Louis Jr. Blues – Mathias Yttereng, Skylands Kings