Friday Finals: Nordiques putting up fight in Coastal
March 10, 2018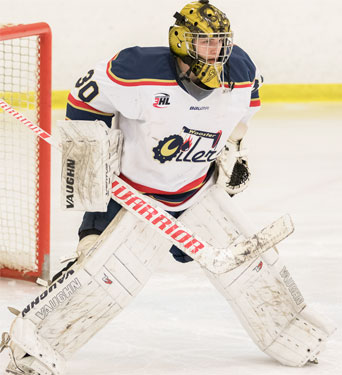 New England Stars 1 @ L/A Nordiques 7 - The L/A Nordiques came out strong and set the pace for a 7-1 win over the New England Stars. L/A goals came off the sticks of Armand O'Keefe, Zack Mullen (2), Joshua Sanchez, Connor Kennedy, Shayne Plummer, and Clifford Ogle. New England's Derek Flynn denied the shutout with a late third period goal. Nordique goaltender Sage Broda made 23 saves, while Tim Pesek stopped 34 shots for the Stars.
Louisiana Drillers 5 @ College Station Spirit 1 - A hat trick from Mitch Dolese helped the Louisiana Drillers to a 5-1 win over the College Station Spirit. Drew Wotta and Timothy Zittel also scored for the Drillers, while Hudson Svondrk notched one for the Spirit. Louisiana's Ian Clifford stopped 38 shots for the win, while Ryan O'Toole made 52 saves for College Station.
Metro Jets 2 @ Wooster Oilers 3 - After a scoreless first, the Wooster Oilers scored two in less than a minute to defeat the Metro Jets, 3-2. Zach Zwierecki, Grant Dickinson, and Turner Banyasz scored for the Oilers, while Jeremy Schwartz and Jake Stawinksi each notched one for the Jets. Wooster's Michael Hubbard made 31 saves for the victory, while Andrew Kormos stopped 24 shots for Metro.
Pittsburgh Vengeance 2 @ Lansing Wolves 6 - The Lansing Wolves scored three first period goals on their way to a 6-2 victory over the Pittsburgh Vengeance. Wolves Brendan Smith, Cameron Zucker (2), Brandon Ashley (2), and Blake Siewertsen scored for the Wolves, while Spencer Smith and Zachary Servidio each notched one for the Vengeance. Lansing goaltender Gabe Rosek made 29 saves, while Joel De Simone and Jacob Zab stopped 12 and 23 shots each for Pittsburgh.
Southern Tier Xpress 5 @ Toledo Cherokee 4 - The Southern Tier Xpress grabbed a commanding first period lead on their way to a 5-4 win over the Toledo Cherokee. Marks Mezsargs, Austen Zimmerman, Mickenzie Restle, Tommy Muecke, and Joey Gerace scored for the Xpress, while Noah Finstrom and Anthony Weinrich scored two each for the Cherokee. Southern Tier's Ryan Pascarella made 37 saves, while Ricardo Gonzalez stopped 47 shots for Toledo.
Skylands Kings 5 @ Long Beach Sharks 3 – Eric Vanderhoff had four points and Josh Baker scored twice as the Skylands Kings beat the Long Beach Sharks, 5-3. Steven Ford and Craig Garrigan also scored for the Kings, while Ben Bergman had two goals for the Sharks and Mike Walsh also scored for the Sharks. Mathias Yttereng made 21 saves in the win.
Oswego Stampede 0 @ Binghamton Junior Senators 11 - Binghamton Junior Senator Jeffrey Zero made 20 saves for an 11-0 shutout win over the Oswego Stampede. For the Junior Senators, Tim O'Connor (2), Jeremy Wilber, Michael Padgeon (2), Ryan Reifler, Cody Dearing (2), Caleb Beversdorf, Brad Becker, and Eric Melso netted goals. Ben White stopped 44 shots for Oswego.
Wausau RiverWolves 3 @ Rochester Ice Hawks 2 (OT) - Wausau RiverWolves' forward Ryan Hempel scored late in OT to secure the 2-1 victory over the Rochester Ice Hawks. Matt Irwin and Austin Burgener scored in regulation for the RiverWolves, while Justin Gibbons notched both Rochester goals. Wausau's Henry Baribeau made 41 saves, while Luke Murphy stopped 43 shots for the Ice Hawks.
New Ulm Steel 9 @ Breezy Point North Stars 2 - The New Ulm Steel maintained a steady offensive presence for a 9-2 win over the Breezy Point North Stars. Austin Langworthy, Steven Mordini (2), Hunter Johnson (2), Ryan Smith, Trevor Woytcke, Nickolas Wieben, and Max Kjome scored for the Steel, while Reid Morin and Alex Flicek notched one each for the North Stars. New Ulm's Ryan Kenny made 27 saves, while Lucas Ehrlich and Micah Hershey stopped 21 and 17 shots, respectively, for Breezy Point.
La Crosse Freeze 3 @ Alexandria Blizzard 5 - A busy second period helped the Alexandria Blizzard to a 5-3 win over the La Crosse Freeze. Dylan Giorgio, Logan Nelson, Brenden Payne, Tanner Frerichs, and Riley Scanlon scored for the Blizzard, while Brady Lindauer, Alec Seeger, and Jacob Garman found the back of the net for the Freeze. Alexandria's Brady Meyers and La Crosse's Devin Naidow each stopped 29 shots in the match.
Niagara Falls PowerHawks 4 @ Roc City Royals 3 - The Niagara Falls PowerHawks came back from a one goal deficit to defeat the Roc City Royals, 4-3. Michael Olszewski, Matthew Minichiello, Gage Mueller, and Evan Domiano scored for the PowerHawks, while Spencer Norris, Jacob Wood, and Luke Dobles each notched one for the Royals. Niagara Falls' THeo Heropoulas stopped 29 shots, while Frederick Peters made 24 saves for Roc City.
Granite City Lumberjacks 13 @ Willmar WarHawks 1 - The Granite City Lumberjacks grabbed an early lead on their way to defeat the Willmar WarHawks, 13-1. Bailey Sommers, Brandon Bissett, Logan Neu (3), Jordan Olson, Owen Sikich, Chase DiBari, Matt Moran (3), Hunter Schwehr, and Braden Altena scored for the Lumberjacks, and Brandon Holt notched one for the WarHawks. Granite City netminder Ridge Gerads stopped 25 shots, while Kaden Ericson and Drake Voell stopped 24 and 7 shots each for Willmar.
Helena Bighorns 7 @ Missoula Junior Bruins 0 - Helena Bighorn Nick Battaglia made 24 saves for a 7-0 shutout win over the Missoula Junior Bruins. Mikhail Gavrilenko (2), Richard Groskops (2), Jeremy Solko, Luc Cross, and Ben Kottmeier scored for the Bighorns, while Duncan Wiest stopped 35 shots for Missoula.
Bozeman Icedogs 2 @ Great Falls Americans 6 - After a busy third period, the Great Falls Americans came out on top, 6-2, over the Bozeman Icedogs. Payton McSharry, Kyler Mack, Adam Vandenbos, Noel Parker, and Weston Goodman (2) scored for the Americans, while Cade Hanley and Duncan McGarrah notched one each for the Icedogs. Great Falls goaltender Bryan Sharp made 19 saves in the game, while Carver Thompson stopped 47 shots for Bozeman.
Gillette Wild 4 @ Yellowstone Quake 13 - The Yellowstone Quake maintained a heavy offensive presence to defeat the Gillette Wild, 13-4. For the Quake, Nolan Willoughby, Carter Johnson (2), Cole Stewart, Jake Ford, Riley Buller, Jack Moore (2), Timo Pelto, Ty Proffitt, Ethan Sievek, Justin Dumont, and Aaron Moots all earned points, while Derek Scoggins and Nick Stockert notched two goals each for the Wild. Yellowstone's Jonatan Persson and John Bernhagen made 21 and 7 saves each, while Cody Grogan and Aaron LaChance stopped 47 and 19 shots, respectively, for Gillette.