Saturday Scores: Lumberjacks are kings of the West
March 11, 2018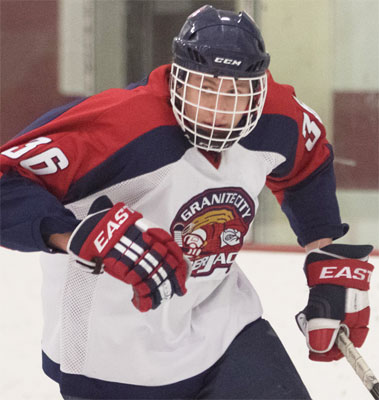 Willmar WarHawks 2 @ Granite City Lumberjacks 8-The Granite City Lumberjacks maintained a strong offensive presence on their way to an 8-2 win over the Willmar WarHawks. Bailey Sommers (2), Brady Dahl, Brandon Bissett, Owen Sikich, Jordan Olson, Zack DeBoom, and Seth Towers scored for the Lumberjacks, while Max Oelkers and Brandon Holt notched one each for the WarHawks. Granite City's David Mulligan made 13 saves, while Kaden Ericson stopped 29 shots for Willmar.
Pittsburgh Vengeance 8 @ Lansing Wolves 4-A strong third period helped the Pittsburgh Vengeance to an 8-4 win over the Lansing Wolves. Nick Erker (2), Justin Shepherd, James Unger, Dominick Glavach, Brendan Johns, Spencer Smith, and Lucas Kirk scored for the Vengeance, while Jacob Deratany, Brandon Ashley, Garrison Weyh, and Brendan Smith each notched one for the Wolves. Pittsburgh's Caden Shell and Jacob Zab made 20 and 18 saves each, while Gabe Rosek stopped 26 shots for Lansing.
Mid Cities Jr Stars 0 @Texas Brahmas 5-28 saves from Texas Brahma Tyler Myers helped them to a 5-0 shutout win over the Mid Cities Jr Stars. Texas goals came off the sticks of Luke Bombardir, Vincent Dekumbis, Bennett Weycker, Kellen Ireland, and Sam Sykes. Nick Vanwinkle and Matthew Lenz made 4 and 14 saves, respectively, for the Jr Stars.
Louisiana Drillers 3 @ College Station Spirit 0-Ian Clifford made 35 saves for a 3-0 shutout victory for the Louisiana Drillers over the College Station Spirit. Mitch Dolese, Timothy Zittel, and Hayden Watzka each notched one for the Drillers. Drew Pehrson stopped 56 shots in net for College Station.
Cape Cod Islanders 2 @ New England Stars 10-The New England Stars grabbed an early lead on their way to a 10-2 win over the Cape Cod Islanders. Ian Gatley (3), Michael Lempiainen (2), Tyson Gudaitis (2), Ryan Gauvin (2), and Derek Lovejoy scored for the Stars, while Nick Marston and Leevi Kervinen notched one each for the Islanders. New England netminder Greg Moon made 23 saves, while Esa Maki stopped 7 shots for Cape Cod.
Atlanta Capitals 2 @ Point Mallard Ducks 4-The Point Mallard Ducks scored four in a row to come back and defeat the Atlanta Capitals, 4-2. Eli Kendall, Fletcher Chun, Jason Kelly, and Tyler Trombly scored for the Ducks, while Michael Klintworth and Nick Sleeper notched one each for the Capitals. Point Mallard's Chris O'Shaughnessy made 25 saves, while Kyle Konin stopped 23 shots for Atlanta.
Southern Tier Xpress 3 @ Toledo Cherokee 1-A pair of goals from Joey Gerace helped the Southern Tier Xpress to a 3-1 win over the Toledo Cherokee. Marks Mezsargs also scored for the Xpress, while Tristin Snyder notched one for the Cherokee. Southern Tier's Ryan Pascarella made 29 saves, while Ricky Gonzalez stopped 49 shots for Toledo.
Peoria Mustangs 3 @ Wooster Oilers 2-The Peoria Mustangs scored two in a row to defeat the Wooster Oilers, 3-2. Brandon Hay, Jack Radley, and Braden Stewart scored for the Mustangs, while Zach Zwierecki and Dennis Lekarev netted one each for the Oilers. Peoria's Jaden Gardner made 28 saves, while Michael Hubbard stopped 24 shots for Wooster.
Binghamton Junior Senators 10 @ Oswego Stampede 0-Binghamton Junior Senator Brady Anderson made 22 saves for a 10-0 shutout win over the Oswego Stampede. Binghamton goals came from Tim O'Connor (4), Caleb Beversdorf, Brad Becker (2), Ryan Reifler, Geoffrey LaMorre, and Dominik Bogdziul. Oswego's Steven Kozikoski stopped 63 shots.
Wisconsin Whalers 2 @ St Louis Jr Blues 5-A hat trick from St Louis Jr Blue Jack Hatton helped them to a 5-2 win over the Wisconsin Whalers. Dante Jones and Ben Jones also scored for the Jr Blues, while Luke Hefty and Cameron Tobey notched one each for the Whalers. St Louis' Hunter Smith made 14 saves, while Brendan Earls stopped 28 shots for Wisconsin.
Skylands Kings 5 @ Long Beach Sharks 4-After a scoreless first period, Eric Vanderhoff netted a hat trick to push the Skylands Kings to a 5-4 win over the Long Beach Sharks. Stephen Finkel and Lionel Landry also scored for the Kings, while Ben Bergman, Noah Carlock, Mike Walsh, and Ryan Sandberg notched one each for the Sharks. Skylands' Mathias Yttereng made 23 saves, while Ben Vutci stopped 35 shots for Long Beach.
Wausau RiverWolves 3 @ Rochester Ice Hawks 2 (OT)-Sean Johnston scored early in overtime to secure a 3-2 win for the Wausau RiverWolves over the Rochester Ice Hawks. Ron Renter and Barak Broad scored for the RiverWolves in regulation, while Ben Haas and Josh Hoffman notched one each for the Ice Hawks. Wausau's Jackson Fazendin made 17 saves, while Luke Murphy stopped 41 shots for Rochester.
La Crosse Freeze 3 @ Alexandria Blizzard 4-The Alexandria Blizzard grabbed an early lead on the way to a 4-3 win over the La Crosse Freeze. Brenden Payne, Ryan Worley, Dylan Giorgio, and Jack Mellstrom scored for the Blizzard, while Thomas Magnavite, Nathan Marquardt and Flavien Fondadouze each scored one for the Freeze. In net, Alexandria's Kyle Hayden made 34 saves, while Will Graves stopped 31 shots for La Crosse.
North Iowa Bulls 5 @ New Ulm Steel 1-The North Iowa Bulls scored four in the third to secure a 5-1 victory over the New Ulm Steel. For the Bulls, Shane Bernhardson, Dayton Honkanen, Jake Joyeaux, Brendan Studioso, and Matt Dahlseide got on the scoreboard, while Zach Heiser notched one for the Steel. North Iowa's Colin Cain made 20 saves, while Ryan Kenny stopped 20 shots for New Ulm.
Helena Bighorns 9 @ Missoula Junior Bruins 2-The Helena Bighorns scored six in a row to defeat the Missoula Junior Bruins, 9-2. Jarett Scheibel, Kaden Lindberg (2), Luc Cross (2), Gavin Cline (2), Ben Kottmeier, and Elijah Kico scored for the Bighorns, while Misha Akatnov notched both Missoula goals. Helena's Cody Brewer made 28 saves, while Billy Yoder and Brian Thomas made 18 and 8 saves, respectively, for Missoula.
Great Falls Americans 8 @ Bozeman Icedogs 0-Great Falls American goaltender Bryan Sharp made 24 saves for an 8-0 win over the Bozeman Icedogs. For Great Falls, Payton McSharry, Michael Houlihan (2), Matt Janke, Noel Parker, Lorenz Braxton, Dustin Truex, and Ben Rinckey notched goals. Tait Carlson and Carver Thompson made 34 and 27 saves, respectively, for Bozeman.