North Iowa forward Clemons makes NCAA commitment
March 12, 2018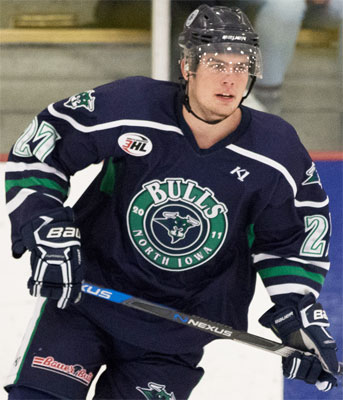 Earlier this season, North Iowa Bulls forwards Josh Arnold and Dayton Honkanen both announced their commitments to the NCAA Division III hockey program at the University of Wisconsin-River Falls.
The Falcons may have filled out an entire forward line with current Bulls, with the commitment of Connor Clemons to UW-River Falls for next season. Clemons is the ninth North Iowa Bulls player this season to announce a commitment for next year, with six of those commitments going to college hockey programs. The remaining three commitments have come in the form of tenders with North American Hockey League clubs.
Clemons has been one of the more recognizable figures on the North Iowa roster over the last two seasons, racking up 130 points for the Bulls over 80 regular-season and postseason contests heading into the final weekend of 2017-18. His 65 points last season was second-best among the Bulls, and was enough to earn Second-Team All-Rookie honors from the NA3HL.
That follows an impressive high school career at Prior Lake, which also included more than 100 points. His success hasn't just been limited to the Bulls, either - the Savage, Minnesota native began this season with the Minnesota Magicians, and has appeared in five North American Hockey League contests in his career.
Clemons's college career will begin under Steve Freeman, who has built one of the most decorated resumes in Division III hockey over his 22 seasons with the Falcons. Freeman has won 376 games, including eight 20-win seasons and a trip to the Division III Frozen Four in 2001. This season, though, UW-River Falls finished with just eight wins.
The Bulls have a lengthy heritage of moving players on to the college ranks, with more than 60 college commitments over the team's seven-year history. Six former Bulls have found their way to NCAA Division I rosters, including three who are currently active in Division I play.
The commitment also adds to the NA3HL's history of sending players through to college and NAHL rosters - in 2016-17 alone, more than 120 NA3HL players made college commitments, with more than 60 others advancing to the North American Hockey League.
The North Iowa Bulls congratulate Connor Clemons on his college commitment, and wish him the best in his upcoming endeavors at Wisconsin-River Falls.