Friday Finals: Jr. Stars highlight wins by #3 seeds
March 17, 2018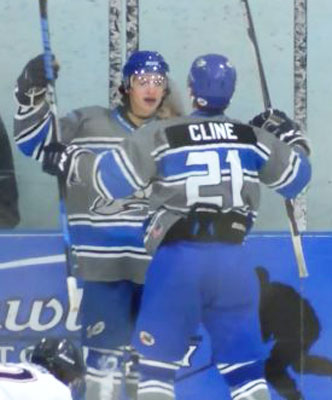 South Division Semi-Finals: Mid Cities Jr Stars 8 @ Atlanta Capitals 3 (Mid Cities lead series 1-0) - The Mid Cities Jr Stars went up 3-0 after the first on their way to an 8-3 win over the Atlanta Capitals to lead the best of three series. For Mid Cities, Jason Koehn (2), Trey Rooney (2), Nick Sheridan (2), Conor Simpson, and Remy Kesling netted goals; with help from Brandon Speights (2), Sheridan, Koehn, Kesling, Rooney, Matthew Taylor, and Eric Fisher. For the Capitals, Andrei Rusakov, Dillon Steh, and Jason Ladzinski found the back of the net, assisted by Steh, Talon Medure, Christopher Linde, Gunner Moore, and Rusakov. Mid Citie's netminder Matthew Lenz made 43 saves, while Kyle Konin stopped 18 shots for Atlanta.
Coastal Division Semi-Finals, Game Two: L/A Nordiques 0 @ Northeast Generals 3 (Series tied 1-1) - Northeast General Nick Sesock made 35 saves for a 3-0 shutout win in Game Two of the semi finals. Marc Faia, Thad Marcola, and Aiden Fuller scored for the Generals, with help from Austin Braley, Davis Kisielis, Tyler Rudek, Alex O'Dowd, and Dylan Figueroa. Sage Broda made 22 saves in net for the Nordiques.
East Division Semi Finals: Lansing Wolves 2 @ Pittsburgh Vengeance 7 (Pittsburgh leads series 1-0) - The Pittsburgh Vengeance scored five in the first to set the pace for a 7-2 win over the Lansing Wolves. Dominick Glavach notched a hat trick in the match, along with Jeremy Jenkins, Anthony Bates, and Brendan Johns (2), with help from Spencer Smith, Justin Bioni (2), Devin Whitaker, Cam Williams (3), Thomas Polster, Johns, James Unger, and Glavach. For Lansing, Garrison Weyh and Mike Forman scored, assisted by Ryan Weaver, Jacob Deratany, Brandon Ashley, and Brendan Smith. Pittsburgh's Joel De Simone made 20 saves, while Sean Finstrom and Will Ignatovich stopped 33 and 1 shot, respectively, for the Wolves.
Northeast Division Semi Finals: Oswego Stampede 1 @ Binghamton Junior Senators 4 (Binghamton leads series 1-0) - The Binghamton Junior Senators grabbed two early goals on their way to a 4-1 win over the Oswego Stampede. Dinmukhamed Dzhangarshev, Eric Melso, Jeremy Wilber, and Ryan Reifler scored for the Junior Senators, with help from Caleb Beversdorf (2), Melso, Dominik Bogdziul (2), Tim O'Connor, Benjamin Beversdorf, and Geoffrey LaMorre. For Oswego, Nick Snyder notched one, assisted by Rich Hart and Nick Sanborn. Binghamton's Brady Anderson made 19 saves, while Steven Kozikoski stopped 45 shots for the Stampede.
Central Division Semi Finals: Wisconsin Whalers 4 @ La Crosse Freeze 5 (La Crosse leads series 1-0) - A pair from Clayton Lackey help the La Crosse Freeze to a 5-4 win over the Wisconsin Whalers. Thomas Magnavite, Brandon Ratzloff, and Jacob Garman also scored for the Freeze, with help from Brandon Ratzloff, Keaton Caplis, Laudon Poellinger, Nathan Marquardt, Magnavite, Alec Seeger, and Flavien Fondadouze. Wisconsin's Nick Rogers scored twice, while Sam Hanson and John Vanderwalk notched one each, assisted by Luke Hefty (2), Rogers, Carter Grobstick, and Jimmy McDermott. La Crosse's Will Graves made 34 saves, while Brendan Earls stopped 46 shots for the Whalers.
West Division Semi Finals: Alexandria Blizzard 5 @ New Ulm Steel 2 (Alexandria leads series 1-0) - The Alexandria Blizzard scored two within 4 minutes to secure a 5-2 win over the New Ulm Steel. Brenden Payne, Logan Nelson, Brett Meister, Alec Skar, and Austyn Renn scored for the Blizzard, with help from Nelson, Payne, Meister, Tanner Frerichs, Josiah Roen, and Riley Scanlon. New Ulm goals came off the sticks of Ryan Smith and Trevor Woytcke, with help from Nickolas Wieben. Alexandria's Brady Meyers made 22 saves, while Ryan Kenny stopped 21 shots for the Steel.
Central Division Semi Finals: Wausau RiverWolves 0 @ North Iowa Bulls 5 (North Iowa leads the series 1-0) - North Iowa goaltender Connor Poczos stopped 16 shots for a 5-0 shutout win over the Wausau RiverWolves. Bulls' goals came from Jared Blackowiak, Cameron Fagerlee, Dan Sandvig, John Studioso, and Aaron Swanson, assisted by Josh Arnold, Shane Bernhardson (2), Connor Clemons, Brendan Studioso (2), Mitch Dolter (2), Swanson, and Tyler Bump. Henry Baribeau stopped 64 shots in net for the RiverWolves.
West Division Semi Finals: Willmar WarHawks 1 @ Granite City Lumberjacks 4 (Granite City leads 1-0) - The Granite City Lumberjacks scored three in a row to defeat the Willmar WarHawks, 4-1. Logan Neu, Brandon Bissett, Brady Dahl, and Zack DeBoom scored for the Lumberjacks, assisted by Lars Olson, Tom Nagle, Dahl, Neu, Sean Salz (2), and Brandon Baker. For Willmar, Jordan Cooper found the back of the net off a pass from Jonathan Koester. Granite City's Ridge Gerads made 19 saves, while Luke Fry stopped 40 shots in net for the WarHawks.
Frontier Division Semi Finals: Gillette Wild 2 @ Yellowstone Quake 8 (Yellowstone leads 1-0) - The Yellowstone Quake scored four goals in the first seven minutes to set the pace for an 8-3 win over the Gillette Wild. Ian Doner, Aaron Moots, and Nolan Willoughby scored two goals each for the Quake, alongside Riley Buller and Carter Johnson - assisted by Timo Pelto (3), Cole Stewart (4), Jack Moore, Jack Harris, Justin Dumont (2), and Mason Stewart (2). For the Wild, Nick Stockert and Hunter Peterson scored, with help from Derek Scoggins. Yellowstone's Reid Waszczenko made 27 saves, while Cody Grogan and Rasmus Pilely stopped 4 and 32 shots each for Gillette.
Frontier Division Semi Finals: Helena Bighorns 4 @ Great Falls Americans 3 (OT) (Helena leads series 4-3) - Gavin Cline, assisted by Kaden Lidnberg and Dane Rieger, scored in overtime to secure a 4-3 Helena Bighorns win over the Great Falls Americans. Cline scored in regulation for the Bighorns, along with Lindberg and Jarett Sceibel, with help from Cline, Ben Kottmeier, Richard Groskops, Lindberg, and Luc Cross. For Great Falls, Payton McSharry, Kyler Mack, and Matt Janke found the back of the net, assisted by Noel Parker, Michael Fary, Dustin Truex, and Brandon Peterson. Helena's Nick Battaglia made 33 saves, while Drew Scites stopped 37 shots for the Americans.
Northeast Division Semi Finals: Skylands Kings 3 @ Niagara Falls PowerHawks 8 (Niagara Falls leads series 1-0) - Eight different goal scorers had a hand in the Niagara Falls PowerHawks 8-3 win over the Skylands Kings. Branden Tripi, Gage Mueller, Matthew Minichiello, Andrew Logar, Matt Stewart, Kurt Villani, Nathan Walerowicz, and Evan Domiano scored for the PowerHawks, with help from Logar (3), Villani, Stephen Minichiello (2), Domiano, M. Minichiello (3), Brandon Schweickert, and Walerowicz. For the Kings, Craig Garrigan (2) and Eric Vanderhoff each notched goals, assisted by Steven Ford (2), Steven Gay (2), and Criag Scarpa. Niagara Falls netminder Kris Augustine made 28 saves, while Mathias Yttereng stopped 34 shots for Skylands.