Mustangs and Steel advance with wins on Sunday
March 19, 2018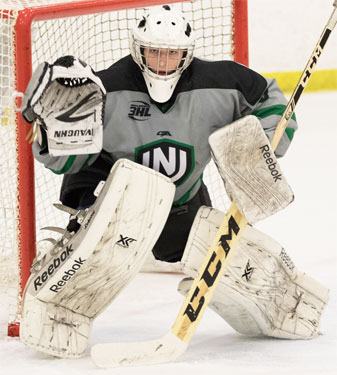 Midwest Division Semi Finals, Game 2: Evansville Jr Thunderbolts 0 @ Peoria Mustangs 6 (Peoria wins series 2-0) - With a 35-save shutout, Jaden Gardner helped the Peoria Mustangs to a 6-0 win over the Evansville Jr Thunderbolts - leading them to the Midwest Division finals. Braden Stewart, Rhett McDonald, Jack Healy (2), Jack Radley, and Wes Strakr found the back of the net for the Mustangs, assisted by Radley, Jack Power Wayvon (4), Brandon Hay, Blake Finley, Ian McHenry, McDonald, Alec Mickel, and Bret Bauer. Bryson Linenburg made 61 saves in net for Evansville.
West Division Semi Finals, Game 3: Alexandria Blizzard 0 @ New Ulm Steel 5 (New Ulm wins series, 2-1) - A 28-save shutout from Ryan Kenny pushed the New Ulm Steel to a 5-0 win in game three over the Alexandria Blizzard, passing them onto the West Division Finals. Oliver Hoeschen, Luc Kruser, Zach Heiser, Tom Reilly, and Jimmy Miller scored for the Steel, with help from Trevor Woytcke, Nickolas Wieber, Austin Langworthy (2), Ryan Smith (2), Kruser, and Hunter Johnson. Kyle Hayden and Brady Meyers made 20 and 13 saves in net for Alexandria.
South Division Semi Finals, Game 2: Texas Brahmas 3 @ Point Mallard Ducks 2 (Series tied, 1-1) - The Texas Brahmas secured an early lead on their way to a 3-2 win over the Point Mallard Ducks to force a game three. Michael Redmon (2) and Vincent Dekumbis scored for the Brahmas, with help from Michael Walsh, Cameron Bickford (2), and Hunter Bersani. For the Ducks, Regnars Udris and Matt Goodman scored off passes from Tyler Trombly, Fletcher Chun, Kevin LaPlante, and Joe Polcaro. Texas goaltender Carson Murison made 29 saves in net, while Joey Bernardini stopped 30 shots for Point Mallard.