2018 Fraser Cup faces-off on Tuesday
March 26, 2018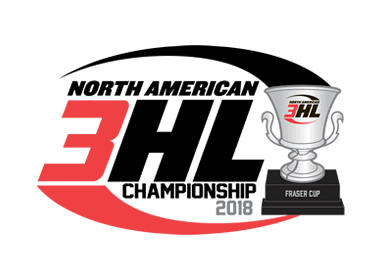 After an incredible weekend of drama, the field is set and ready to go for the 2018 NA3HL Fraser Cup Championship, which will take place from March 27-31 at Canlan Ice Sports in Romeoville, Illinois. Eight teams have advanced to the season-ending event, which annually crowns the NA3HL National Playoff Champion.
Back on September 11, 2017, the NA3HL renamed its Championship trophy the Fraser Cup in the memory of the late Robert 'Fraser' Ritchie, a long-time staff member of the NAHL, NA3HL and NAPHL. On June 10, 2017, Fraser passed away after a long and courageous battle with cancer. Although Ritchie ultimately lost his battle with the disease, his influence and daily interactions with all of the owners, coaches, staff, volunteers and administrators in the NAHL, NA3HL and NAPHL, will never be forgotten, and are now and forever memorialized with the annual awarding of the Fraser Cup.
All NA3HL Fraser Cup games will be broadcast in HD on
HockeyTV
Seven of the eight teams that advanced by winning their divisional playoff championship, also won their division's regular season title. The lone team that did not win their division's regular season title was the La Crosse Freeze, who won the Central Division playoff title with a sweep of the North Iowa Bulls.
The seeding for the event will be as follows and was based on point totals in the 2017-18 NA3HL regular season standings:
1.
Binghamton Junior Senators
8.
Granite City Lumberjacks
Pool A: Binghamton Junior Senators, St. Louis Jr. Blues, Yellowstone Quake, Granite City Lumberjacks
Pool B: Metro Jets, Texas Brahmas, New England Stars, La Crosse Freeze
The eight divisional playoff champions will now play a three-game round-robin format followed by a semi-final and a championship game. A round-robin format with two pools will be implemented, with the top two teams in each pool advancing to the Semi-Finals, where they will then cross over to play the other top two teams from the other pool. The winners of the Semi-Finals will advance to the Fraser Cup Championship Game. In the event of a tie after round-robin play, a tiebreaking procedure adopted in the rules and regulations shall be used to break the tie.
Past Fraser Cup Champions
2017
Granite City Lumberjacks
2015
Granite City Lumberjacks
2012
Granite City Lumberjacks
2009
Dubuque Thunderbirds
2008
Dubuque Thunderbirds
2007
Dubuque Thunderbirds
The event will be held in cooperation with the first of five 2018 NAHL Future Prospects Combine events. Entering its fifth year in 2018, the NAHL Combines introduce and provide players with a weekend that involves the 'NAHL Experience,' which will consist of competitive hockey, education of the future levels of hockey, academic preparation for NCAA hockey and exposure to professional, college and junior scouts.