Jets and Jr. Blues to battle for Fraser Cup title
March 30, 2018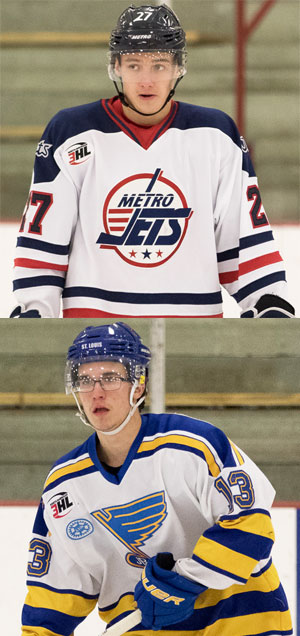 After two Fraser Cup Semi-Final games on Friday, the stage is now set for the 2018 NA3HL Championship Game on Saturday, March 31st where old rivals meet as the St. Louis Jr. Blues will take on the Metro Jets for the NA3HL's ultimate prize.
The Fraser Cup Championship Game will face-off at 1:30pm central time at Canlan Ice Sports in Romeoville, Illinois.
The game can be watched in HD on
HockeyTV
Semi-Final Recaps:
Semi-Final #1: St. Louis Jr. Blues 5 vs. La Crosse Freeze 0
(
watch highlights
)
– Jr. Blues goalie Blake Bjella posted his third shutout of the Fraser Cup Championship as he stopped all 21 shots that came his way in a convincing 5-0 shutout for the Jr. Blues, sending them to the Fraser Cup Championship Game on Saturday. St. Louis controlled the pace of play for the outset and Bjella was there to thwart any Freeze chances. The Jr. Blues got on the board first in the 1st period with the eventual game-winning goal, which came on a one-timer from Daniel Dunaway. Defenseman Mark Capkovic made in 2-0 in the 2nd period with his first goal of the event. The Jr. Blues then put their foot on the gas in the 3rd period, adding three more goals, including tallies from Bud Winter, Will Baginiski and Jack Hatton. Jr. Blues forward Matthew Monreal picked up two assists in the game. La Crosse goalie William Graves made 29 saves in the loss.
Boxscore
Semi-Final #2: Metro Jets 3 vs. Granite City Lumberjacks 2 (OT)
(
watch highlights
) – In a rematch of last year's Championship Game, the Metro Jets came from behind to exact some revenge and defeat the Granite City Lumberjacks, 3-2. The Jets were buzzing from the opening draw and it took less than two minutes for them to find the back of the net as Jeremy Schwartz scored his first goal of the Fraser Cup. The Lumberjacks had an answer as Owen Sikich converted on a nice 2 on 1 pass from linemate Chase DiBari to tie the game at 1-1. The 2nd period saw no scoring, but plenty of great saves from both goalies. The Lumberjacks took their first lead of the night as captain Braden Altena scored early in the final frame to make it 2-1. However, the Jets came back as Schwartz scored his second goal of the night to make it 2-2. In the overtime, the Jets won an offensive zone face off and a shot was sent from the point, which Lumberjacks goalie David Mulligan saved, but the rebound came right to Brodie Thornton, who slipped the game-winner through the legs of Mulligan to send the Jets to their third straight Fraser Cup title game. Brian Tallieu made 30 saves in the win, while Mulligan made 41 saves in the loss.
Boxscore