NA3HL announces results from 2018 Draft
April 19, 2018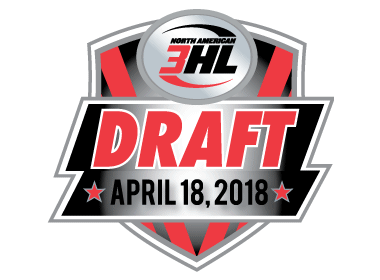 The annual North American 3 Hockey League (NA3HL) Draft came and went on Wednesday, April 18th as the teams made their selections to try and fill their rosters for the 2018-19 season. The league as has announced the results of the 2018 NA3HL Draft.
In total, 286 players were selected in the draft, which took three hours to complete.
"The NA3HL Draft is always an exciting time for everyone in the NA3HL. It really symbolizes the beginning of the 2018-19 season and the culmination of some very hard work by our NA3HL coaches and their scouting staffs. It is also an exciting time for all of the players selected as they get closer to realizing a dream of playing junior hockey," said NA3HL Commissioner Denny Scanlon. "We were very excited to see the direct benefits of the NAHL junior combine held this past weekend in Michigan, as dozens of players from the event heard their name called in the Draft."
In total, 61 players that participated in the 2018 NAHL junior Combine last weekend in Michigan, heard their names called in the NA3HL Draft. In addition, 46 more players who played in the Combine were tendered by NA3HL teams prior to the draft. Overall, 107 players who were at the Combine, now are protected by NA3HL teams for the 2018-19 season.
The NAPHL had a big presence at the NA3HL Draft as 32 NAPHL players were selected.
The first player taken in the draft was forward Nikita Pinimyasov, who was selected by the Butte Cobras. The 18-year-old from Russia recorded 33 points in 41 games played for the Florida Eels this past season.
The first defenseman selected was Richard Boulware, who was selected #3 overall by the Gillette Wild. The 17-year-old played for Trenton High School in Michigan this past season where he had 15 point in 25 games played.
The first goalie selected was with the 2nd pick of the 2nd round as the College Station Spirit selected Matias Sholl from the Los Angeles Jr. Kings 18U team. Sholl appeared in 19 games this past season and had a goals against average of 2.89 and a save percentage of 91.2%. His older brother Tomas Sholl is an NAHL gard and current plays for the Idaho Steelheads in the ECHL.
Breakdown of positions drafted:
Forwards: 157 (55%)
Defense: 109 (38%)
Goalies: 20 (7%)